ERDINGER Athlete of the Month returns for 2016
As we announced last month, our hugely popular ERDINGER Athlete of the Month feature is back for 2016, and in this piece we are very pleased to be announcing our first winner of the season. Read on to see who it is and why they were selected.
As we've said from the outset, picking a winner for this award can be based upon a range of factors including (but not limited to!):
Outstanding performance at one race,
Consistent performances over a number of events,
Recognition of an athletes efforts over many months, years…or even decades in some cases!
Overcoming setbacks, challenges or obstacles.
The opening months of the year in the UK are pretty quiet from a multisport racing perspective and so in order to pick our first winner of 2016 we've been looking back through the (many) email nominations we received through 2015. We've identified an athlete who should be an inspiration to many, using sport not just for competition but to regain health and wellbeing. That said, his progress has been impressive too with plans to continue that further in 2016. Hopefully this recognition will had to his motivation for the year ahead.
Please do continue to keep you nominations coming in through the year, it really is appreciated and they are all reviewed. Read on to find out this months winner…
February 2016: Paul Sellars
This months winner has lost (a LOT) of weight, inspired his son, made his wife "hugely proud" and turned himself into a pretty good athlete along the way. When your starting point is weighing in at 22 stone, that is impressive – and that's why we are very pleased award our ERDINGER Athlete of the Month award to Paul.
We've selected Paul as our first winner of 2016, courtesy of nomination by his wife, Ann.
"In 2008 Paul weighed 22 stone, was pretty unfit, drank a lot of beer and couldn't run 500 metres without stopping. Today he weighs 13.5 stone, exercises 15-20 hours a week and is alcohol-free [Ed. quite appropriate, given the prizes!].
"In September 2014 he qualified at Challenge Weymouth to represent Team GB at Weymouth in 2015 at the ETU Long Distance Triathlon Championships, which he was immensely proud to do. He finished 6th in his age group of 45-49 years, completing the distance in under 11 hours.
"Other 2015 highlights include first place in the 3-hour Solo Viper Series Trail Race at Delamere Forest in March, the Outlaw Half Triathlon Distance in five hours in May, the Outlaw Full Triathlon Distance in under 11 hours in July. He has also raised over £1000 for Cancer Research.
"He has a Good for Age place in the London Marathon in 2016 (achieved from the Manchester Marathon in April 2015), and he is waiting to hear if he's qualified for the ETU Middle Distance Triathlon European Championships in Austria next year.
"I am hugely proud of all his achievements and I'm delighted that he's encouraged our son to take up triathlon as a sport. They spur each other on and are very competitive together."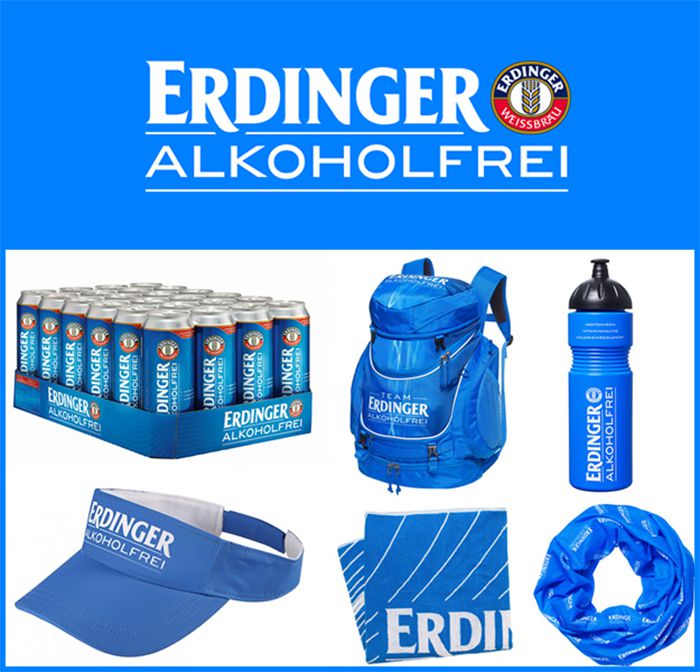 We are delighted to make Paul Sellars our ERDINGER Alkoholfrei AOTM for February 2016. Paul will also receive these great prizes courtesy of ERDINGER Alkoholfrei:
1 x 24case ERDINGER Alkoholfrei Cans
2 x Water Bottles
1 x Rucksack
1 x Visor
1 x Multifunctional Scarf
1 x Small Towel
Help us find the Athlete of the Month for March 2016! – #AOTM
We want YOU to help us identify an Athlete of the Month candidate each month through 2016!
Perhaps you have got a friend, rival or club-mate who you feels deserves recognition for their efforts – as well as some tasty cans of ERDINGER Alkoholfrei plus some great prizes? The criteria is up to you – they may be the fastest, have recovered from injury, have sacrificed their own performances from others, shown consistency… anything you think is worthy of recognition!
How can I nominate someone?
Simple – two really easy options:
Simply email [email protected] with who you would like to see recognised and a brief note on why, or,
If you are on Twitter, use the hastag #AOTM and tweet us @tri247 and let us know when you have seen a noteworthy performance, or have someone you would like us to recognise!