ERDINGER Athlete of the Month – July 2016. And the winner is…
Last month we announced Tony Cullen as our ERDINGER Athlete of the Month, presenting him with our award for June 2016.
It's now time to reveal the recipient of our recognition for the month of July 2016. Read on / scroll down to see who this months winner is.
Firstly, an apology… yes, we are a bit late with this one! That little multi-sports event over in Brazil did somewhat distract out attention for a couple of weeks, as well as ruin our sleep patterns and send deadlines out of the window. But, we are back on it. The award for August will follow in a couple of weeks time! So for now, back to July.
Among the many headline events during the month were UK classics such at the Outlaw Triathlon, Ironman UK, Peak District Triathlon, The Bastion, Upton Tri+ and Castle Howard Triathlon, plus popular European events like Challenge Roth and Alpe d'Huez Triathlon.
As we've said from the outset, picking a winner for this award can be based upon a range of factors including (but not limited to!):
Outstanding performance at one race,
Consistent performances over a number of events,
Recognition of an athletes efforts over many months, years…or even decades in some cases!
Overcoming setbacks, challenges or obstacles.
While we are a couple of weeks late with this announcement, that has had the benefit (?!) of making out decision even harder, because it has just meant more time for you to send in your nominations. So, it has taken quite a while to go through them all.
We have a long list of people here that we would be massively pleased to present this award to… but we have to select just one, from the many very worthy potential recipients.
Please do continue to keep your nominations coming in through the year, it really is appreciated and they are all reviewed. Read on to find out this months winner…
July 2016: Jon Zigmond
This month we have selected an athlete not for his 'winning' prowess in terms of medals and times, but for overcoming so many medical issues and obstacles and refusing to quit. That makes him a worthy winner in our eyes of the ERDINGER Athlete of the Month Award for July.
Most triathletes have a carbon fibre bike. Jon Zigmond, now in the 65+ category, has a carbon fibre heart valve!
Jon's medical issues started 50 years ago, when rheumatic fever as a teenager damaged his aortic heart valve. Despite this, after hearing about Ironman for the first time at 49, Jon decided to do one and his third triathlon ever was Ironman France in 2002, completed in 15:38. Another seven iron-distance triathlon's were completed over the next ten years before suffering a stroke in late 2012.
With an emergency pacemaker fitter in 2013 and open heart surgery for a prosthetic aortic vale (and advancing years), one would expect his triathlon days to be over. But no…
This year Jon has complete the Outlaw Half Nottingham (raising over £6,000 for the South Tees Hospitals Charity), Outlaw Half Holkham and then on 24th July he completed the 2016 set at the full distance Outlaw in 14:40:49.
He may have atrial fibrillation, a pacemaker which slows him down such that making the cut-off times is always a challenge and a damaged heart which isn't exactly in the desired condition for performance sport, but he has an iron will.
Jon heard "You are an Outlaw!" at the finish line in Nottingham, but we say Jon Zigmond, you are our well deserved ERDINGER Athlete of the Month for July 2016.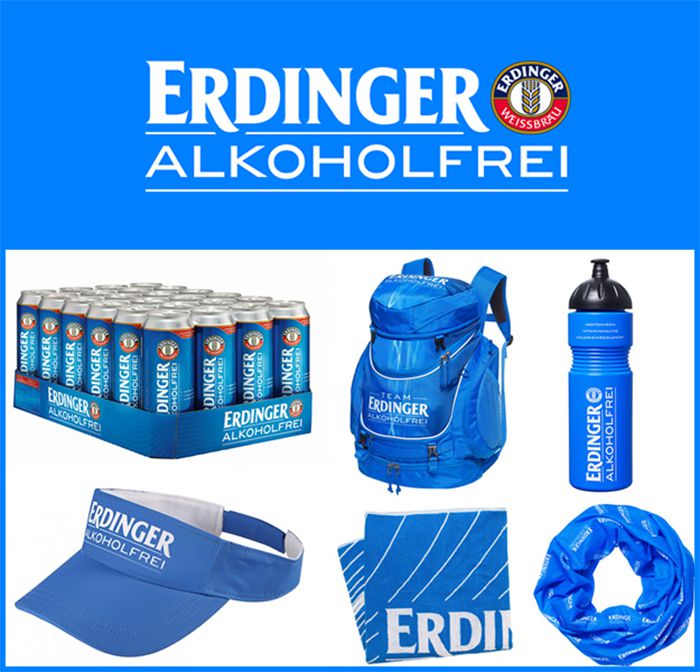 We are delighted to make Jon Zigmond our ERDINGER Alkoholfrei AOTM for July 2016. Jon will also receive these great prizes courtesy of ERDINGER Alkoholfrei:
1 x 24case ERDINGER Alkoholfrei Cans
2 x Water Bottles
1 x Rucksack
1 x Visor
1 x Multifunctional Scarf
1 x Small Towel
Help us find the Athlete of the Month for August 2016! – #AOTM
We want YOU to help us identify an Athlete of the Month candidate each month through 2016!
Perhaps you have got a friend, rival or club-mate who you feels deserves recognition for their efforts – as well as some tasty cans of ERDINGER Alkoholfrei plus some great prizes? The criteria is up to you – they may be the fastest, have recovered from injury, have sacrificed their own performances from others, shown consistency… anything you think is worthy of recognition!
How can I nominate someone?
Simple – two really easy options:
Simply email [email protected] with who you would like to see recognised and a brief note on why, or,
If you are on Twitter, use the hastag #AOTM and tweet us @tri247 and let us know when you have seen a noteworthy performance, or have someone you would like us to recognise!