ERDINGER Athlete of the Month – November 2016. And the winner is… TWO PEOPLE!
Last month we announced Alison Rowatt as our ERDINGER Athlete of the Month, presenting her with our award and recognition for October 2016.
It's now time to reveal the recipient of our selection for the month of November 2016.
With the racing calendar significantly reduced in November, we've taken the opportunity to look back at events over the year as a whole – and the many nominations we've received during 2016 – to select a worthy winner, primarily from an event that happened in October. It was such a stand-out performance that while we couldn't recognise it last month, it didn't escape our attention.
As we've said from the outset, picking a winner for this award can be based upon a range of factors including (but not limited to!):
Outstanding performance at one race,
Consistent performances over a number of events,
Recognition of an athlete's efforts over many months, years…or even decades in some cases!
Overcoming setbacks, challenges or obstacles.
We have a long list of people here that we would be massively pleased to present this award to… but we have to select just one, from the many very worthy potential recipients.
Please do continue to keep your nominations coming in through the year, it really is appreciated and they are all reviewed. Read on to find out this months winner…
November 2016: Haseeb Ahmad & Duncan Shea-Simonds
Well, this is a first for us – the first time we've ever awarded recognised two athletes of the month in the same month. And for good reason, as the primary event we are highlighting is one that they swam every stroke, cycled every pedal revolution and ran every step together – and ended up with an official Guinness World Record.
Haseeb Ahmad had been a long term member of the British Paratriathlon squad, racing in the visually impaired category. Third in the ITU World Championships in Hyde Park in 2013, with the men's visually impaired category not forming part of the Paralympic programme in Rio, Haseeb has been taking on a variety of different sporting challenge in recent years, including a sub three hour marathon and an 83 minute half marathon.
Duncan has been a triathlete now for at least 25 years, winning many National Championship Age-Group medals and racing over all distances – including qualifying for Kona – and this year he also raced at Embrunman and the Breca SwimRun.
Haseeb and Duncan teamed up with Duncan guiding at Ironman Barcelona with one goal – to break the Ironman World Record for a blind athlete. This was also to be Haseeb's first ever Ironman…
With a mark of 11:10:28 to beat, it was a close run thing – but 11 hours three minutes and 31 seconds after starting, a new record was broken. Official confirmation from Guiness World Records followed!
Since this fantastic achievement Haseeb has – quite rightly – been recognised in a number of local awards in his Leicestershire home. We are very pleased to add another well deserved one to his list – while also ensuring that Duncan gets equal kudos for his part of the team too!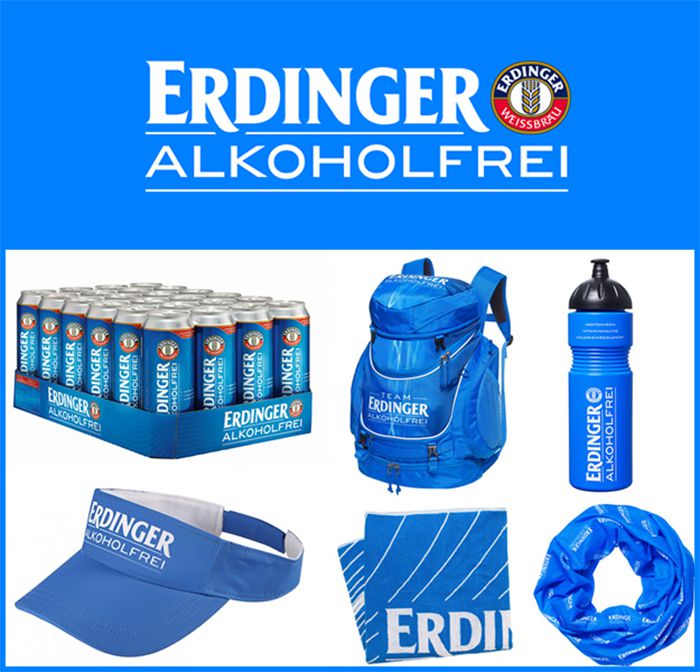 We are delighted to make Haseeb Ahmad AND Duncan Shea-Simonds our ERDINGER Alkoholfrei AOTM for November 2016. Haseeb and Duncan will also receive these great prizes courtesy of ERDINGER Alkoholfrei:
1 x 24 case ERDINGER Alkoholfrei Cans
2 x Water Bottles
1 x Rucksack
1 x Visor
1 x Multifunctional Scarf
1 x Small Towel
How can I nominate someone?
Simple – two really easy options:
Simply email [email protected] with who you would like to see recognised and a brief note on why, or,
If you are on Twitter, use the hastag #AOTM and tweet us @tri247 and let us know when you have seen a noteworthy performance, or have someone you would like us to recognise!