"I'LL NEED TO GO UNDER 8 HOURS TO BE WORLD CHAMPION"
As Britain's best Ironman heads to Hawaii, HUUB athlete David McNamee tells Tim Heming what it'll take to go even better than last year's third place.
---
It's a long road, but often a fast one. Professional triathlete David McNamee's first non-drafting race was only three-and-a-half years ago in Dubai, where a packed field assembled, lured by the glitz of Sheikh Nasser Bin Hamad Al Khalifa's $1million Triple Crown series.
It was a gamble. It'd been barely two months since the Scot announced he was leaving the comfort of British Triathlon's Olympic-focused funded system to strike out alone in longer distance racing.
By his own admission, McNamee wasn't quite sure what he'd let himself in for. With a borrowed time trial bike and compatriot Fraser Cartmell providing a few pointers, he was now facing the heat of Middle East, a world away from his home town of Irvine in Ayrshire.
It's worth noting McNamee was only 26. He might not have been winning Olympic medals, but he'd achieved six top 10 finishes on the World Triathlon Series and had returned from a broken collarbone for a commendable seventh in the Commonwealth Games in 2014. For almost any other triathlon nation, he would have been a shoo-in for Olympic selection.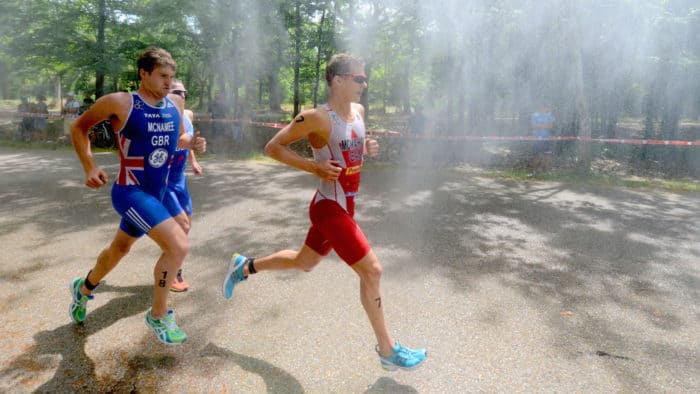 Yet it was British racer Will Clarke, who made an astute comment before the race in Dubai, to suggest the longer format could be his calling. "I think David will do well," said Clarke, a 2008 Olympian, who is also racing in this year's Ironman World Championship on Saturday. "He's one of the few triathletes in ITU racing that could negative split the 10km. He knows how to pace a race."
It has proved prophetic for the success McNamee is now enjoying racing Ironman, particularly on Hawaii's Big Island – where it really matters – and where only the reigning champion, Patrick Lange, looks capable of closing out the race faster.
This year's contest features Lange and Lionel Sanders, 2014 winner Sebastian Kienle and an eagerly-anticipated Kona debut from Javier Gomez. But McNamee still merits a mention. After all, he finished third last year, the finest performance by a male British triathlete in Kona, and the seventh fastest time ever clocked on the course.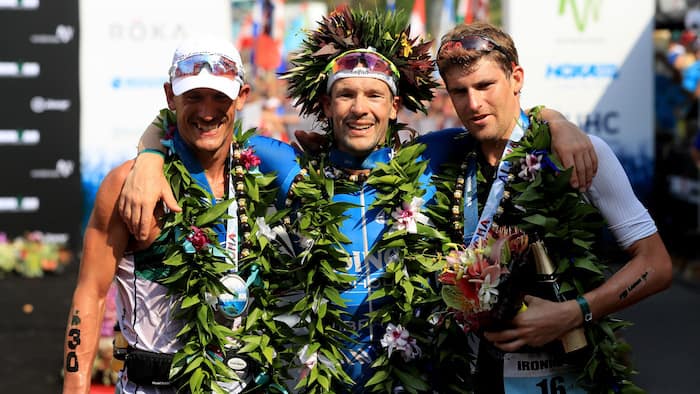 "I was happier as soon as I switched to long course," McNamee says. "I accepted that British Triathlon didn't have me in their plans and they never told me anything to go against that.
"I had the bike crash too, which has left me with permanent nerve damage and affects my wrist and fingers. It's a lot nicer being on a TT bike where my weight is supported by my elbows and shoulders."
He finished 21st out of a 61-strong professional men's field in that first race, but it would be the iron-distance events that provided the steepest learning curve. "Between ITU and 70.3 there's not that big a difference," he continues. "But once I got into 4½ hours of racing at my first Ironman, in South Africa, my body knew it. I just wasn't ready. I lost about 20mins in the last 60kms of the bike. I couldn't pedal."
The conditioning under coach Joel Filliol, who (age-group triathletes take note) doesn't start training sessions before 8am, was quickly implemented, and McNamee put down his mark on the domestic scene by winning IRONMAN UK in Bolton in his first season, then backed it up with the fastest run split in Kona, where he finished eleventh.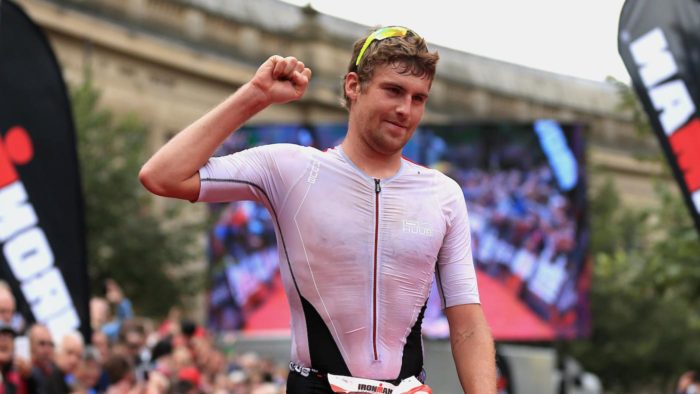 The following year was a plateau. His talents had caught the eye of the BMC-Etixx team, but results did not match expectation and ties were severed after a season. It brought the commercial realities at this level into sharp focus.
"Ironman is not a sport that's going to make you rich," McNamee says. "You do it because you love it. I've been with HUUB since 2012 and when it comes to sponsorship, although results matter, it's the relationship you have with the company that's more important.
"The sponsor has to see value for the investment and there has to be more to it than giving me money to wear the kit. Part of that is racing fast and showing the equipment is fast, but it's also about giving feedback.
"I should be pushing the bikes and running shoes to the limit. There should be few athletes that can put the equipment through what I can – and there are few athletes who are as anally precise about things as I am. Ultimately, my life revolves around this equipment and that's a valuable thing."
McNamee has helped refine the new HUUB Anemoi trisuit through testing with Derby-based aerodynamicist Dan Bigham, and wore an earlier version of it in Hawaii in 2017, where he'd finished in a blistering 8:07:11.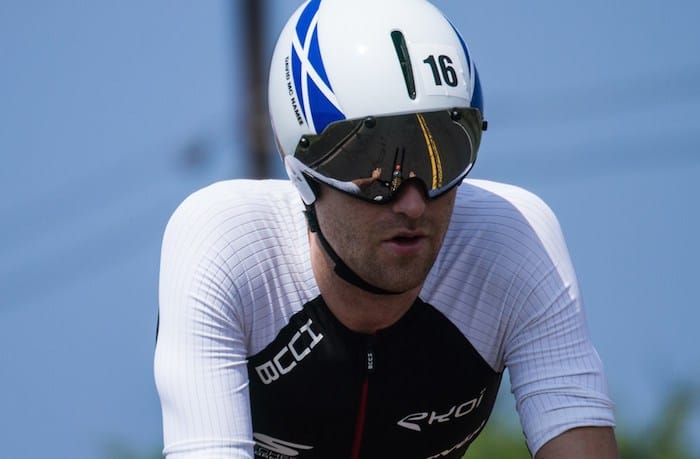 "I've learnt in life that it's better to find the expert than try and figure it out using Google, so I put my trust in Dan. I have the updated version now and there's a marked difference in the velodrome," he says. "Kona is the big test, but even though it was a fast suit last year, it was still comfortable to wear in the heat – and that's the best race-day test scenario you'll ever get."
Although they no longer train together, McNamee also attributes performance gains to training with two-time Ironman champion Jan Frodeno around their shared home city of Girona in 2017.
"It's one thing doing the hard work, but another making sure you recover from it," he explains. "In the past I didn't have confidence in what I was doing and over-trained by not recovering properly. I then stopped being able to deliver the same quality in sessions. I've now learned that that's a sign to back off, not do more and more."
Prioritising recovery to allow his body and mind to absorb the workload, means he arrived in Hawaii last year in the best shape he'd been for the race, but it still didn't provide an indication for what was to come.
"It's only once a year we all get together in Ironman," he says. "I know whether I'm better or worse, but have no idea about anyone else. I surprised myself with the time I went last year. If you'd told me I was going to go that quick beforehand, I'd have said: 'I'll probably win'."
DNS OCEANSIDE. I flew all the way to the US to get sick and spend my days in bed. No Oceanside 70.3 for me tomorrow. On the plus side at least the sun has appeared #triathlon #racing #ironman #trilife https://t.co/FAhWwLtHE6 pic.twitter.com/GzE700HTW2

— David McNamee (@DavidMcNameetri) April 6, 2018
This year has been frustrating. McNamee flew to Oceanside in California in April and spent the whole race week in bed. He returned to Europe to win Marbella 70.3 and was runner-up to Javier Gomez at Barcelona 70.3 a fortnight later.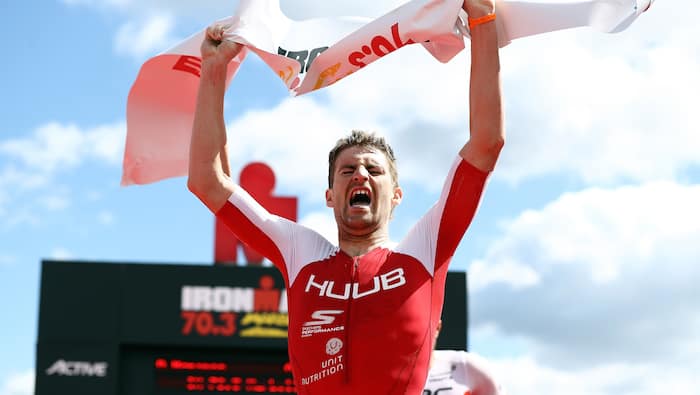 But with momentum gathering his planned Ironman in Austria was again ruined by sickness, although he persevered to the finish line in 8:55:55 for 15th position and enough to validate his Hawaii return.
"Until this year, I'd only ever been sick once in 10 years before a race," he says. "To happen twice in a year is difficult to accept." A confidence-boosting trip to Ironman Vichy 70.3 in France was planned for late August and all was going to plan as he led the 90km bike ride.
"I felt in great shape. I had a good swim, was leading on the bike with a nice gap, came around a corner and hit a piece of concrete that was left in the road. The front tyre went bang.
FUDGE!!! That sums up this morning. Hit something left on the road whilst leading the bike. Just about managed to stay up. Flat tyre and pitt stop was a fail. Race over #vichy #racing #triathlon #ironman #needluck 📸 @jamesmitchell5 https://t.co/sJSdx3nlBT pic.twitter.com/6xEgdrLRmS

— David McNamee (@DavidMcNameetri) August 25, 2018
"Thankfully, I just about stayed on my bike. The lead moto had stopped and was looking back concerned because he knew what was going to happen. That was my race over.
"It left me frustrated. It was the third time this year I'd not been able to do what I love and train for, and it took a couple of days to accept it. The past few months I've been in great shape, but haven't been able to show it. I don't feel like I've had a race season, so I just want to go to Hawaii have an incident-free race and be healthy."
How does he see the race playing out? "It's exciting. There's an uber-swimmer such as Josh Amberger, bikers like Sebastian Kienle, Cameron Wurf or Andrew Starykowicz, then all-round guys like Lionel Sanders.
"Patrick Lange knows how to run in Hawaii like nobody else has ever been able to run in Hawaii. Then you have Javier Gomez – it's his first year, but he's the complete all-round athlete. I think he's up there with Patrick in terms of running efficiency, and running well in Hawaii is about being efficient.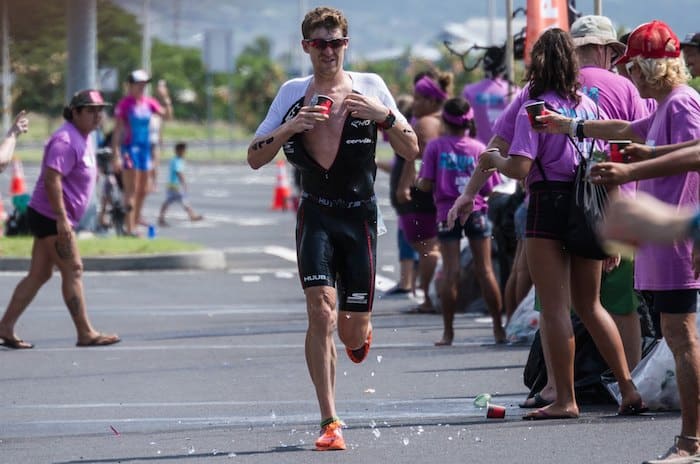 "If you want to be on the podium you will have to play your cards, so I expect the swim to be fast, the bike to go hard for the course record, and, if similar conditions to last year, to win, you'll have to go under eight hours.
"If I want to get back on the podium, I have to get off the bike closer to the front of the race than I did last year. Last year, there were blow-ups – Lionel faded badly on the run, Sebastian blew up towards the end. I don't think they'll repeat those mistakes.
"My power meter had stopped the day before the race, so I rode on feel. A lot of people probably thought I was riding steady, but I was pushing hard. This time I need to push the bike even harder but still be able to run afterwards. Kona is a fine line and as soon as you go past the line, there's no way back."