Meet Peter Greedy…
If you have been to any triathlon events in the last few years you can't help but notice athletes racing with Greeper Laces. Whether Pro or Age-Group, the lace of choice for many triathletes is Greepers.
I was first introduced to them when I noticed four-time IRONMAN World Champion Chrissie Wellington wearing a pair at Challenge Roth in 2010. In an interview we did with Chrissie about any changes she made before the race in Roth, she said:
"Oh, and the Greeper laces! I really am so happy to be linked with Greeper – the guy is a 'one man band', the product is innovative, it works and it is fantastic that a portion of the sales go to charity."
"The guy" is founder, Peter Greedy, a very likeable character who you will see at races and events nearly as much as you see his laces. Having become part of the furniture in triathlon, I wanted to take a step back and find out how an Optometrist working for a health care company ended up inventing a race lace that has ended up on the podium at the Hawaii IRONMAN numerous times.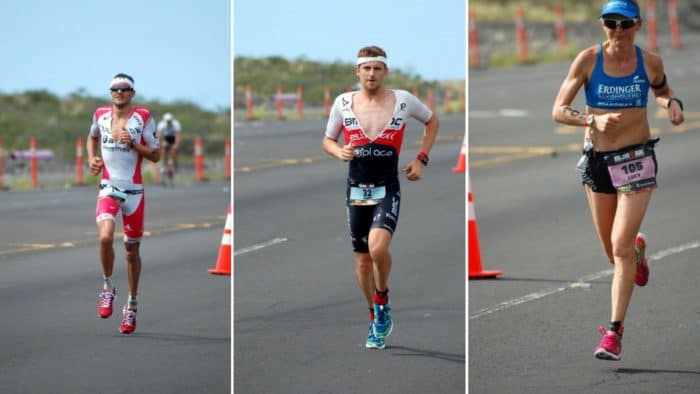 TRI247: Can you give us a bit of background on you and your career?
PG: Now in my 50's, I have worked in the eye business for over 30 years. I gained a BSc(Hons) degree in Optometry from City University in 1987. I worked in High Street Practice for about 10 years and then Joined a global healthcare company (Bausch & Lomb) who made contact lenses and surgical equipment for eye operations. I had various roles of professional services and training with my last six years there I was an IT Director (EMEA) of Customer Relationship Management (CRM). I left corporate life 10 years ago when I founded Greepers and still do two or three days of Optometry clinics each week.
TRI247: Were you into triathlon before you started doing the laces?
PG: I was into triathlon before I realised Greeper Laces had an application in the sport. I started with a few Olympic and Sprint distances and the last one I did was the half Iron distance Cotswold 113 in 2014, just before my 50th birthday. Like most people back then I was using basic elastic laces. I remember chatting to Mike Trees and some of the folks at the open water swim at Liquid Leisure in Datchet about laces, and I realised my product had something different to offer…
TRI247: How did the idea for Greeper Laces come about?
PG: Frustration with my kid's shoelaces coming undone all the time! Like most parents we taught them how to tie their laces but most of the time after 15-20 minutes they'd come undone! So the thought process was, "how can I prevent the laces coming undone?" One day, driving up the M40 to a conference at the NEC, I had my Eureka moment and when I got home grabbed a pair of my kids trainers, went into my shed and finally came out with a prototype!
TRI247: Why did you call them Greeper?
PG: It's just a made up name from GREEdy and PetER! Sounds a bit like Gripper which fits quite well and it got a good response when did some very basic market testing!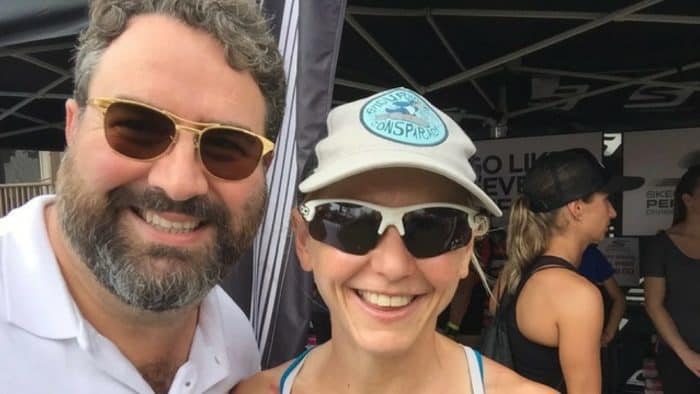 TRI247: From initial idea, how long and what was the process to get the product to market?
PG: My Eureka moment was in 2001, the patent was published in January 2006 and GREEPER Laces were first sold commercially in 2009. As with most inventors and entrepreneurs you start with huge enthusiasm and think you can conquer the world with your product! However, my journey started more cautiously, and still with several big/costly mistakes! As I had a good corporate job when I first invented Greepers, I was not looking to start a business. I thought, "get a patent and just licence the Intellectual Property" – simple! Surely the likes of Clarks and Nike etc. will welcome me with open arms! AS IF!!!
When the patent was first published I was approached by a load of companies promising to develop, market and sell my invention and make me a ton of money, but they all wanted sizeable money from me up front. As I was not in a position to do that I was very careful sifting through the approaches and finally selected a company that had done something similar to what I was hoping to do and the cost to me was affordable. DISASTER! The guy thought he knew what was best, didn't listen and in the process his business went belly up!
I let things lie for a couple of years after that experience and then, having got a little fed up of corporate politics, took redundancy in January 2008, having decided to give Greepers a go on my own. Mistake number two: having not got any open doors from the big footwear companies, I thought I'd launch my own line of footwear… Yes, dumb I know! Too small a fish in too big a pond – and no experience of the footwear industry!
I have often said that if I'd invented a product for the eyes I'd have done much better as I have great knowledge of that business with a ton of contacts! Finally, in 2009, I redesigned the product to be sold as a stand-alone accessory, that the consumers could buy off the shelf and fit themselves. This was around the time I was doing my first triathlons and got introduced to Chrissie, and also I had met a few occupational therapists who told me Greepers were great for all sort of disabilities.
TRI247: In the development process what surprised you the most and what was the hardest thing you had to do?
PG: Surprises: 1. How flipping hard it is to get in to talk to people at big companies (I realised early on that I'm NOT a good sales person!) 2. How easy the Internet makes everything these days! 3. How many mistakes I've made in the journey so far! As for the hardest thing, that would have been selling my car (a very nice 5 Series BMW), to fund some of the development!
TRI247: I know that in December 2017 you celebrated that it was 10 years ago that you incorporated Greepers Ltd as a registered company in the UK. How has the product evolved over those 10 years and what do you have planned for the next 10?
PG: The product is pretty simple so there have not been significant developments since 2009. I have made some tweaks but nothing major. Keep it simple is a good approach here! There are two key developments in the pipeline. First: Introduce biodegradable materials. Second: my patent covers fastening of both shoelaces and clothing! So, I'd like to introduce some clothing where the Greeper fastening system could help – for example, any trousers or shorts with a tie cord at the waist could be "Greepered"!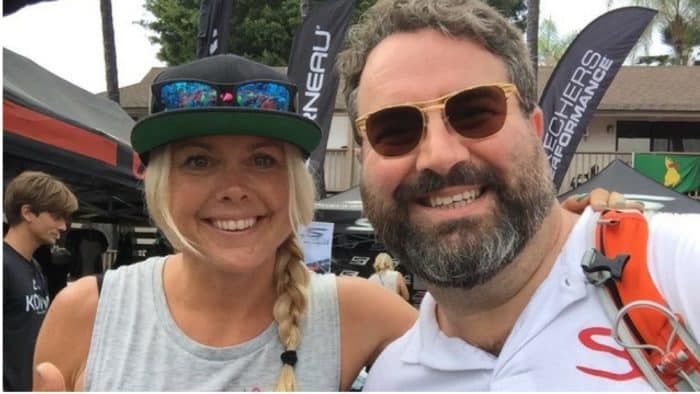 TRI247: In October 2016 you went out to watch the IRONMAN World Championships in Hawaii, how was that?
PG: AWESOME! This was a trip many years in the making. I bought a round the world ticket, went to the factory in China first, then visited my distributor in Japan, and finished in Kona. I got to meet many top professional triathletes (Jan Frodeno, Tim Don, Lucy Gossage, Caroline Steffen, David McNamee, Linsey Corbin, Michelle Vesterby, and more!) who have been using Greepers for some time and watch the race from great vantage points having been given a VIP access pass. I remember watching Chrissie's last race and thinking one day I need to be there and it did not disappoint!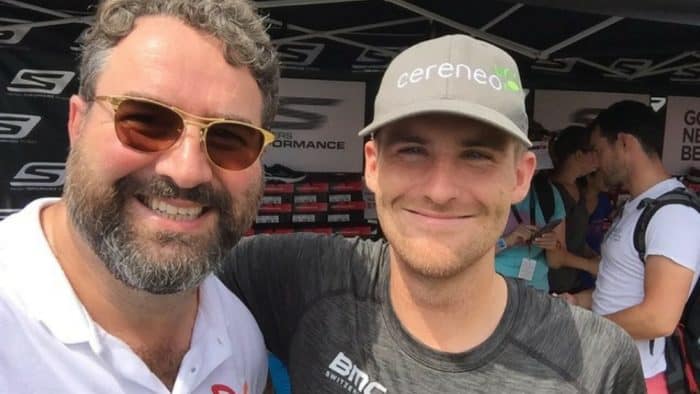 TRI247: Looking back now, what would the 2018 Peter say to the starting out Peter as advice?
PG: I think I've mentioned the key things already and don't have regrets, but of course there are always things that could be done better! However, though I've made a few costly mistakes, I would still say that you need to be ready to take risks and not afraid to fail! Trust your own instincts and get as much input from others as you can.
TRI247: In the 10 years you have been operating in the triathlon market what changes have you noticed in triathlon in the UK?
PG: Wow, a lot! It seems a lot of companies have come and gone, especially in the retail sector! The triathlon demographic seems to "like their stuff" and so you'd think with the explosion of participation and events that the retail sector would thrive, but some significant players in this sector are no longer with us! And as said the number and variety of events available now is fantastic. I'll never forget being in Hyde Park for the 2012 Olympics races and we are very fortunate in the UK to have such a talent pool with the Brownlee boys real superstars of the sport!