The London Triathlon is a longstanding staple of swim, bike, run, but does the monster event in the Docklands still hold mass appeal? After an eight-year absence, Tim Heming returned to find out.
---
To many triathletes in the UK, the London Triathlon is a rite of passage to multisport, a two-day extravaganza based around London's cavernous ExCel building encouraging all and sundry to dip their toes into the world of swim, bike and run for the bucket list, a personal best, charity or office bragging rights.
There was a race here as early as 1985, when the sport was still in its formative years, and for the past 23 summers Docklands has been its home. There have been changes. It's been sold and re-sold, changed title sponsor, abandoned the elite race, introduced an Olympic Plus (with an extended bike leg) and more recently a Weekend Warrior option (where entrants attempt to complete as many triathlons as possible over the weekend). But its core principle of attracting new blood to the sport has remained.
It's simultaneously daunting and accessible for the novice. The scale is enormous, encapsulated by the never-ending racks that make you think your bike could be lost forever, and there's the imposing Royal Victoria dock to jump into to kick it all off, essentially an off-shoot of the Thames in all its murky glory.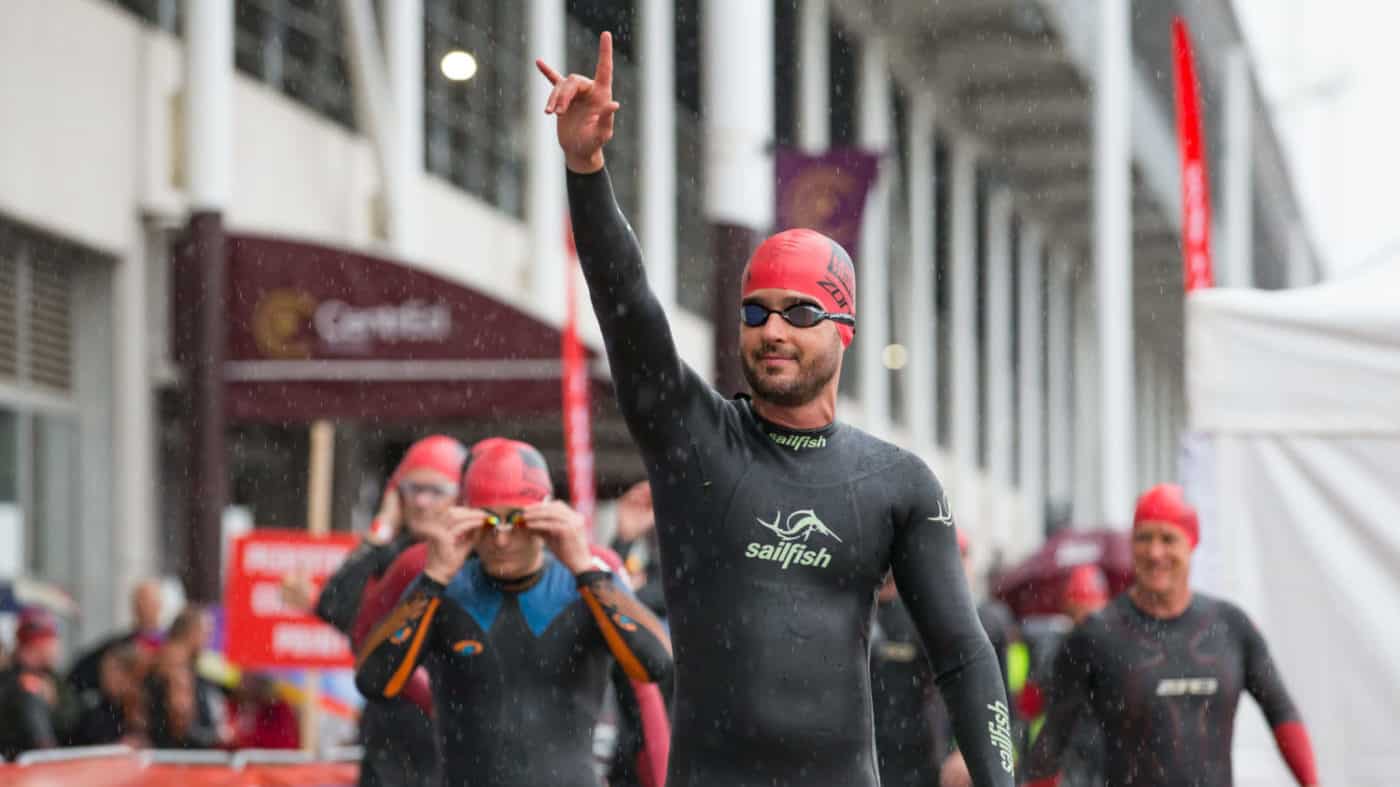 But equally there's plenty of smiling volunteers to offer assistance, a thorough briefing to put you at ease, a choice of distances, relay options should you not want to tackle the whole thing, and such a diversity of entrants that you're safe in the knowledge that you'll never be shown up for lack of athletic prowess. And even if that is a concern, the wave starts every 10 minutes through the day mean you'll simply blend in and no-one will have a clue – or really care – whether you're 10 minutes faster than everyone in your wave, or two hours behind.
I'm back for the first time in eight years. The last time I was here, the background was different. I was just over a month away from my first iron distance race and had the sort of euphoric triathlon bug you don't pick up from a mouthful of Thames river water. I was younger, fitter, training was always a joy and I'd even scan the results afterwards to see how I fared. I couldn't swim (still can't), but would catch a few on dry land.
This time I'm longer in the tri tooth and here to test out an aching body and some new wearable swim tech from innovators Incus that will be launched this winter. I'm handed a small vibrating prototype, called Nova, to nestle in a pouch just below the nape in a purpose-built tri-suit. Its role is to monitor micro movements as I swim, chiefly the roll of my body as I take each stroke and changing pitch of my torso when I breathe or lift my head to sight.
The really clever bit is that the Nova also records the incremental velocity, so if I raise my head too much or tilt too far to the right, it maps how I'm slowing. The information is curated on an app, which shows my asymmetries and helps decipher what I need to work on to perform better next time. It is being further developed to include the bike and run.
Being a 'wearable tech guinea pig' is also a reminder of just how much prep there is for triathlon, from the race numbers being stuck in the right places, to nutrition and spare inner tubes, photo ID to pick up the timing chip, and a wrist band to collect my bike afterwards. With the mandatory race briefing and imperative pre-race comfort breaks to consider, 90 minutes grace on arrive at ExCel proves only just sufficient.
There is also warm clothing to pack for the aftermath, for unlike the week that preceded the event – the hottest on record – Saturday morning's downpour leaves a trucker's wheel wash on the four-lap run course, fills every pothole in Beckton (many) and the driest place to be is probably the swim.
The swim itself for the 9.30am start, a 1,500m clockwise out-and-back along the length of the Royal Victoria dock, could not be simpler to navigate. The conditions put paid to any morning sun to necessitate tinted goggles and the water is balmy (although with the number of newbies at this event, it's unlikely organisers would ever enforce a non-wetsuit directive).
It's also highly civilised. In the second wave of many for the weekend, no-one is under any illusion they are racing anyone but themselves, and self-select starting positions to afford ample space.
I just about remember to start the Nova device and the only unsteady moment is when the first plane from the adjacent City airport leaves the runway and sounds as if it narrowly misses scalping my swim-cap.
Out of the water, in 32:27, London Tri rules maintain that wetsuits are stripped and placed in a clear plastic bag before heading up the steps into transition. It's a tried and tested routine and the amount of accompanying water in each bag, makes it look as if each swimmer has just won an oversize goldfish from a fairground attraction.
The bike is relatively straightforward to locate as long as you remember your race number and pick the right lane (helium balloons flying from racking points are outlawed), and from there it's back out of ExCel and the start of four laps from Poplar to Beckton.
This is where those deliberating whether to race Saturday or Sunday should take note. Sunday provides the more aesthetically pleasing option, with the bike course stretching further west to Westminster and a route that takes you through Canary Wharf past the Tower of London and along the Embankment of the Thames to a turn-point by Big Ben.
Instead, I'm navigating some nondescript dual carriageway, a few roundabouts, rumble strips and an unforgiving road surface that witness an inordinate number of cyclists fixing roadside punctures or traipsing dolefully back towards ExCel.
The rain is still pelting down, which doesn't help with debris being washed on to the surface and there are welcome bike mechanics to help stragglers. It does pose the question of whether a more puncture resistant tread would be advisable for both roads and/or conditions like this. Will leave that with you, dear reader.
I finish the bike in 1:16:56. It's not pretty, but it is in one piece and after a short, sharp ramp back into ExCel it's a straightforward dismount and into T2. The run itself, other than yet another ramp back into ExCel, is four flat laps of 2.5km. It's probably short, but given it also runs inside the building for a hundred metres or so each lap, I wouldn't put much faith in any GPS readings.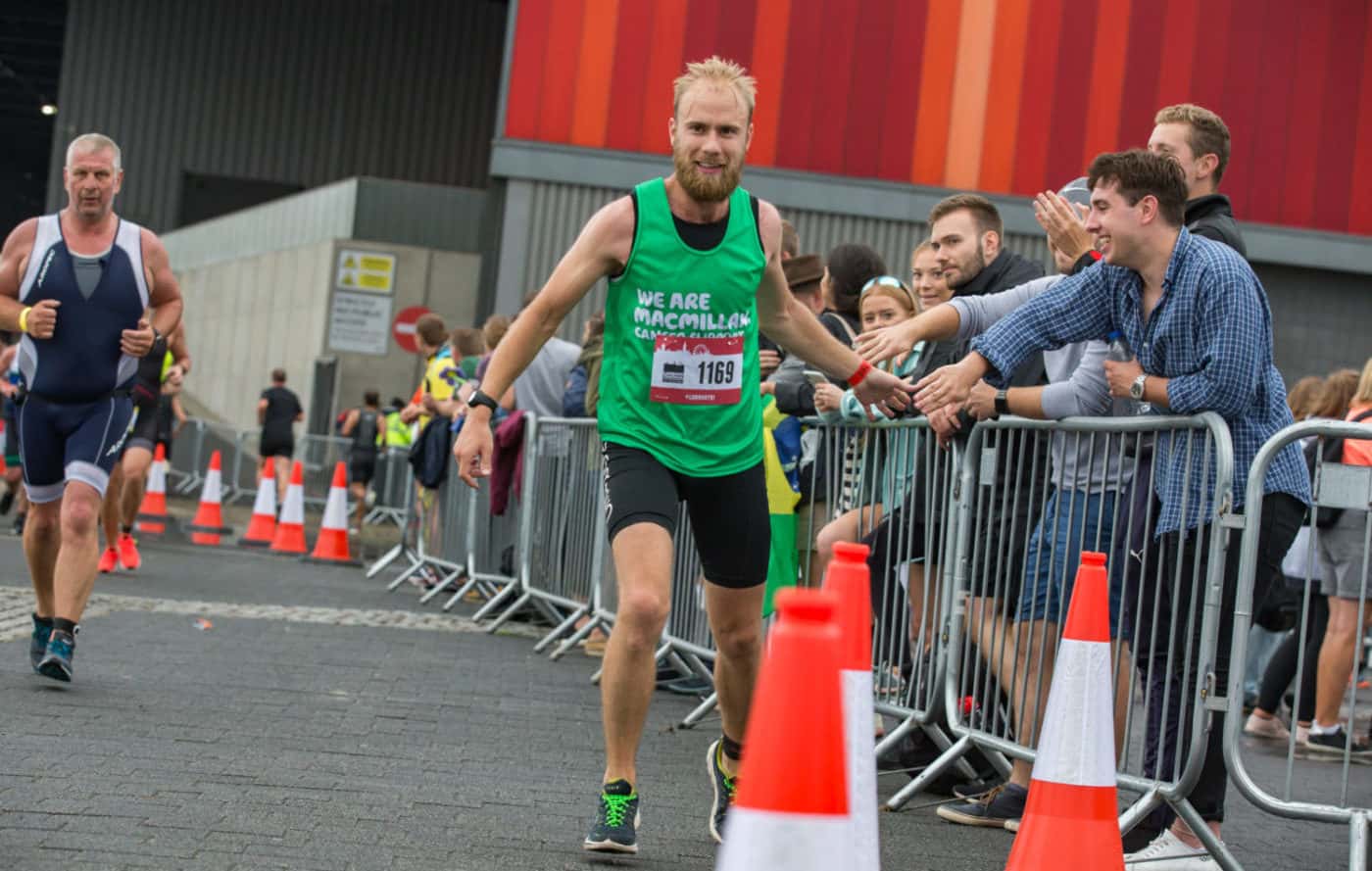 It's mainly on tarmac and fairly congested, which isn't a problem providing people make an effort to keep to the left, and there's a springy section of makeshift plastic flooring and one giant puddle to keep things interesting and your trainers clean.
The finish is back under cover, as is all the mopping up and collecting of kit, which, given the British weather this week, should not be undervalued. It also gives any loyal supporters a little respite. I run 41:30 and am grateful to finish in 2:36:53.
The verdict after an eight-year hiatus? It'd be easy to say some of the sheen had come off the London Triathlon and to an extent that is true. It still attracts thousands, but its numbers have dwindled from their peak. The weather understandably thinned out the crowds and party atmosphere in 2019, but it also lacks a title sponsor and the tri retailers were thin on the ground in the exhibition centre.
Yet while this might all be objective, there is also the subjective view. I still recall the wide-eyed excitement of first racing the London Triathlon, and that was no doubt shared by many debutants at the weekend. For newcomers to the sport, preferably racing with or against friends or colleagues on closed roads in one of the world's great cities, there are far worst ways to spend a weekend. And as a gateway to enjoy many happy, healthy years enjoying all that triathlon can offer, long may the London Tri prosper.