New in for testing: AeroCoach ARC2 chainring
£95 (£100 with chainring bolts)
Several bits of kit and equipment have arrived with us over the last week or so and set to be put to the test over the coming months by Chris Hovenden. We had a 'first look' at the HUUB Anemoi Aero Triathlon Suit earlier this week – here is something very different, the AeroCoach ARC2 chainring.
---
AeroCoach, headed by aerodynamics expert Dr Xavier Disley, started off by providing aero testing (originally based on the track, but now with the addition of using the Boardman Performance Centre), but more recently the UK based company has gradually increased its offering of aero optimised products.
We've just received a triathlon-focused, single 52t aluminium chainring – the ARC2.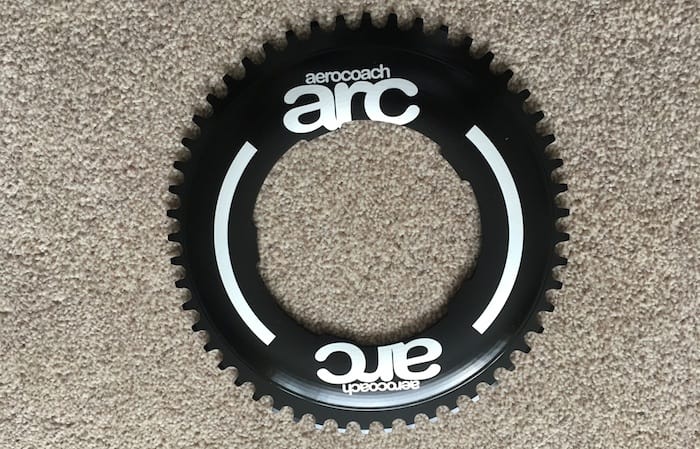 AeroCoach asserts that the chainring's subtle non-circular shape (if you look carefully it's not quite circular, although it is far from a ROTOR Q-Ring), can help you save between 3-5 watts.
The explanation from AeroCoach is that the slight oval shape of the ARC2:
"increases gearing quickly at the beginning of the pedal stroke as this is when the main force producers activate (gluteus maximus, vastus medialis and lateralis, as well as the tibialis anterior). After this period gearing is maintained all the way through the highest torque phase before gradually decreasing down to a minimum gearing at bottom dead centre. This smooth drop off is when the effect of gravity and the lower leg muscles come into play."
I'm not a scientist, but in layman's terms it appears the reasoning is that the shape of the chainring encourages/enables you to engage your larger muscles to exert more force when the gearing is at its greatest (which is at the top of the pedal stroke), and less power is required further through the pedal stroke when the effective gearing is less, with the asserted end product being a smoother pedal stroke.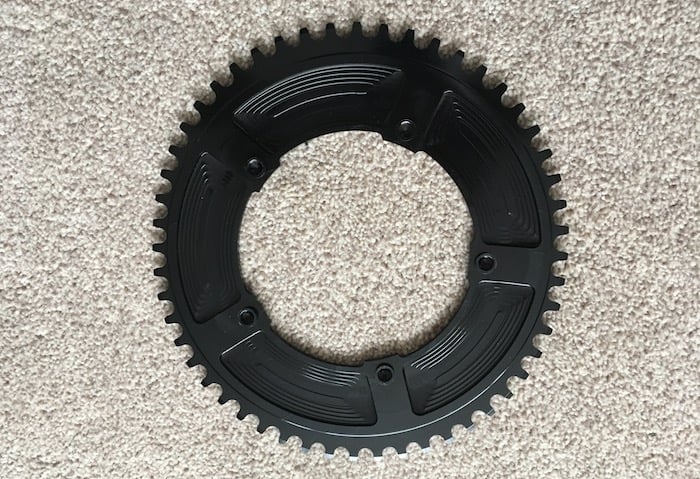 It'll be interesting to see how the ARC impacts my pedalling technique; when riding with other oval shaped chainrings, the Rotor Q-ring and Osymetric (as used by Chris Froome), there was a period of adaption.
AeroCoach says that the 52t chainrings are designed to excel at speeds of between 30 and 45kph and are suited to events requiring lower and/or changeable speeds (i.e unlike a time trial up and down a dual carriage way).
The idea of a 1x chainring for time-trialling isn't that out of the ordinary, but I expect triathlon events (which can have particularly lumpy courses and/or be technical) to be a serious test of the limited gear options.
I'll be putting the AeroCoach ARC2 over the winter period and during early season races.