There is little doubt that the 'smart' trainer market is one of the fastest expanding areas of triathlon and cycling at moment, with indoor cycling currently in 'boom' mode.
With some trainers on the market costing £1,000+, how does the new BKOOL Smart Pro 2 perform, at half that price? Is it worthy of your consideration if you are in the market for a new home trainer?
---
Who is it aimed at?
Cyclists and triathletes who want an innovative, high-end smart trainer at a (relative to the market), more affordable price point.
Best Bits?
Simple to put together. Price. Innovative software.
What surprised you?
How well the tyre ran on the roller and the realistic ride feel, purely using the weight of the rider.
Reasons why you would buy it?
Great price, very well made.
BKOOL Smart Pro 2 – our experience…
Building on the success of the original Smart Pro trainer, the Spanish indoor training company have unveiled the latest evolution, the BKOOL Smart Pro 2:
Compact and light, weighing in at just over 11.5kg, the new turbo promises an even quieter workout, thanks to a redesigned fan cover – approximately 70db when rolling at 30kph. It packs a punch when it comes to power, reaching up to 1,200w whilst simulating slopes of up to 20%.
BKOOL is fairly unusual in the smart trainer market; as well as producing smart trainers, each unit comes with a Premium subscription to their own virtual trainer software. The software allows cyclists to ride any route in a virtual environment, 3D racing, real weather scenarios and take part in virtual velodrome games. Riders also have the ability to customise and analyse any workout on BKOOL's analytical software.
The trainer is not limited to using BKool software however and can be readily used with other software packages ('The Bkool Smart Pro is compatible with third-party software that is ANT+ FE-C and Bluetooth Smart'). So, if you are a Zwift, Trainer Road, Sufferfest (and more) user, the Smart Pro 2 will still work for you.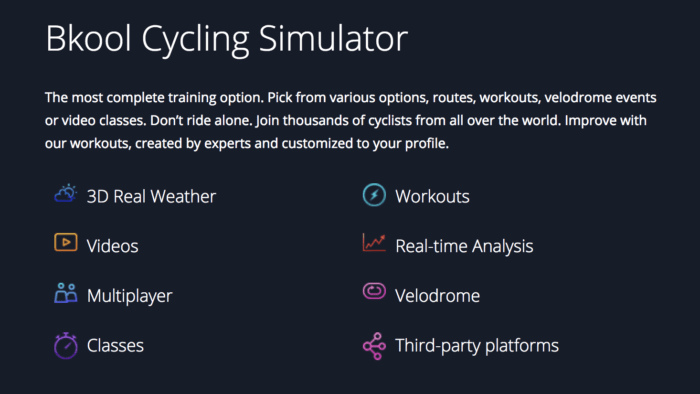 Some of the updated features on the BKOOL Smart Pro 2 include:
Only smart trainer to simulate inertia, riders will enjoy the momentum of flying down slopes.
New bike attachment allows wider tyres to fit.
ANT+ and Bluetooth smart connectivity.
There is no assembly or calibration required, and with the machine made up of two pieces, cyclists can simply plug in and play.
We got a trainer sent into the office and our first impressions were very good. The unpacking experience was enjoyable and the unit felt like a very high end product. The look and design of the trainer is also pretty special and is a good example of how the home trainer market is developing, a change from 10+ years ago when all turbo's looked, well, pretty similar.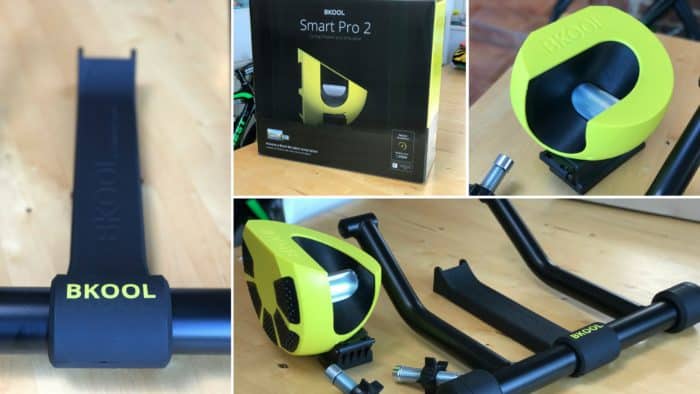 Looks are one thing, but we wanted to find out what the trainer was like to use so we sent it along to age group triathlete Dave Jones to tell us what he thinks. Dave seems to be a creature of habit having done Ironman Lanzarote six times and training to return in 2018, to make it number seven.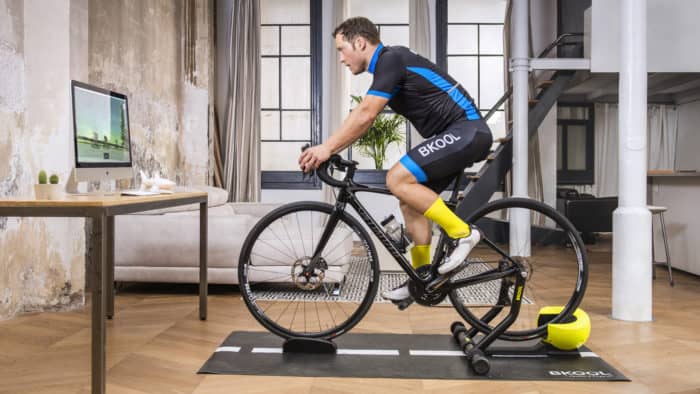 We asked Dave a couple of quick questions:
What did you think of the packaging and the unboxing experience? Good, trainer was held securely in the box.
Aesthetically, did you like the turbo? Yes, it does look really good.
How easy was it to set up – any issues or problems? Putting together was easy and straightforward. I did have a problem at first as there was no code to sign up to the virtual trainer, but that was due to the code going to TRI247 and not to me. Once I had the code, setting up the virtual trainer software was very easy and straightforward.
What was the process for connecting the unit to your computer? Connected to my iPad without any problems, really quick and very easy to do.
In your opinion what was the noise level like when using the turbo? I would say it was easily acceptable. I think you have to accept some noise when it comes to a turbo trainer and the Smart Pro 2 was certainly better than my older Tacx unit.
How easy is the unit to take down and store and then set up again? Very good and straightforward. At just under 12kg, the BKOOL trainer is pretty light when compared to the Wahoo KICKR for example.
Does the bike fit nicely and feel safe/solid on the turbo? Bike fitted OK, though not as sturdy as some other trainers, even with the extended legs.
Did you ride any virtual courses you have done in real life and how does it match up? I climbed Alpe d'Huez and that was really realistic and an enjoyable experience (well, as much as climbing Alpe d'Huez can be called enjoyable!).
What did you think overall?
Overall, I like the trainer. It is well made and easy to assemble without too many parts. I wanted the technology of a smart trainer as I train for hills and to have it go over 12%, and to be able to get out of the seat without the wheel slipping, was very impressive for a 'roller' based trainer.
Summary
At this price point (and – whisper it quietly – we've seen this product available currently at well below even the £499 RRP), and with all the functionality of the virtual trainer included in the price, if you are looking to purchase a smart trainer then the Bkool Smart Pro 2 should be on your short list of options.
More details on the BKOOL website.