This bike will divide opinion, both in terms of looks and the choice of braking system. With photos of the bike having been leaked pre-launch the forums are lit up with both positive and negative reactions to the bike.
These opinions are predominantly based on assumptions from spy photos, however, I have been lucky enough to spend the past week up close and personal with the P5X – learning about it, riding it, working on it and packing it away in a travel bag.
Below is my considered view on whether this is the next best thing or a step in the wrong direction for a brand that has a proven track record and a loyal following but admits to mistakes in the past – anyone remember the P4?

Looks
I chatted to Chris Boardman in Kona 2014 and asked him why a cyclist with a history of riding 'maverick' setups like his record breaking Mike Burrows designed Lotus would not push the boundaries of design further now that he is involved with his own brand. His answer was that it was tempting but he felt the market may not have been ready for a radical change in the look of bikes.
Since that interview, Dimond, Falco and Ventum paved the way for a reintroduction of designs that had been floating around since the 90's, the Softride being the most famous of the so called 'beam' bikes.
In that context, the new Cervélo is not as much of a visual shock as it might otherwise have been, I think the bigger surprise is that a brand of their stature and ProTour heritage has had the courage to design this bike from day one as a pure triathlon bike, freeing themselves from the restrictive nature of UCI rules.
Is it a beam bike? It certainly looks like one but Cervélo argue that because of the monocoque construction it has very different riding characteristics to a traditional beam bike and should not be confused with bikes that are actually designed to deflect for comfort.
Personally, I love the look of it. It is "badass" to coin a phrase I've heard on many occasions in the last week. I can also testify that it is a head turner. Whilst every effort has been made to keep the bike under wraps, I noticed that on the odd occasion a hotel guest or member of staff caught glimpses of the bike it quite literally stopped them in their tracks.
Design
I arrived at Cervélo's base in Kona expecting to be impressed with the detail behind this bike but I was blown away by the level of thinking that went into every aspect of the setup. The storage flexibility is almost unlimited and finally we may be seeing the end of triathletes buying expensive bikes and then taping eight gels to the top tube, ruining all the aerodynamic benefits of the carefully engineered frame.
There is space for an integrated tool kit within the frame and as much or as little hydration/nutrition as you might need for your race distance. If you want no bottles for a 10 mile TT then strip it right down to just the frame. Racing an Ironman and want space for three round bottles and eight gels plus bars and salt tabs? No problem.
The Trek Speed Concept pioneered the idea of integrated storage, the Canyon Speedmax moved things up a gear but Cervélo have taken this to a new level. To borrow their marketing tag line this is about your Personal. Best.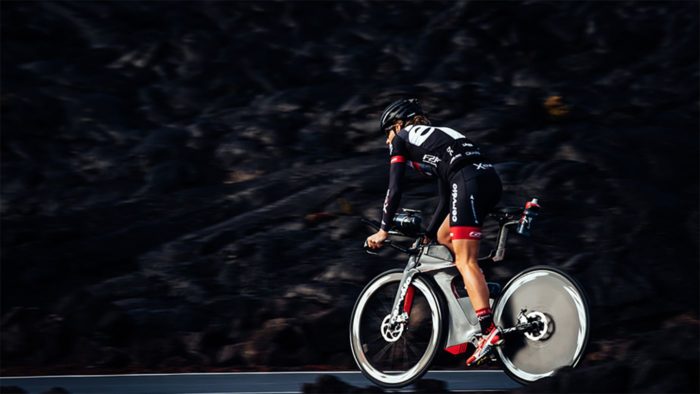 Brake choice
Inevitably, the most divisive aspect of this bike will be that it offers no option for rim brakes, Cervélo are fully on the disc brake bandwagon.
The message I heard loud and clear, bearing in mind both Hed and Enve were present at the testing base, is that disc brakes are the future. Quicker than you might imagine, rim brakes – particularly on carbon wheels – will be regarded as old technology. Disc brakes are here, and here to stay, and with Cervélo having made the leap I expect the other major manufacturers to be scrambling to follow suit or get left behind.
Having ridden the bike the braking is, by a long way, better than anything I have ever experienced on a TT bike, more powerful and with better modulation. Many people ask the question why are brakes important on a TT bike? Well, having confidence in your ability to stop helps you to go faster on the road particularly on descents and technical courses.
I am disappointed that full hydraulic TT brake levers were not available at the time of launch. Whilst they work very well, the TRP hybrid cable/hydraulic brake system feels like a compromise. The bike has been designed to accept a full hydraulic system when they do become available, and I am assured they are on their way soon.
Personally, before last week I would have been firmly in the 'remain' camp for rim brakes but with the inevitable industry move towards disc technology the argument to switch is now much more compelling.
Aren't disc brakes less aero though? Again, not according to Cervélo's engineers. By moving the brakes away from the head tube and top of the fork they have been able to see significant aerodynamic gains in this area, which offset the aero losses at the disc itself. There is a small weight penalty over rim brakes but this was felt to be an acceptable compromise by Cervélo.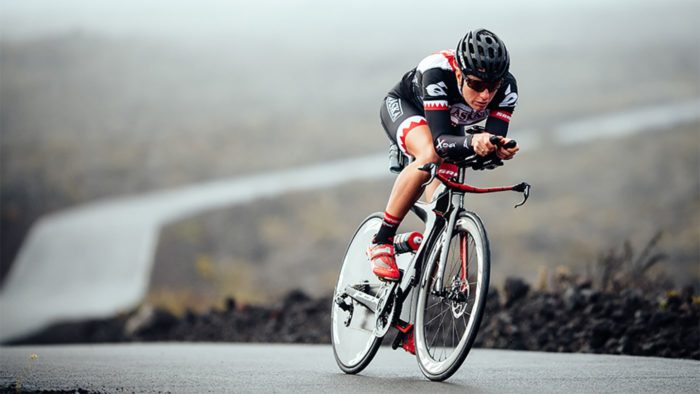 Adjustability
The new stem/riser post system is genius. It is one of those ideas that is so simple in its execution that you shake your head in disbelief that no one has thought of it before. Armed with one 4mm allen key you could adjust the height of the aerobars every half an hour on a ride until you felt dialled in and it would only cost you 30 or 40 seconds on each occasion.
Having the ability to run the seatpost through the top tube until the saddle height is dialled in is also a great feature. Committing to cutting a seatpost very early on in the ownership of a bike (usually before test rides have taken place) is unnerving at best. It is perfectly acceptable to ride the bike with seatpost exposed below the top tube for as long as necessary before committing to cutting the seatpost flush for a neater appearance.
The folding aerobars are another invention unique to this bike. One of the biggest negatives I hear on a daily basis with regard to 'superbikes' is how difficult they are to maintain and to pack away. This is probably the easiest bike in existence to pack away for travel, particularly when paired with the (optional extra) Biknd custom P5X travel case. Undo seven 4mm or 5mm bolts, take the pedals off and fifteen minutes later you are done and ready to go to the airport.
I think there has been laziness in this area of bike design in recent years. Brands seem to assume that cyclists looking for fast, integrated bikes will arm themselves with the necessary knowledge to maintain and pack away their complex designs. My experience is that is the opposite of what actually happens. Athletes who can afford these bikes are often the most time pressured and least likely to even have a torque wrench let alone to know how to use it.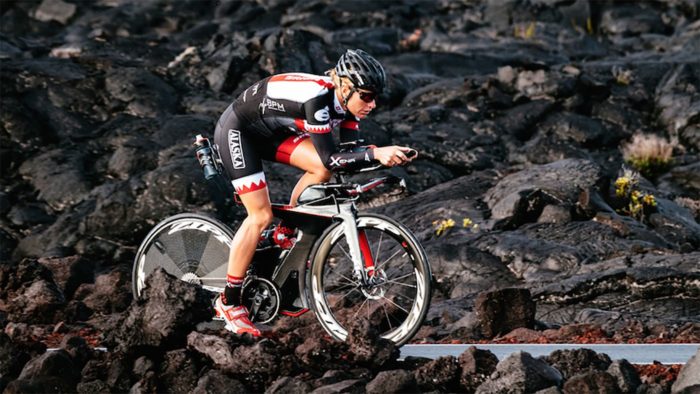 Ride
We spent two days riding the bike, the first ride included a 10km climb of over 1000m with a descent to match and the second was a fast, flat barrel along the famous Queen K highway here in Kona.
Prior to the first ride our positions were dialled in by Mat Steinmetz and after a five minute spin to check the position we headed out in vans to the middle of the island to test the bikes away from interested eyes and lenses.
Caroline Steffen was designated ride leader and immediately the road headed uphill at a reassuringly gentle gradient.
Settling down on to the aerobars the bike immediately felt familiar. The front end is comfortable – arm pads well cushioned, extensions angled up slightly to direct the airflow around the torso and the shallow ski bends helped to promote a relaxed wrist and forearms.
The ISM PS1.0 saddle choice was perfect, nice and forward on the bike and it tilts the pelvis forward, releasing the lower back. A big tick for the contact points and component choice.
In terms of the stiffness of the Hed manufactured frame, at times it is hard to believe that the bike has no seat tube. Climbing in or out of the saddle and putting the power down along the flats, the bike feels as stable and stiff as a traditional shape frame.
All of the Cervélo pros in Kona have been offered the use of the new bike for the race with no pressure to move over to the P5X at this late stage. As of yesterday, it is expected that all but one are going to be riding the P5X and I can see why, if it was me I would do the same. There really is very little to 'get used to' on this bike – dial in the position, jump on and ride it fast.
The previously mentioned gentle climb gradually steepened and seemed to go on for ever and, for sure, the P5X is no climbing goat. We had three full bottles on the frame which didn't help but it did feel sluggish going up but my jetlag and lack of climbing fitness were most likely contributing factors.
I had been looking forward to the descent for an hour or so but when it came I found myself wishing we were climbing again. A steep winding downhill at speeds in excess of 70kph with crazy, gusting crosswinds were perhaps an unfair test for a frame equipped with deep rim front and rear Enve wheels. Once back to the vans we all agreed it was a lot of fun in the same kind of way that a rollercoaster ride is a lot of fun after you've finished.
There were times on this descent where the gusts were so strong and the roads so steep that braking to scrub some speed was inevitable and the discs were exactly as promised, very smooth and it always felt there was much more braking power in reserve if necessary.
The following morning we headed out early on to the Queen K and rode some long rolling sections with the strong winds still whistling up and down the highway. This was going to be a much fairer test of a thoroughbred speed machine and the bike came through with flying colours. Any time the road flattened out or headed downhill the speed just felt effortless.
Reaching the turnaround at Scenic Point we headed back into the wind that was into and across us and the P5X frame and Enve 8.9 wheels as a system handled predictably and inspired confidence.
The Enve designed fork and stem system provide a very connected front end. The steering is very precise and actually quite lively in a good way. Sometimes TT bikes feel great in a straight line but turn like an oil tanker, this bike turns on a sixpence without ever feeling like the front end is twitchy.
These test rides were my first exposure to SRAM Red eTAP on a TT bike and it was faultless in its operation during both rides. It doesn't feel quite as definite in the shifting at the rear mech but that may be simply because it seems quieter than Dura Ace Di2 which has a louder, more definite 'clunk' when the chain lands on the next sprocket.
In conclusion, the bike is an absolute pleasure to ride. Perfectly comfortable thanks to the contact points and adjustable fit, confidence inspiring thanks to its geometry and handling stability but, most importantly, it feels fast and it is fast.
And, of course, it looks badass.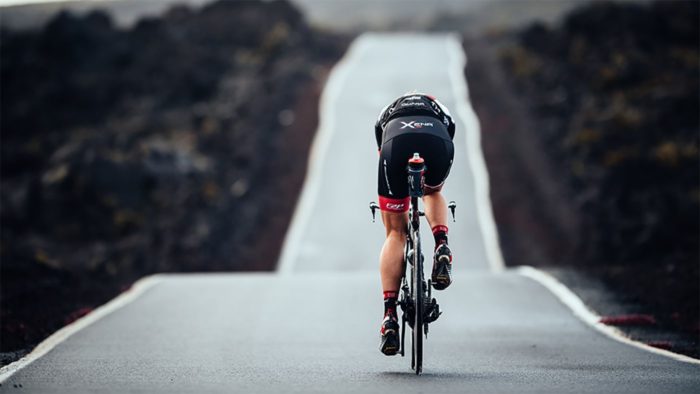 Price
At the retail price of $15,000 and $11,000 for the two models (GBP prices to be confirmed very shortly), the P5X is right at the top end of what you can spend on a bike and is not going to sell in the same huge volumes as the P3 for instance. It has, in my view, jumped straight to the top of the league table of Triathlon bikes. I fully expect Specialized, Trek and Felt to be scrambling to the drawing board to catch up in the next couple of years.
The difficult opponent for Cervélo is the Canyon Speedmax SLX, a Kona winning superbike which also features well thought through integration. At a retail price of £7500 with Dura Ace Di2 and Zipp NSW wheels it is hard to argue that the Cervélo is worth almost double the cost (for the top spec P5X).
The reality though is that at these lofty price points, most purchasing decisions are driven by 'want' rather than 'need'. Cervélo has worked very hard to earn a loyal, engaged following demonstrated by their domination of the Kona bike count for many years and I predict the Canadian brand and their retailers will see plenty of orders heading their way in the near future.