Renowned for their high quality, top performing sportswear, we've take a look at two items from the current cycle range from Craft (www.craftsportswear.co.uk).
Craft Essence Bike Jersey Men £60
The Essence Jersey is a soft, stretchy and functional bike jersey that adds another green dimension to cycling.
Combining timeless design with Solution Dye, an eco-friendly process that uses 75% less water, 67% less energy and 39% less chemicals compared to traditional fabric dyeing, this item makes a great sustainable choice for eco-minded riders.
In addition, the jersey is made of soft and functional fabric that provides excellent moisture transport and comfort. Comes with four back pockets, reflective logos and silicone print at back bottom hem that keeps the jersey in place. Mixes and matches perfectly with all your other cycling items.
Solution Dye – uses less water, chemicals and energy
Soft and stretchy for optimal fit and comfort
Efficient moisture transport
Four back pockets (one zip)
Reflective logos
Silicone print at back bottom hem
UPF25+
FABRIC 100% Polyester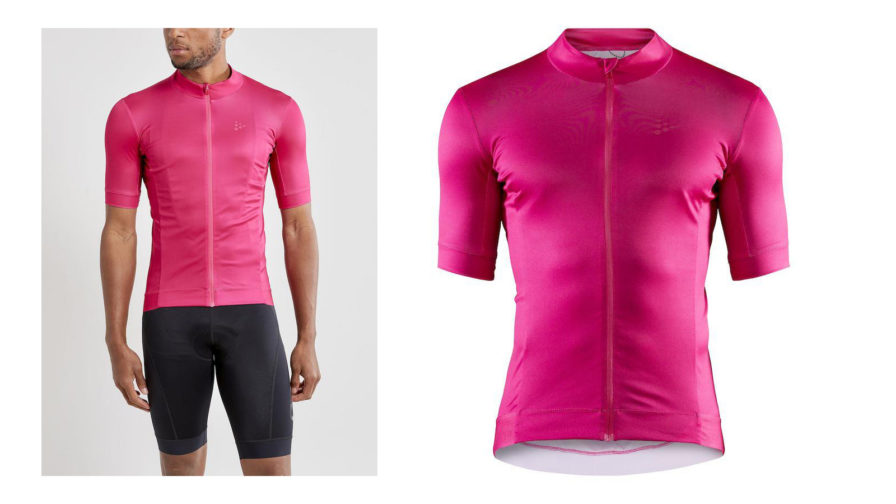 TRI247 VERDICT: The Essence Jersey is a well made clean looking cycle top available in five colours, including the Fame coloured one we tested out which is bold pink which was highly visible out in the wild. Construction is solid throughout the top with additional stitching in areas like the pockets. Four decent sized pockets at the rear with a smaller zipped pocket ideal for bank cards, each or keys.
The collar is soft and the front zipper has a nice sized toggle with a zip garage at the neck to avoid any discomfort.
Around the hem area there is a think silicone print to stop the jersey riding up.
A good fit, sturdy construction and a simple unfussy design make this a great choice for your next cycling top.
Craft Essence Bib Bike Shorts Women £80
Essence Bib Shorts are stretchy and functional bib shorts that combine timeless design with recycled polyamide to add another green dimension to cycling. In addition, the bib shorts feature Lycra® Sport Energy compression fabric and offer great body control and efficient moisture transport for optimal comfort and performance. Wide, soft and elastic leg endings with silicone print keep the bib shorts in place. Infinity C3 Pad Women.
Soft, stretchy and durable fabric
Efficient moisture transport
Recycled polyamide
Lycra® Sport Energy compression fabric with 4-way elasticity
Wide, elastic leg endings with silicone print
Reflective logo
Infinity C3 Pad Women
FABRIC Lower body: 78% Polyamide – Recycled, 22% Elastane, Shoulder straps: 80% Polyamide, 20% Elastane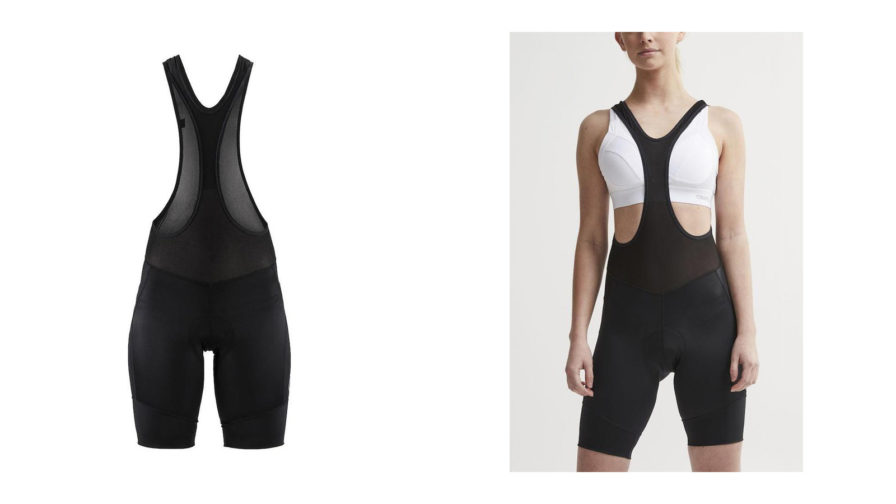 TRI247 VERDICT: The breathable front and rear shoulder strap allow maximum wicking and keep the shorts in place. At the leg a decent width silicone print stop the legs riding up. The side logos were subtle, a cool black wet look in the daylight but we didn't get to try out the reflective qualities.
Typically solid Craft build quality should ensure these well priced shorts stay looking good after plenty of wear. The C3 pad provided ample comfort without being obtrusive.
You can find out about more of the Craft range of fitness wear at their website here.