Aerodynamic excellence from Endura and Drag2Zero recognised at Eurobike
While their heritage is in cycling, Livingstone-based Endura have increasingly been part of the triathlon market in recent years.
Working in partnership with Simon Smart at Drag2Zero (www.drag2zero.co.uk), they are one of a number of brands who are constantly seeking to push back the barriers of aerodynamics in clothing and apparel. In many cases, the gains that can be made by a time trial skinsuit or triathlon racesuit can be significantly more than spending many thousands of pounds on the latest 'aero' bike. While it may not be high-profile, the (almost!) secret world of time trialling in the UK is genuinely leading the way in terms of product development and knowledge.
Endura currently support the likes of Tim Don, Rachel Joyce and Joe Skipper among others, with the learnings made while supplying the likes of Hour Record holders quickly forming part of the next iteration of 'aero' triathlon wear.
Having just won an Eurobike Award for their D2Z® Encapsulator Suit™, you can be pretty sure that we'll see Endura sponsored athletes with some rather impressive watt-saving kit in Kona this year.
---
The D2Z® Encapsulator Suit™, the world's fastest time-trial suit, developed by Endura and Drag2Zero in the Mercedes-AMG Petronas F1 wind tunnel, has won a Eurobike Award.
The award recognises the D2Z® Encapsulator Suit's position at the pinnacle of a competitive market for aerodynamic clothing. Supporting data compiled by leading aerodynamicist Simon Smart proves its superiority across a range of speeds, and not just at an arbitrary benchmark. The Eurobike Award is a powerful acknowledgement of Endura's game-changing innovation.
"We adopted a fresh perspective and exploited a technology that none of our competitors was using," explains Jim McFarlane, Founder and Managing Director of Endura. "The results have been phenomenal."
"We're extremely happy to have gained this recognition for work that has been ongoing for several years. A great deal of effort has been made by a wide group of staff in the design, development and production teams at our headquarters in Livingston, Scotland, and by Drag2Zero's Simon Smart and his team of aerodynamics experts in Brackley, as well as by our roster of world class athletes."
The award ceremony took place on Wednesday August 30, 2017, at the Eurobike trade show in Friedrichshafen, Germany. Six independent experts from the bicycle industry's leading international design jury chose 43 products and 11 Gold Award winners from 458 submitted applications.
The D2Z® Encapsulator Suit's most striking innovation – its exclusive, patent pending Silicone Surface Topography (SST™) – has already been ridden to victories in the most prestigious races in professional cycling, including Grand Tours and national time-trial titles, by Movistar Team and Cervélo Bigla.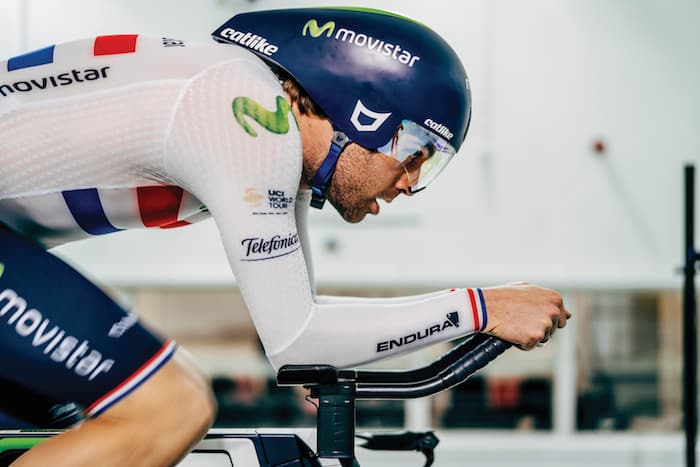 In addition, early iterations of the D2Z® Encapsulator Suit™ claimed UCI Hour Records. Alex Dowsett's successful attempt at the men's Hour Record in Manchester on May 2, 2015, and the new benchmark for the women's Hour Record, established by Bridie O'Donnell in Adelaide on January 22, 2016, were significant milestones in the development of cycling's fastest time-trial suit.
SST™ uses strategically-placed 3D chevrons to positively affect airflow around the body, reducing drag at speeds relevant to the target rider. It is only one weapon deployed by the D2Z® Encapsulator Suit™ in the war on drag, however. Optimised for a time-trial position, and for speeds between 46kph and 58kph, it also boasts an integrated dossard pocket and a new, aero-specific iteration of Endura's 1,000-series pad, specifically shaped for an aggressive riding position.
Endura and Simon Smart produced more than 80 iterations of the D2Z® Encapsulator Suit™, in their quest to supply the world's fastest time-trial suit to Endura's partners in the UCI WorldTour and the UCI Women's WorldTour. Feedback from Movistar Team and from Cervélo Bigla, who between them can number four national time-trial champions, has been instrumental to development.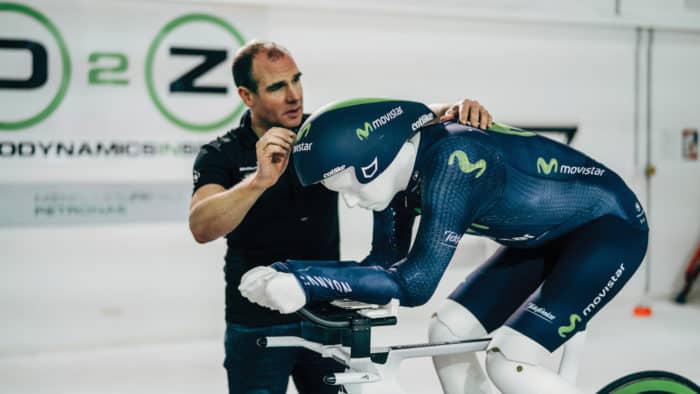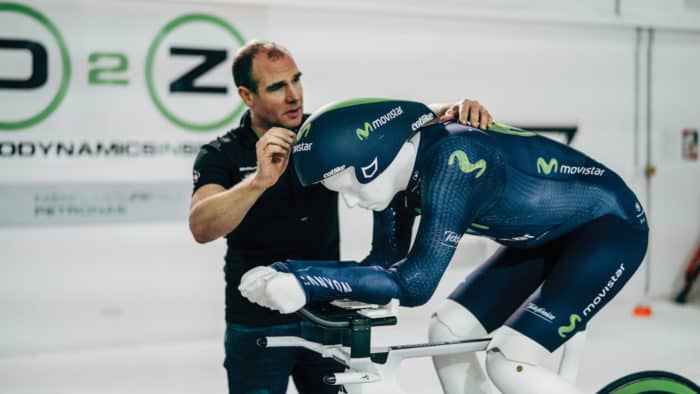 The new Endura D2Z® collection establishes a new standard for aerodynamic clothing by measuring performance across a range of speeds, rather than an isolated benchmark. Throughout its development, the collection has been scientifically tested against products claimed to be the best on the market and proven to be faster. The resulting data and the Eurobike Award make a compelling case for its technical superiority.
In addition to its UCI WorldTour and UCI Hour Record success, SST™ technology has netted a host of elite Triathlon podiums, including Tim Don's recent world record in Ironman competition. Endura and Drag2Zero are proud to place this revolutionary technology in the hands of passionate amateurs who share our obsession with speed: time-trialists, triathletes and road road riders.