After first launching the TWIST bottle 600, Fidlock now release the smaller and even handier version of the magnetic bottle clip system.
---
"Sometimes smaller fits better! The new TWIST bottle 450 can be mounted even in super small frames. Thanks to our innovative TWIST technology the bottle offers the same easy handling in mounting and releasing like her bigger brother – easy and fun to use, safe to mount and no rattling or loosing anymore! Just fill it and ride!"
Easy mounting with all BCM 64 bottle cage mounts
TWIST technology – intuitive handling
Magnetic guide and mechanic locking system
Stays in place safely – no more lost bottles
No annoying rattling any more
Fits even into smallest frames
Ergonomic bottle shape
Bottle on a full suspension bike – no problem!
Dishwasher safe
Specs:
Filling capacity: 450ml
Colors: smoke
System-weight: 116g – bottle incl. mount
Material: BPA-free Polypropylene
The new bottle size just announced adds a smaller size to the Fidlock range of bike kit. In case you have not seen the concept before Fidlock offer an alternative to the bottle cage system used by the rest of the world.
Instead of gripping the bottle and using friction to keep your drink in place the Fidlock system uses two strong magnets and a twist system of holding the bottle steady.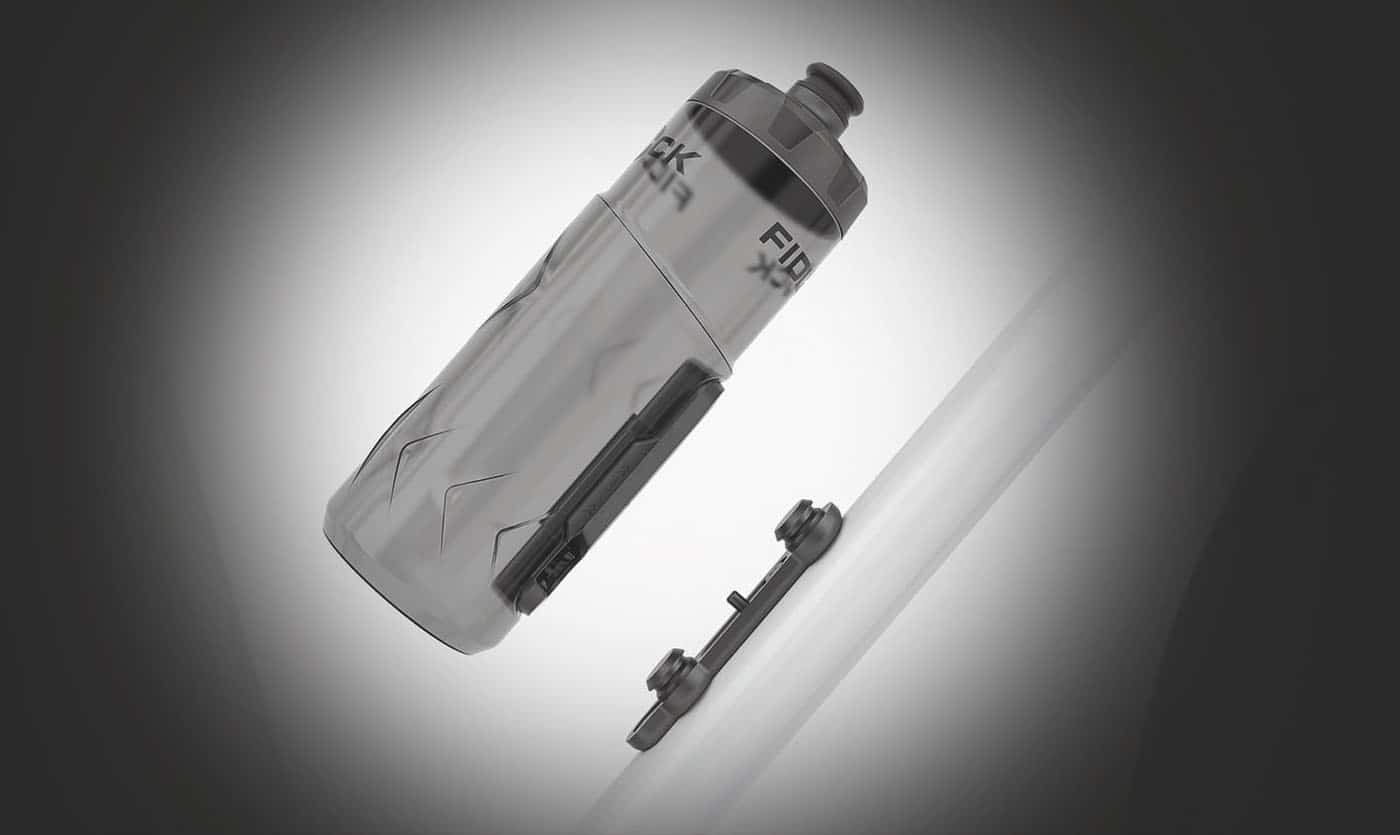 Pros and cons
There are pros and cons to this system. The obvious negative being that you need special bottles and a locking mechanism in place of your normal bottle cage. Looking beyond that issue the system is a streamlined and an effective way of holding your bottle to your bike.
Why change from an age old simple solution? Well, without evolution where would we be? I'm not saying this is the future of bottle tech but it is a great idea. Looks neat and works very well.
How does it work?
Quite simply, you attach the bottle mount to your frame in place of your original cage. You offer the bottle to the mount and it snaps into place, locating itself with a satisfying clunk sound. And that is it. Quite simple.
Now why would you need to adopt a new system for bottle storage? Well, on a smaller frame using larger bottles it's awkward as it makes getting them out of the cage tricky. The twist action on the Fidlock means the bottle slots in and out sideways so it is easier to access.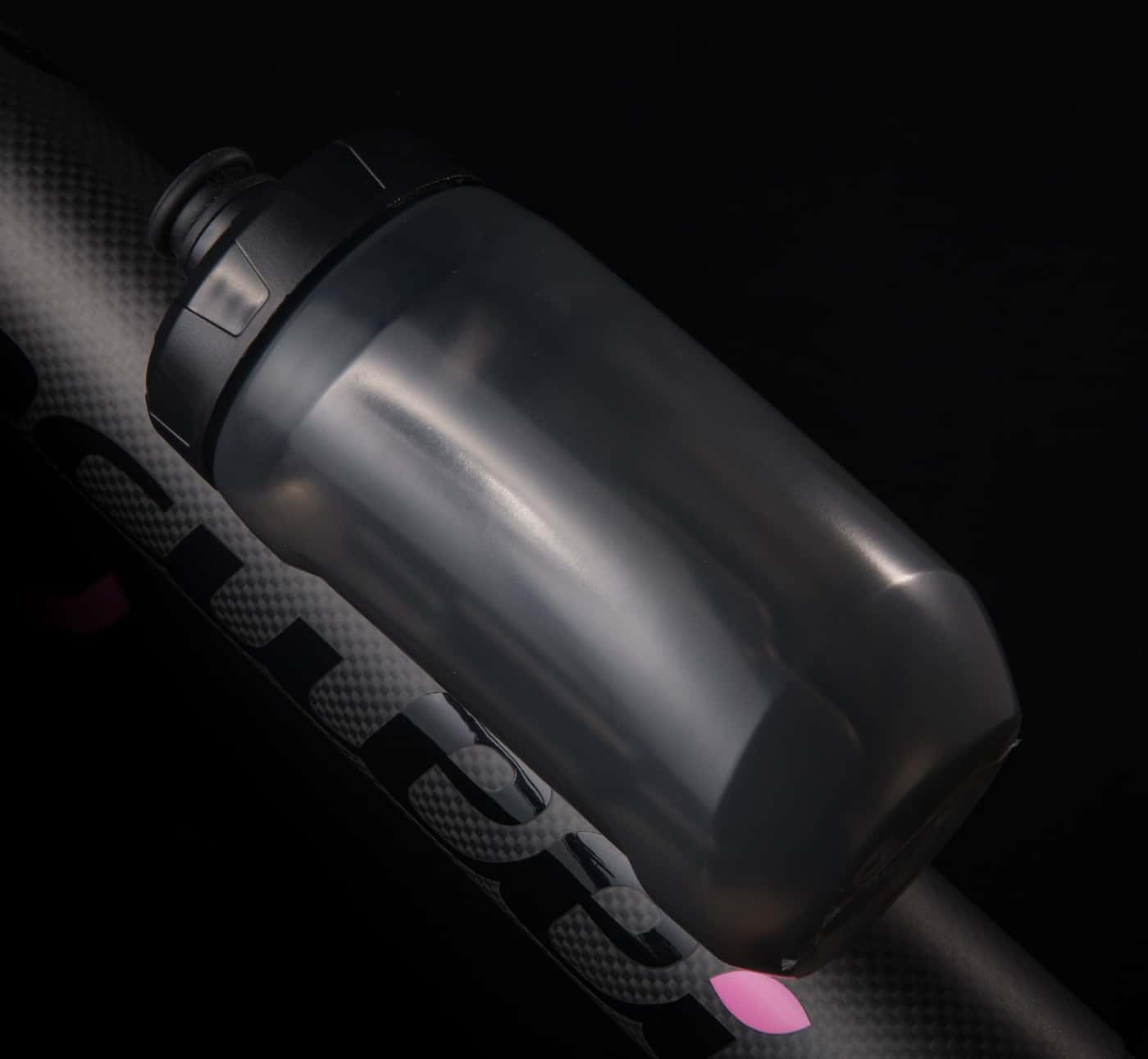 I have been using the larger 600 sized bottles for a while on my road bike with no drama and no lost bottles with the main plus being that the mounts look more elegant than a regular cage, especially when there is no bottle in the cage.
Not just about appearance
It is not just about about appearance as I found out recently. Having signed up for an off road sportive I added an extra bottle cage to my mountain bike. Unbelievably I could not get even a small bottle into my cage! The seat tube was too short to allow me to get the bottle even in the cage! How ridiculous! I then pinched one of the Fidlock brackets from my road bike and the problem was solved. I can carry two large bottles!
Going forward I think I will have one regular bottle cage for the bottle I use on every ride and use the Fidlock for the second bottle I sometimes use. That way I can have the flexibility of a standard bottle and quickly snap on a spare if my ride is going to be longer or hotter!
My example will be pretty specific but it did prove a point that there can be evolution in the simplest devices and the system solved a problem I didn't know I had.
Free watts
On the bike they have been very reliable, they look very minimal and if you don't always carry two bottles you don't have an unsightly empty bottle cage playing havoc with your aerodynamics! There's probably a few saved watts gained!
I think you will see the system and either love it or be in the 'if it ain't broke' camp. All I will add here is they work really well, they look very slick and if you want something different this is it. Find out more here.