You may have come across the Fidlock brand as we have featured them previously on the website HERE.
Fidlock are known already for their extensive magnet based clasps and buckles, but they have a range of cycle and run related products that are very interesting and we had the chance to try out some of the key items from their lineup.
Since launching their magnetic bike bottle mount system they have developed a raft of products based around their magnet technology. Each of the Twist and Push products securely lock onto a base unit
The products fall into three product areas:
All will become clear as we go through the range! These are the three different base units available to allow you to attach your drinks bottles to either your bike or belt or bag.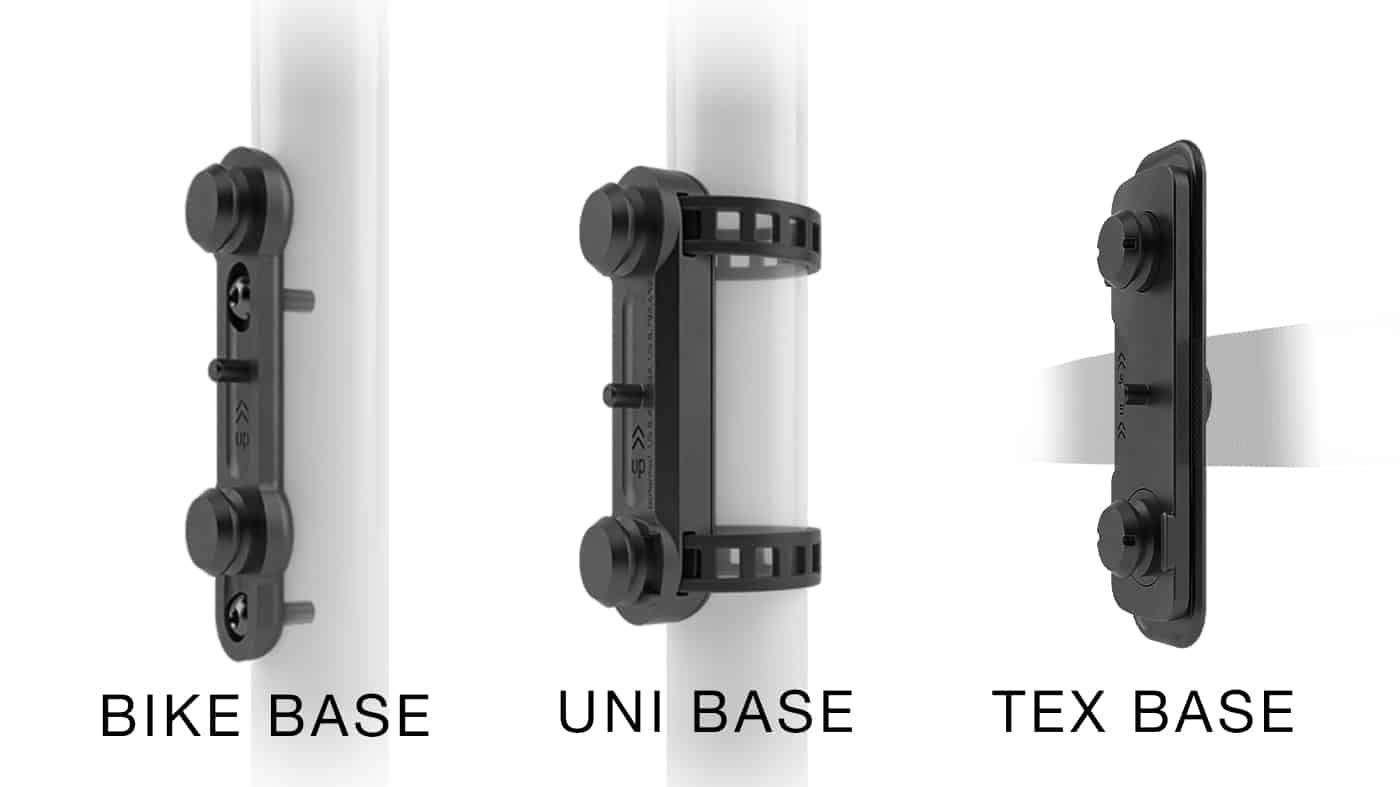 In the case of the bike bottle, the Bike Base replaces your traditional bottle cage and it screws into your frame just like the bottle cage. It has two magnets that secure and attach the bottle to the frame of the bike. The bottle side of the connection allows you to select to twist the bottle off either clockwise or anticlockwise depending on your favoured action.
The system offers lots of combinations of bottles and bases so you can get the most out of your Fidlock system by buying just the elements you need. You can buy base units and bottles separately as you need, so moving bottles between bikes is easy.
Twist Products
First up are the Twist products – these are for bottle systems to replace the existing set up on your bike. The range has grown recently and comprises three bases (see above):
Bike Base which screws into the bottle cage mounts on the down tube and seat tube
Uni Base which can clamp to any round(dish) tube and works like a hose clamp to secure the base
Tex Base which allows you to clamp bottles to a rucksack or belt for example
The magnet system "snaps to connect" the bottle to the base and you "twist to release". As you offer up the bottle back to the base after a drink it snaps back into place and self-locates through the science of magnets which is rather nice.
From a triathlon point of view the Bike Base and the Tex Base look the most likely go-to bases which will work for bike and run.
The range consists of three bottle sizes, 450, 590 and 600ml sizes with different styles of top and bottle material, some softer and easier to squeeze than others. Our test bottle was the 590ml model with the high flow valve.
To date the system has been totally reliable. I have been using the previous test Bike Base and 600ml bottles since 2018 without any issue and importantly, without any lost bottles. This is an important point as some will, quite fairly, question the cost of the system over a standard bottle cage and bottle. The addition of the Uni Connector now allows the use of other bottles or items such as tool kit, you can see this further down the page.
Granted you are mostly going to have to use the Fidlock bottle everyday but if you don't need a bottle on a ride, then the base system is a neat and discrete, far cleaner looking than an empty bottle cage. The bottles are great quality and have stood up to lots of use.
TWIST bottle 590 + bike base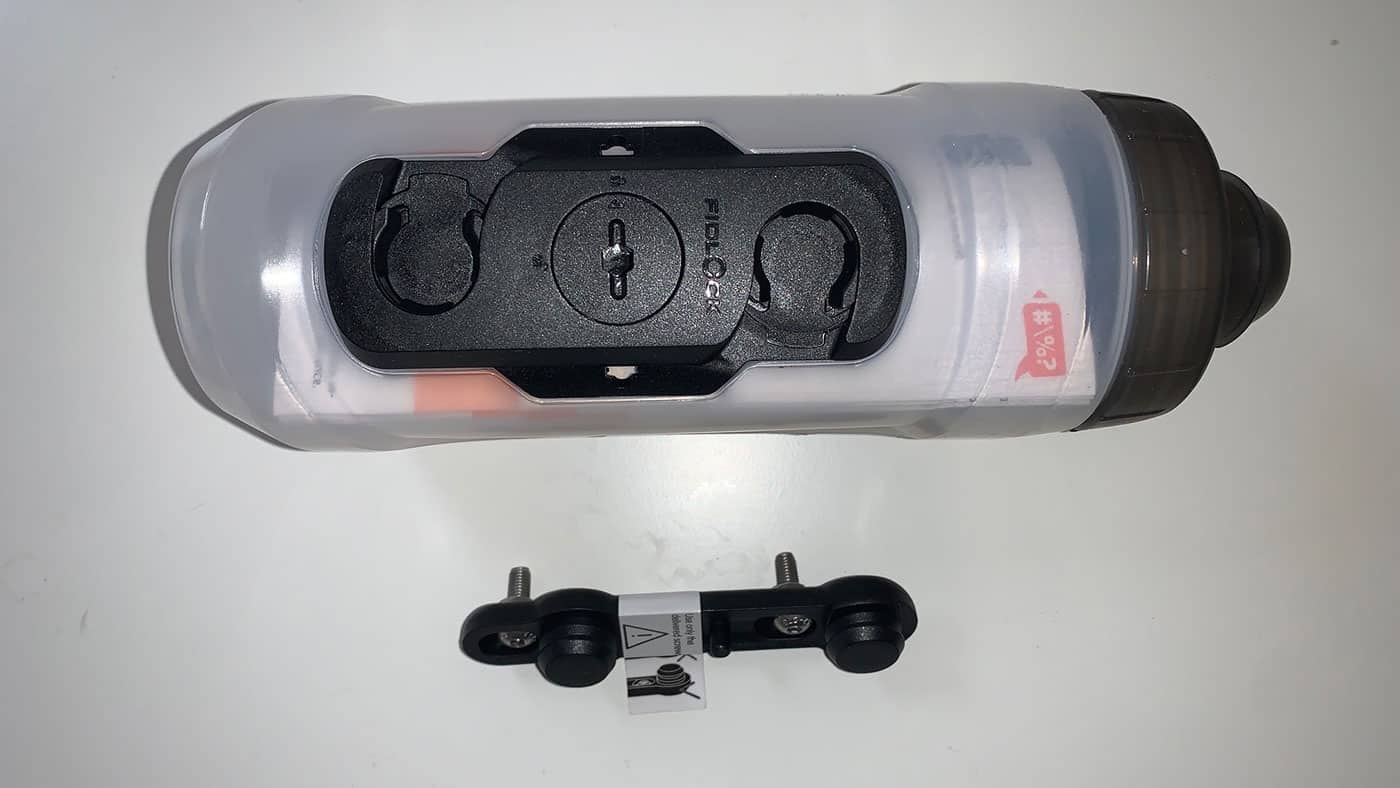 590ml volume
New leak-proof, self-sealing bottle cap with a high water flow valve and optional dirt cover
Dishwasher-safe
BPA-free polyethylene
Fits all TWIST bases
€ 39.99
Also in the Twist range is the Uni Connector which features a BOA Fit System for any bottle up to a diameter of 80mm but as the company suggests can hold additional items such as a banana or tool kit. It comes with or without a Bike Base.
Uni Connector (with and without Bike Base options)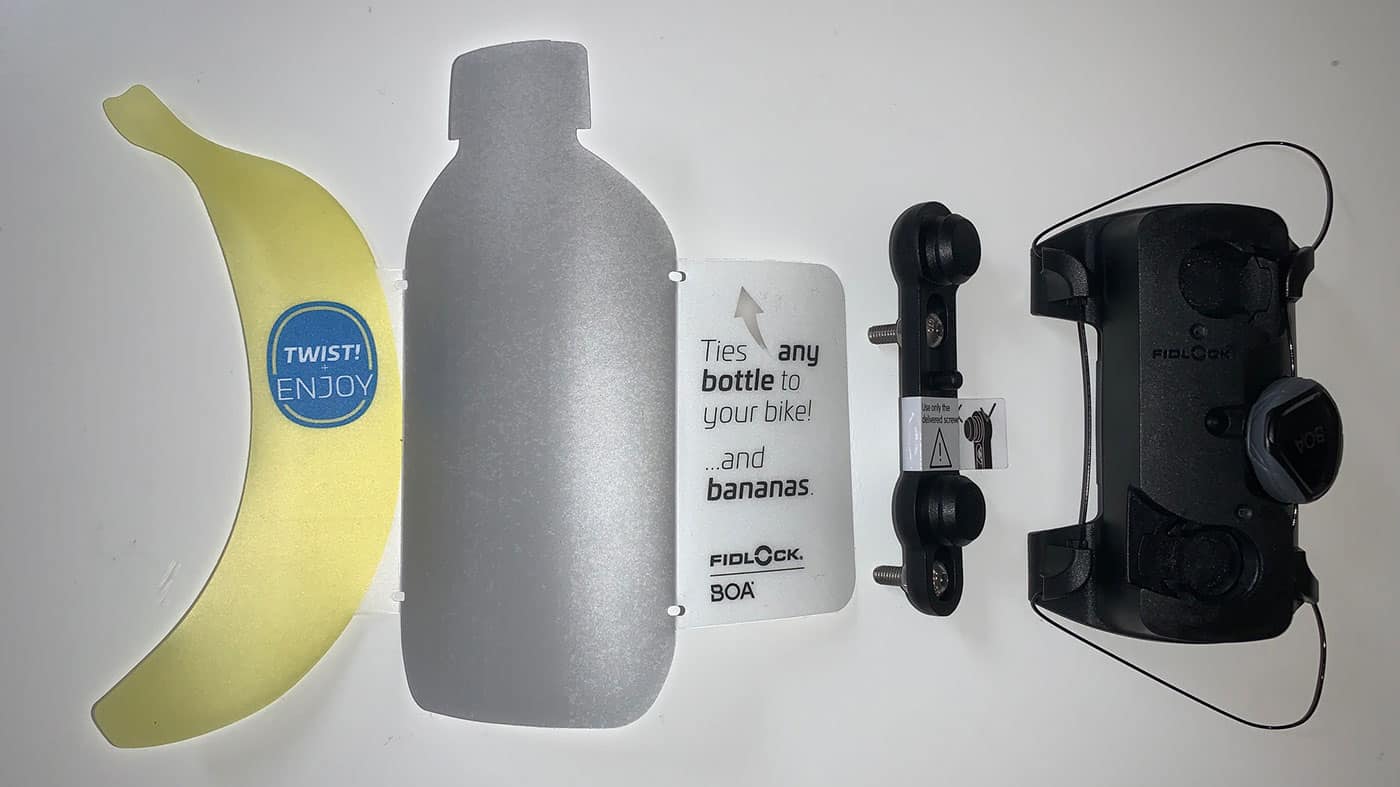 Fits any soft plastic bottle
Easy installation with the Boa® Fit System
Fits a diameter of up to 80mm
Anti-slip inlay for strong hold
Fits all TWIST bases
€ 39.99
The Twist range are available in a huge array of variations as mentioned so you can buy combinations to suit your exact needs and with each component also available individually so you won't end up with lots of redundant bits. For example you might buy two bottle and Bike Base kits so you can carry two bottles on your bike for longer rides and you can buy the Uni Connector without a base and use your existing Bike Base to carry something else… like a banana!
Tex Base
This is the base to use out on the run. It attaches to your belt or backpack and allows the same snap and twist action for your bottles etc. We did not have this available to test but we hope to try it out in due course.
The Tex Base is made up of two plastic plates that are connected with two magnetic screw bolts – simply lay the strap or textile in between the plates, screw in the magnetic bolts, done! Perfect when transitioning from bike to run and brick sessions.

Perfect for outdoor and sports
Fits the MOLLE mounting system (Modular Lightweight Load-carrying Equipment) found on backpacks etc
Fits all TWIST modules

€

9,99
Push Products
The new Push range features an under saddle clamp that attaches to two sizes of saddle bags that snap into place with a satisfying clunck action. The "Push" aspect is the chunky button that you press to release the pack for easy access. The packs locate either way around into the mounting system with a loop to fix a rear light on one end and the zipper around the other. The packs come in 400ml and 600ml sizes which allows ample room for tube, multi tools, C02 etc. These are very neat looking solutions and are waterproof too.
If you don't carry much kit or have an inner tube I would suggest you pad out the pack with arm warmers or a neck Buff for example, so things don't rattle around inside. This was not so much of an issue on the 400ml pack but on the bigger size it will help stop any rattling. A minor point, but worth noting.
These are really elegant saddle packs and are very aesthetically pleasing. The understated, minimal design drew lots of positive comments.
The bags are really well made, feel secure on the bike and look great.
PUSH saddle bag 400 and 600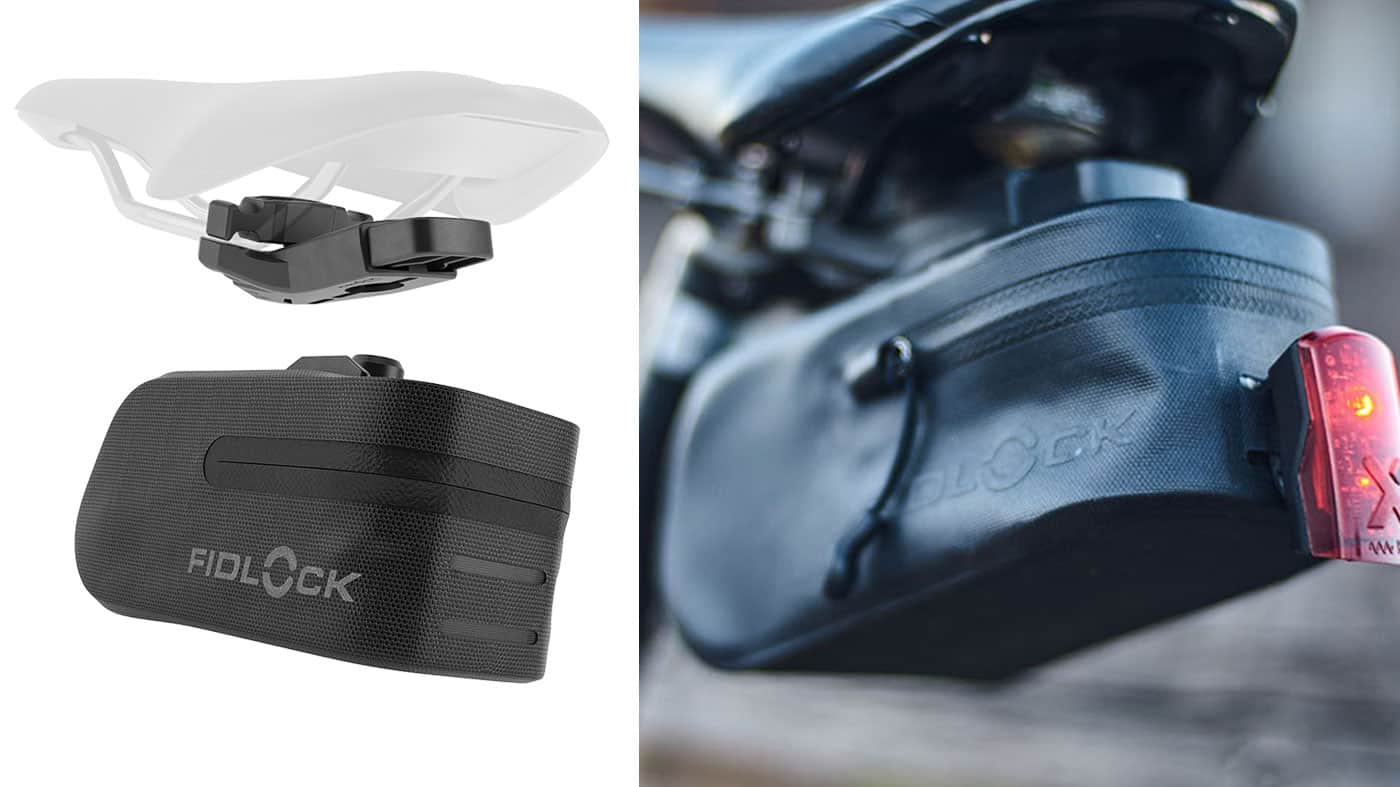 400ml for repair kit, spare tube and compact tools, 125x75x104mm
600ml for extra kit or multitools and smartphones, 155x80x110mm
Quick release with PUSH button
Waterproof material and zip
Strap for a clip-on light (light not included)
Reflective FIDLOCK logo print
€ 49,99 / € 49,99
PUSH extra saddle base
The base is easily attached to the seat rails with only one screw and it is compatible with all standard rails. Perfect for those who own two, or maybe even more bikes.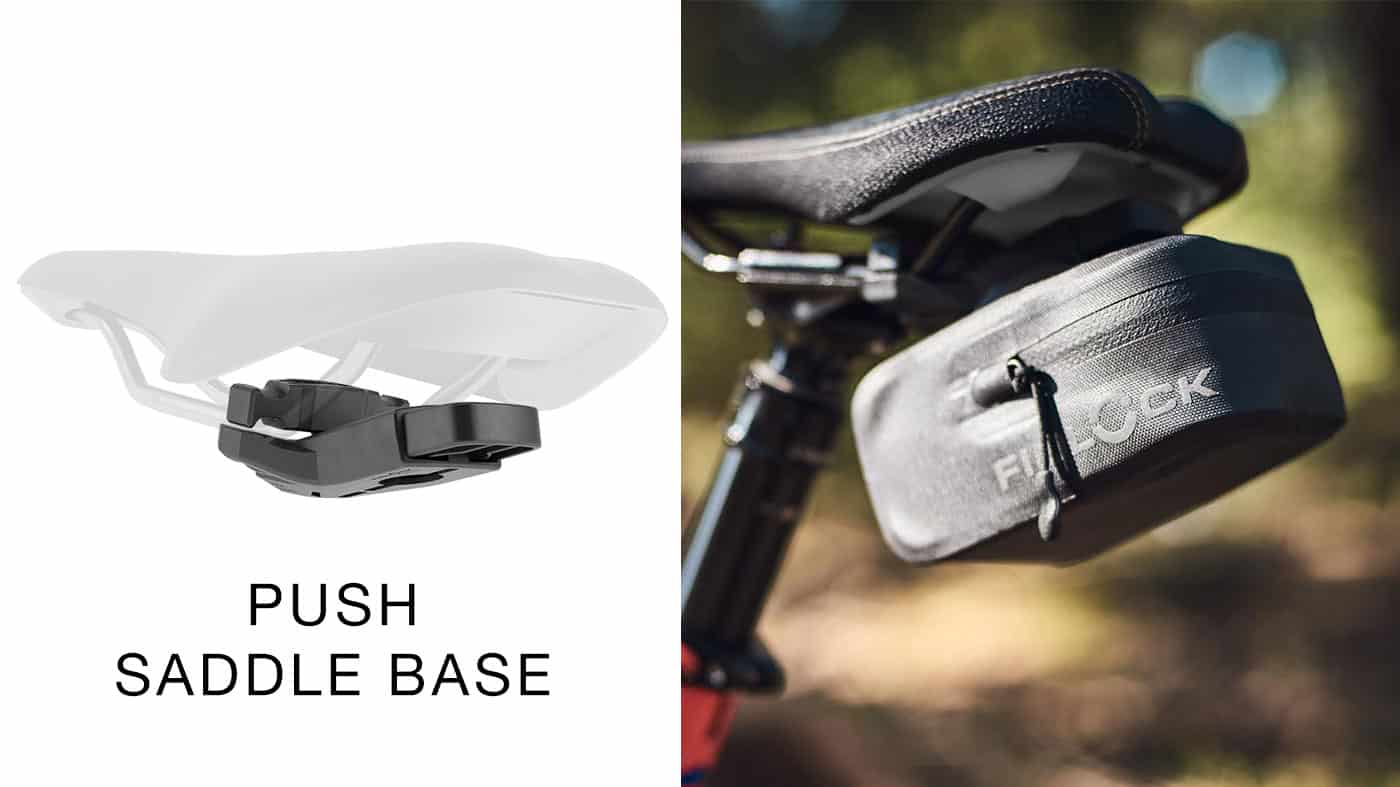 Easy installation on saddle rails
Only one screw for the installation needed
Fits all PUSH saddle bags
€ 14.99
Fold Products
Utilising magnets and a folding top lip the two sizes of bag, named the 160 and 260, they allow simple access and keeps things safe from water and dust. The bags allow use of touchscreens without removing your device to ensure your technology stays safe.
The bags are well constructed and the magnetic seal does provide a tight and secure seal. Phone touchscreen usage was not impaired.
FOLD dry bag 160 and 260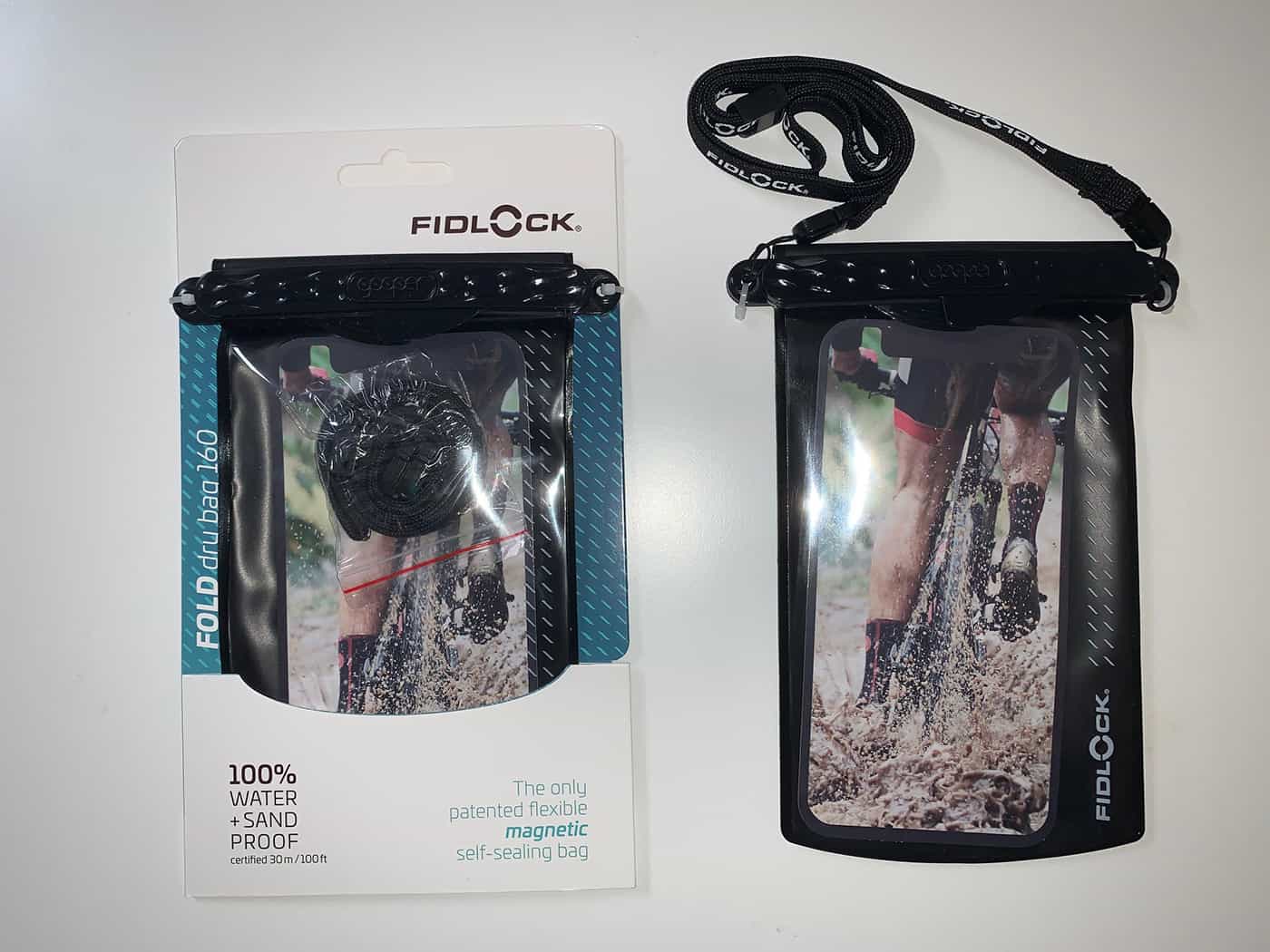 160 for smartphone and valuables, 110x180mm internal, 148x203mm external dimensions
260 for tablet, documents, maps and to organise cables or chargers, 224x277mm internal, 258x300mm external dimensions
100% water and sand proof
Full phone functionality through case
No interference with electronics and cards
Lanyard included
€ 24.99 / € 34.99
And that is pretty much it! Plenty of modular options for you to consider so you can buy just the right elements and add to things as you need.
You can find out more at the Fidlock website HERE.