New in for testing: FIZIK Transiro Infinito R1 Knit Shoes – £359.99
If you like fancy Italian shoes – that come with a slightly eye-watering price tag – then the FIZIK Transiro Infinito R1 Knit should be on your 'take a look' list.
How do they perform though? We're not sure just yet, but they have just arrived and Chris Hovenden has started putting them to the test, and will report back in a few weeks time.
Here is his first look at the product.
---
We've just got our hands on the new top of the range triathlon kicks from the Italian cycling shoes and saddle aficionado, FIZIK.
The Transiro Infinito R1 Knit come with a sky high price-tag, but the shoes look to have taken both a high-end and innovative approach to creating a triathlon focused bike shoe.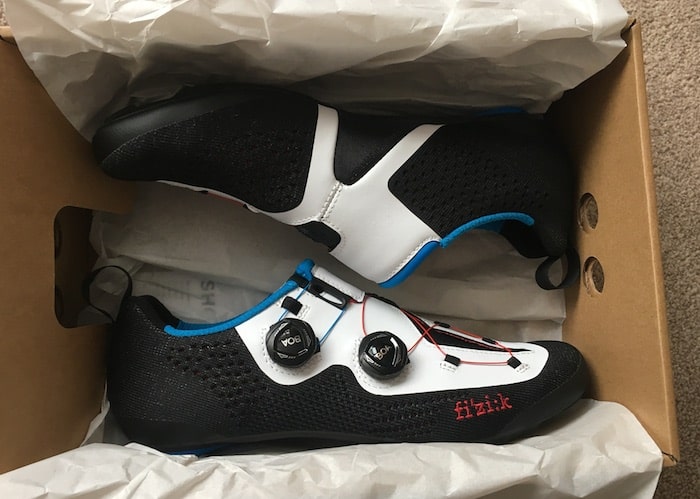 Developed with input and testing from leading long-distance professional triathletes, including four-time Ironman Champion Michelle Vesterby and members of the BMC-Vifit Pro Triathlon Team, the FIZIK Transiro Infinito R1 Knit are packed full of tech:
The soft knitted upper (something that is fairly new to bike shoes), looks particularly cool, but in addition to the aesthetics FIZIK says there are several performance benefits: the upper is designed to aid ventilation and water-repellent treatment is used with the intention to reduce moisture absorption, together creating a shoe that dries quickly after T1. It'll be interesting to see how the shoes cope after exiting T1, generally, and when riding through heavy downpours.
The 'Infinito' retention system comprises of wires and two BOA IP1-B dials – the position of the wires along with the micro-adjustment offered by the BOAs should allow you to get a comfortable fit, but there is a question as to how straightforward it is to slip your feet in and tighten the shoes coming out of T1 on the fly; pulling on the BOA dials allows a quick release effect which should be useful when coming into T2.
FIZIK states the shoes provide a customised fit of the plantar arch with the company's 'Dynamic Arch Support' – the theory is that a part of the shoe's upper wraps around the plantar arch and the fit is adjusted using one of the BOA dials.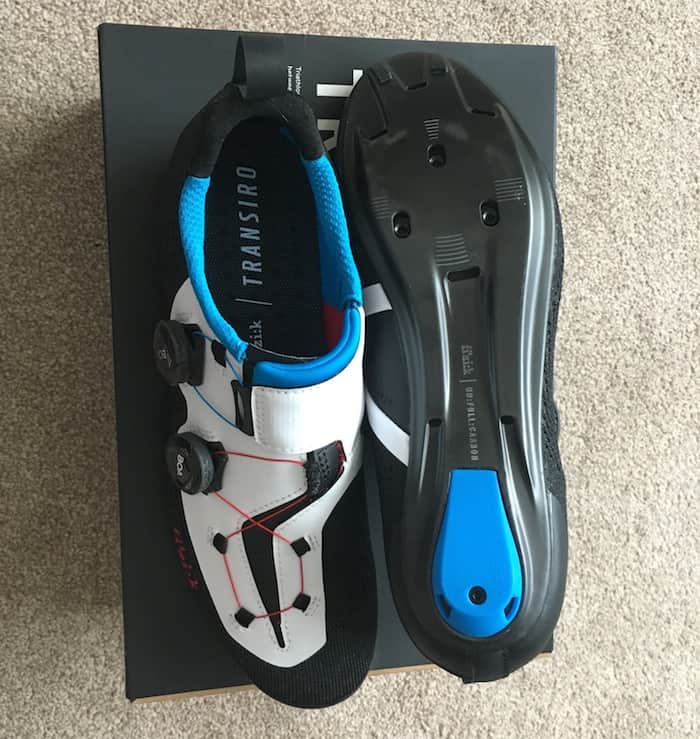 As you'd expect for high-performance shoes the FIZIK Transiro Infinito R1 Knit feel pretty light and they come with a UD carbon sole – which should provide a firm footing and facilitate good power transfer to the pedals.
To assist getting the shoes on quickly they have a large rubberised hoop on the heel – a staple of a tri-specific shoe. The real test of a hoop is the ease of grabbing it and its durability.
The FIZIK Transiro Infinito R1 Knit Shoes certainly look the part, but coming with a price-tag north of £350 expectations are rightly high.
Look out for the full review in the coming weeks.