Following on from our extensive 2018 #GBKONA Coverage – which was kindly supported by ISM Saddles (www.ismseat.com) – we take a more detailed look at why so many long distance athletes are choosing to transition to ISM.
The ISM Saddle – Why is it different?
To provide some perspective on the popularity of ISM saddles with long distance triathletes, at this years IRONMAN World Championship, ISM continued its domination of the Kona saddle count, scoring more than double than their closest competitor, with 827 athletes racing in Kona aboard an ISM.
So gracious for all the athletes in Kona!! #ismseat #changingthecultureofcycling pic.twitter.com/bhBLskr8op

— ISM Seat (@ISMsaddles) October 14, 2018
You can read about some of their Pro athletes and check out their bikes HERE.
What makes an ISM saddle so different to the norm? The first thing of note is the look of an ISM which is vastly different to a traditional bike saddle. ISM patented design has removed the traditional nose of the saddle and replaced it with a shorter twin arm design. The result is a seating position that takes the pressure of your genital area which is said to help maintain blood flow, avoid damage to that soft tissue area and increase comfort.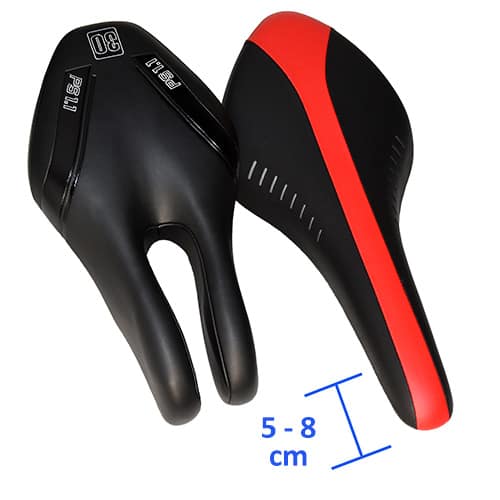 This short video from ISM explains the saddle fit, technology and health benefits:
ISM offer a wide range of different saddles based around this unique shape, each with slightly different dimensions and padding thickness, depending on the intended use and personal preference. For triathlon and long distance racing in particular we are typically looking at the three different types from the Performance range: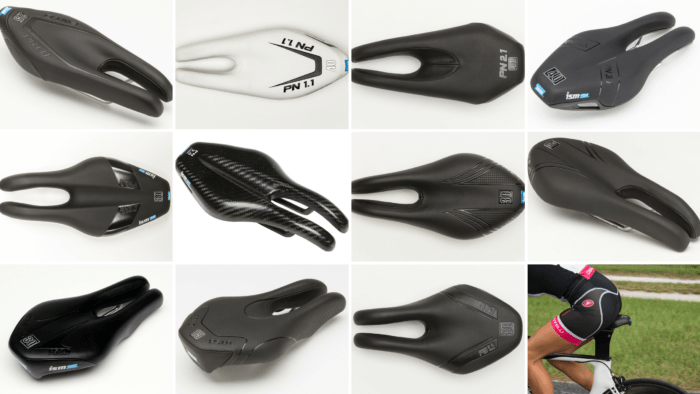 PN – Performance Narrow
PN 3.0C (all carbon saddle)
PN 3.1 40 Padding level
PN 3.0 30 Padding level
PN 1.0 25 Padding level
PN 2.1 40 Padding level
PN 1.1 40 Padding level
PL – Performance Long
PL 1.0 30 Padding level
PL 1.1 40 Padding level
PS – Performance Short
PS 1.0 15 Padding level
PS 1.1 30 Padding level
PS 2.0 30 Padding level
Identifying the correct saddle for you is always going to be a personal choice, but from the chart below you can see which are recommended for different disciplines: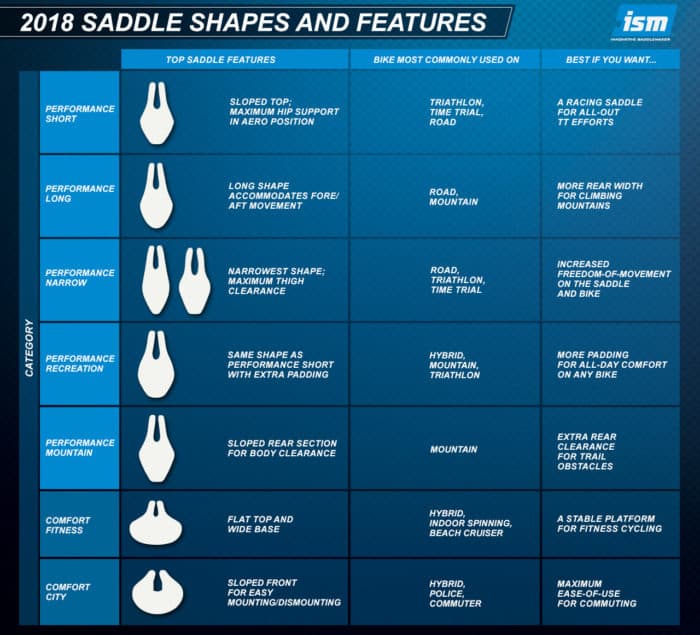 In terms of saddle thickness, the higher the number next to the saddle the more padding it has in it. How much padding you need is pretty much down to individual choice, and it is well worth trying a couple of ISM saddles to establish which one works best for you.
Interested in trying an ISM saddle? Then have a read at part two of this feature, "How to transition to an ISM saddle".