The bike that won Challenge Gran Canaria
In detail with the Scott Plasma of Alistair Brownlee
As you'll no doubt have already seen, after the best part of a decade riding Boardman Bikes, the Brownlee brothers will be riding on SCOTT Bikes until 2020.
We've already had an initial look at why that move might have been a good one, timing wise, for both sides – and also taking an initial stab, based off of the promotion images, of Alistair's position on board his new long-distance focussed, Scott Plasma TT/Tri Bike.
Well, here we are able to have a closer look at the bike Alistair actually rode in Gran Canaria and which, we expect, he'll be riding on Saturday when Alistair will face a truly top quality field at IRONMAN 70.3 St. George, the North American Pro Championship. His performance there – against the likes of Lionel Sanders, Sebastian Kienle and many more – will really provide much more insight into his transition from dominant ITU athlete to potential IRONMAN 70.3 World Champion.
---
In training before the race, playing the #sockgame. Speedplay Aero Zero pedals clearly visible. Plenty would argue that a few watts are being lost by not shaving those legs though…!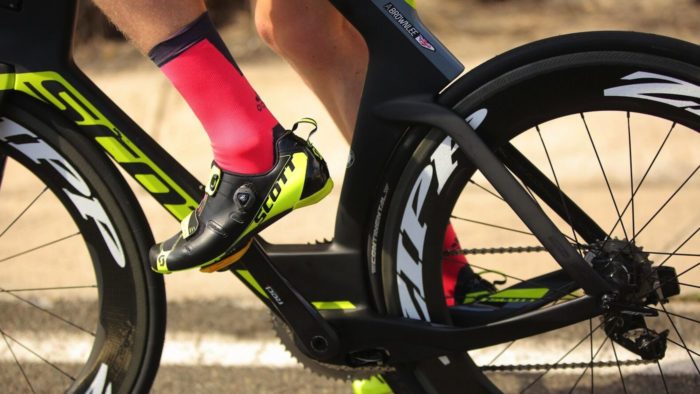 A close up of the integrated (but removable) aero water bottle and top tube storage box which is a key feature of the Scott Plasma when in 'triathlon' guise.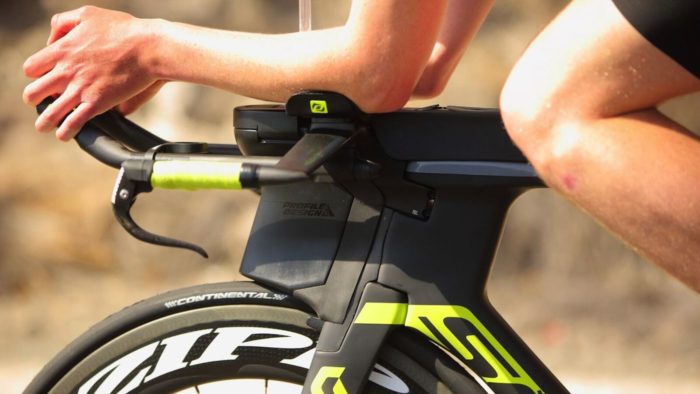 The extensions are set below the base bar, helping Alistair achieve a surprisingly low position, given his relative inexperience of TT-style riding.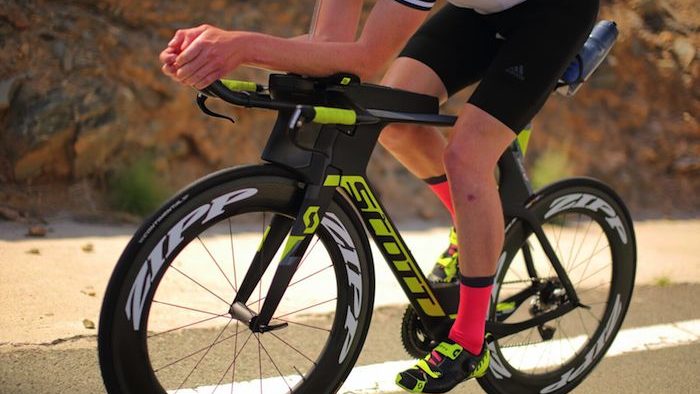 The front end of the Scott Plasma. You can see here that Alistair is riding with a very narrow position, as indicated by the closeness of the arm pads. The Plasma 5 Aeria handlebar is made for Scott by Profile Design. It also looks to us that the extension shape has been changed to more of a ski-bend style, versus the relatively shallow s-bend shape that appeared on some of the PR shots. If correct, that is consistent with the feedback that Richard Melik put forward on his position.
[UPDATE – we have since confirmed with SCOTT that the extension are indeed different]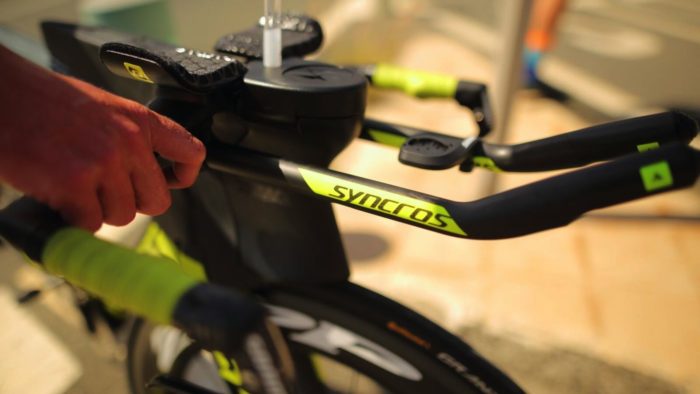 Alistair has ridden Zipp wheels and Continental tyres for many years. It is the Grand Prix TT model (clincher) in use here. Dependent on the course, don't be surprised to see Alistair using a rear disc in many events.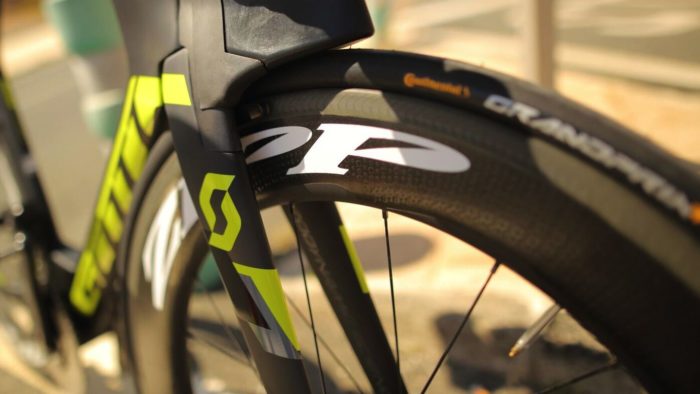 In training before race day.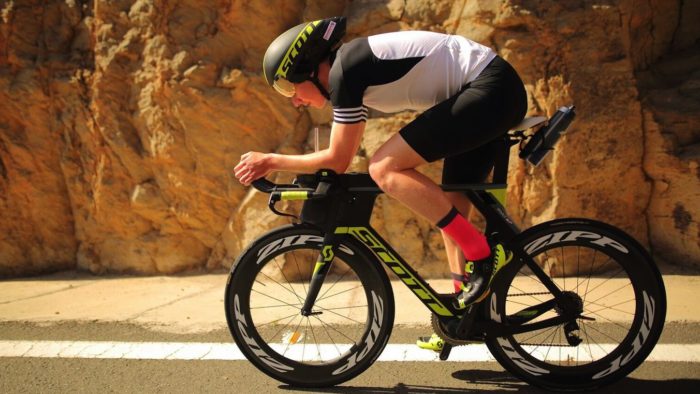 You can clearly see here the UCI sticker indicating that the bike is legal for UCI time trial competition. That is certainly true of the frame – but not in this configuration. To fully meet regulations, the triathlon 'add ons' of the Multi-Fuel Aero Storage units would need to be removed. It's a nice way of being able to create a triathlon 'super bike', while still providing the user with a UCI-legal frameset.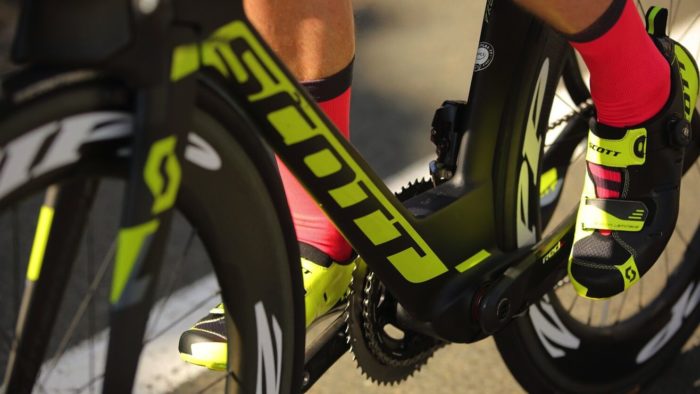 You would expect that power will become a far more important metric for Alistair during the next phase of his career. Alistair has a Quarq DZero Power Meter Spider on his SRAM Red cranks.
No cables to see – as it is a SRAM RED eTap wireless front mech.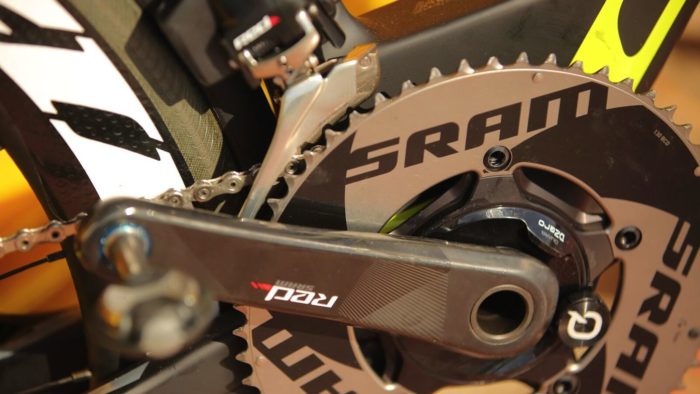 And of course, wireless at the rear too – courtesy of more SRAM RED eTap.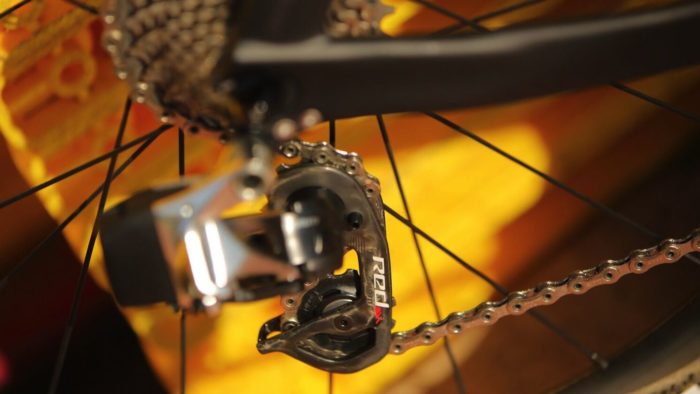 Riding what appear to be a well used Fizik Arione saddle, will we see the two-time Olympic Champion switch to one of their more tri-specific models over time? Alistair started the race with this saddle-mounted bottle cage…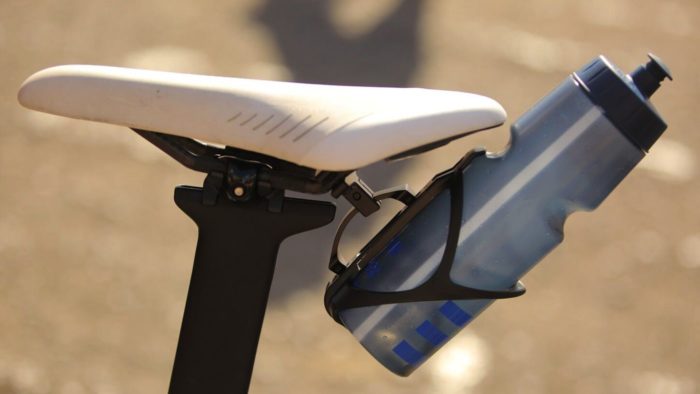 …but race pictures suggested that might need replacement and/or an alternative option, before IRONMAN 70.3 St. George, as this one clearly didn't survive the race.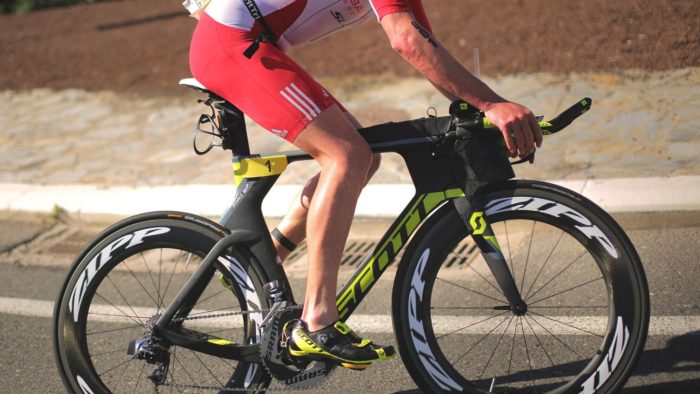 In race mode and well on the way to a clear win.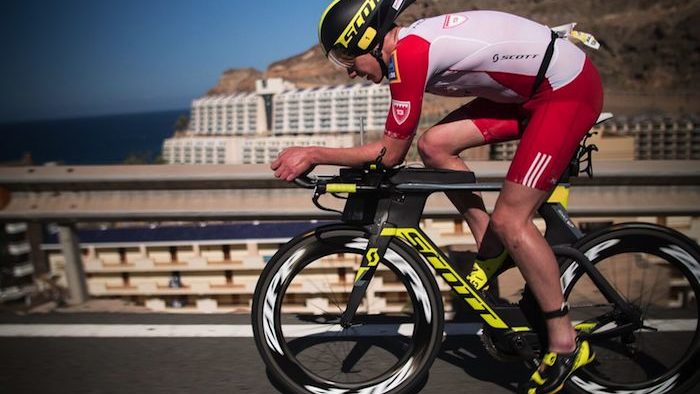 All smiles before the race – and a comfortable winning margin would follow.