BIANCHI INTRODUCES THE NEW ARIA
June marks the launch of a brand new bike for Italian brand Bianchi. The newly unveiled ARIA is an aero road bike designed to offer you the best balance of road and race performance. We will be testing one of the brand new celeste machines very soon to see exactly how this new model performs in the real world.
Let's be honest, who wouldn't want a bike in perhaps the most iconic colour / brand combination in the cycling world?!
Who is the bike aimed at?
We asked Andrew Griffin, Country Manager for the brand to sum it up for us:
"The demand for a more affordable Race geometry bike has been growing and Bianchi has responded with a model that benefits from the research we undertook in the development of the Aquila TT bike. Wider spacing on the fork legs, narrower head tube area and dropped seat stays are all features born of that research. As we see the sportive market grow and mature, more and more riders are looking for an aero advantage that the Aria now offers in a lower price range than the newly announced Oltre XR3 or the range topping Oltre XR4."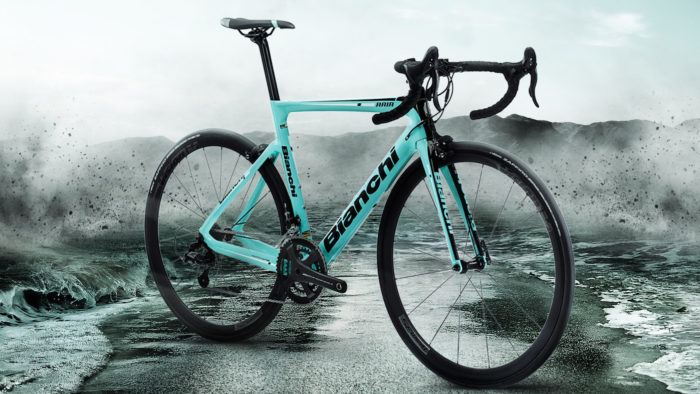 BIANCHI'S OBJECTIVE
The Bianchi ARIA is a fast performance-oriented aero road bike. Built for lovers of speed, it is the perfect partner for your road challenges.
"Our objective has been to extend the range of Bianchi aero road bikes with an all-new model based on a highly aerodynamic frame-fork system, equipped for any road race, and easily set-up for triathlon events." Aria is triathlon ready, just add clip ons.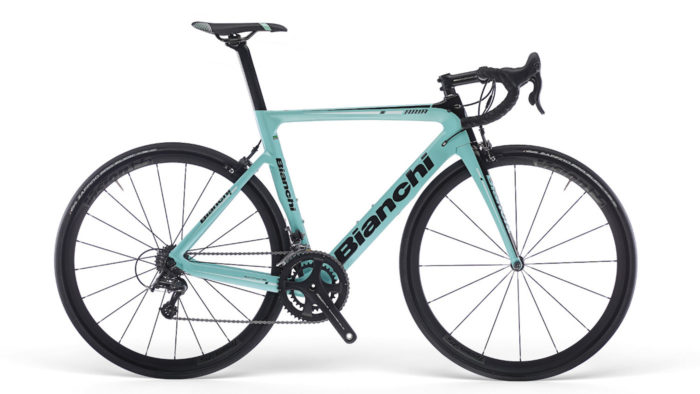 FULL AERO
To achieve fast rides from full aerodynamic performance it's important that both the bike and the rider are as aerodynamically efficient as possible.
"At Bianchi, while we feed the learnings from research and development across all ranges into new models, the ARIA's advanced aerodynamic design has been heavily inspired by our extensive wind-tunnel testing and cooperation with Bianchi pro riders."
"For the bike, full aerodynamic performance means the shape of the tubes' profiles and their structural combination to cheat the wind's resistance, resulting in the lowest drag possible."
"For the rider, full aerodynamic performance means creating a position that allows for the least air resistance – this can only be achieved with a frame and fork geometry that allows for an advanced tuck position, and an ideal racing geometry. Aero frame plus aero rider position equals Full Aero."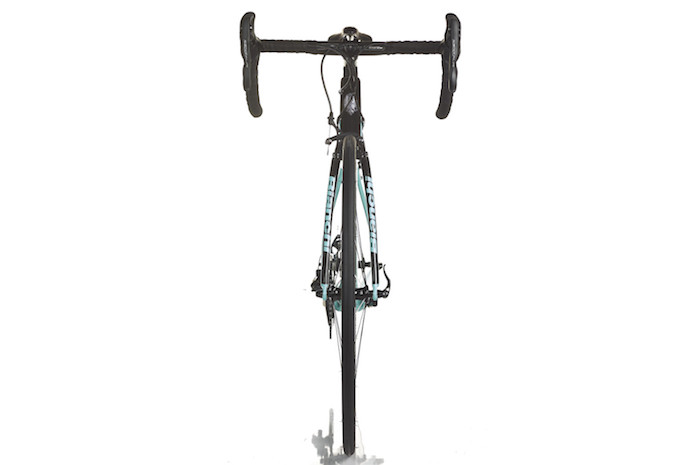 TRIATHLON READY
"As well as an effective high performance road machine, the Bianchi ARIA shows its fast-pace versatility when it comes to triathlon. ARIA's aggressive geometry lends itself perfectly to the high-speed race performance demanded in triathlon events."
"Getting the required horizontal-back aerodynamic tuck position for fast triathlon bike leg is easy to achieve with ARIA's triathlon configuration. Just clip-on aero bars, set the bars' stack height if required and adjust saddle height and angle, and ARIA instantly becomes triathlon ready."
"Road or triathlon, the ARIA is ready to help you deliver your best."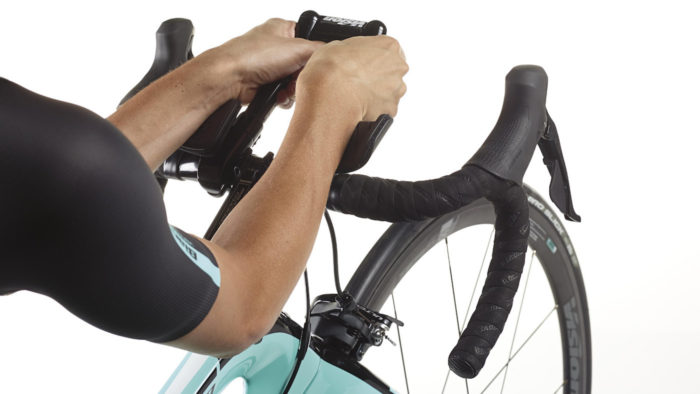 TECHNICAL FEATURES
FRAME
Aero shape frame design
BB set Press fit 86.5 x 41
Internal cable routing
Double compatibility mechanic and electronic groupset
Carbon dropout with metal insert
Weight in 55 size: 1100g (+/- 5%)
Aero fork and seatstays are inspired by wind-tunnel tested TT and TRI Aquila CV model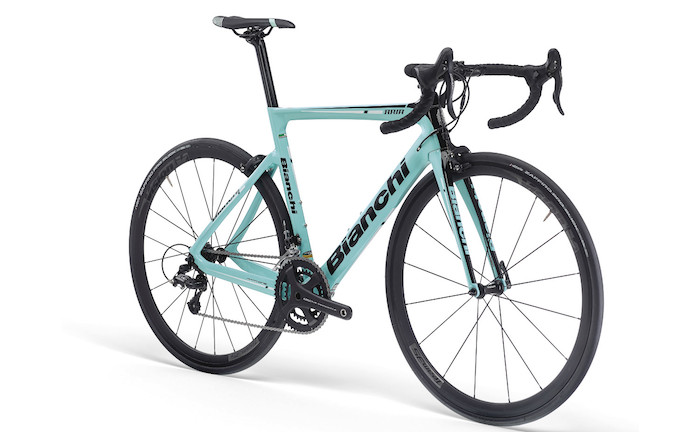 AERO HEADTUBE
Tapered headtube 1.1/8" to 1.4"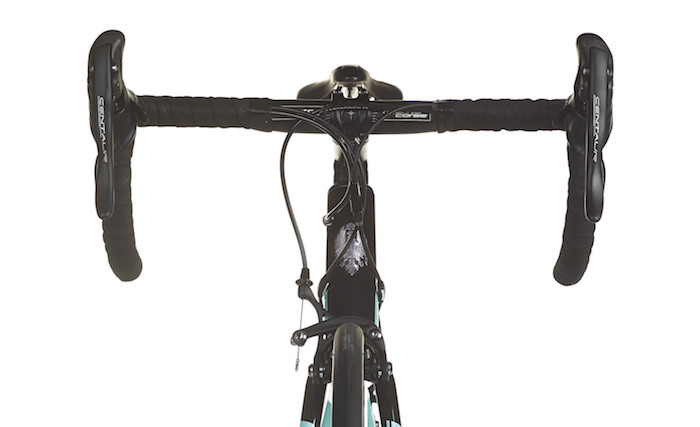 AERO SEATPOST
Aero seatpost with integrated look and head clamp offset 20mm
Hidden seatpost clamp for perfect aerodynamic design and clean lines
Seatpost length:
• 250mm=44cm
• 300mm=47>50cm
• 350mm=53>61cm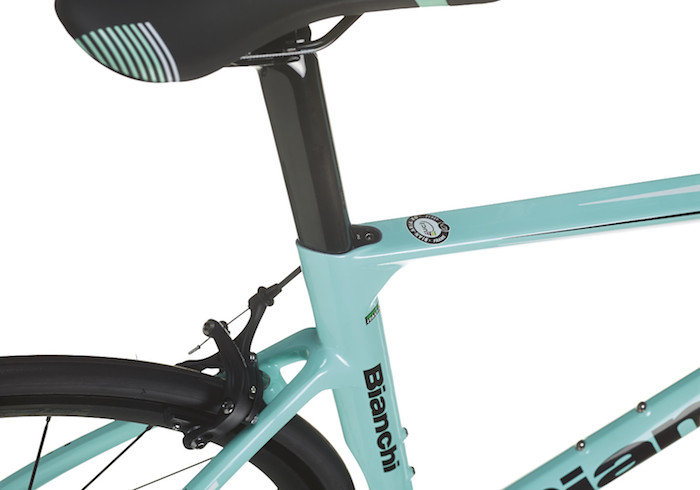 FORK
1.4" to 1.1/8" – Full carbon
Down tube integrated design for improved aerodynamic
Reactive geometry
Rigid
Weight: 370g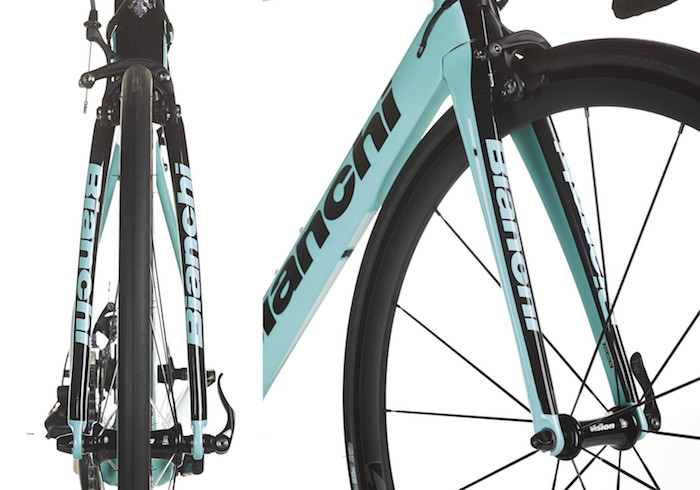 RACING GEOMETRY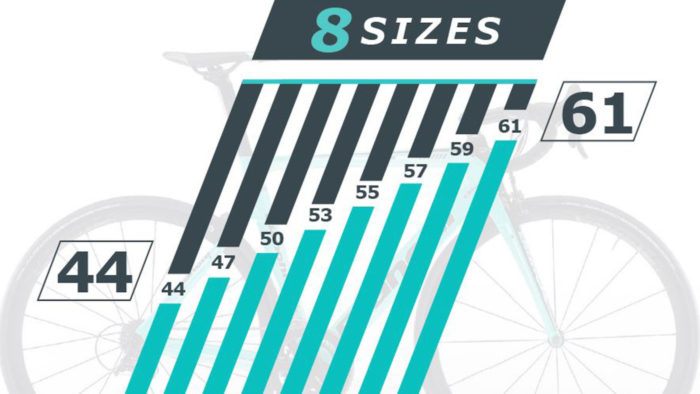 SPECIFICATONS
Groupset: CAMPAGNOLO CENTAUR 11sp Compact 50/34
Wheels: Vision Team 35 Comp
You can find out more via the Bianchi website here: https://www.bianchi.com/global/home/home.aspx