Reap is a British manufacturer specialising in ultra-high performance triathlon, time trial and road bikes. Their team has decades of carbon fibre engineering experience from aerospace, Formula One and the automotive industry, plus many years of triathlon and cycle racing at all levels.
The Stoke on Trent-based carbon designers spoke with us about their REAP Tri/TT bike that Harry Wiltshire will be riding in Kona at the 2017 Ironman World Championship.
---
The frames are made 100% in the UK from start to finish. The 3D printing is all done in the UK, they machine their own alloy parts in the UK. Everything is made in the UK. They have been developing the best carbon layups for optimum for performance over the past three years and are over the moon with the results. They state that this really is "the best carbon soup".
It's also one of currently only three 'non traditional or unusual' bike frames that are actually approved by the ITU for use in triathlon – you can see the current list HERE.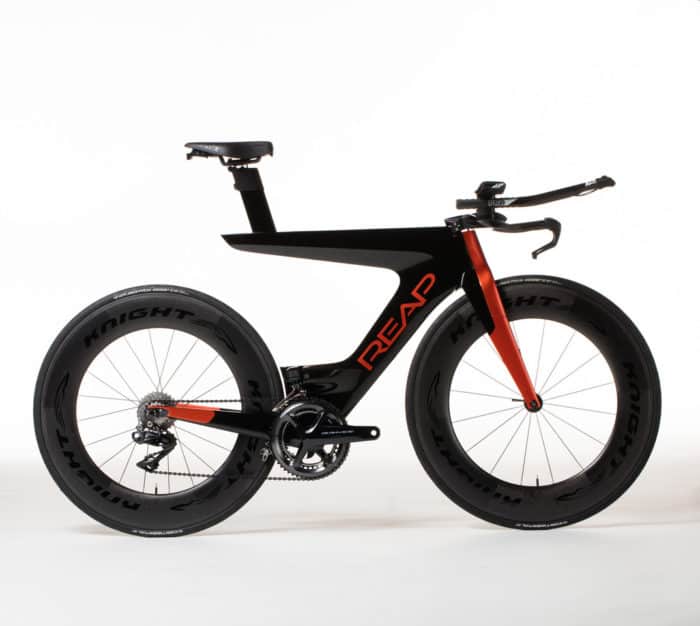 An explanation of the benefits of beam design
What a lot of people don't realise about the beam design is, it isn't just for aero purposes. What happens when you ride a traditionally designed bike is that all of the road vibrations go straight through the seat post and into your glutes and lower back, causing fatigue in these areas.

With a beam design and the specifically optimised carbon fibre layup we have developed over the past two years, the majority of these vibrations are dissipated throughout the structure so that you can get off the bike fresher and, therefore, run a better race. This was one of the main things we aimed for at the start of the process, not just being able to influence the cycling stage but everything after that as well, leading to a better race all round. Also with a beam design, there is no weight limit: we can tailor to the needs of any rider, whether that be larger riders who need extra support in the top tube or for smaller, lighter riders who could do with less and, therefore, make the ride less harsh.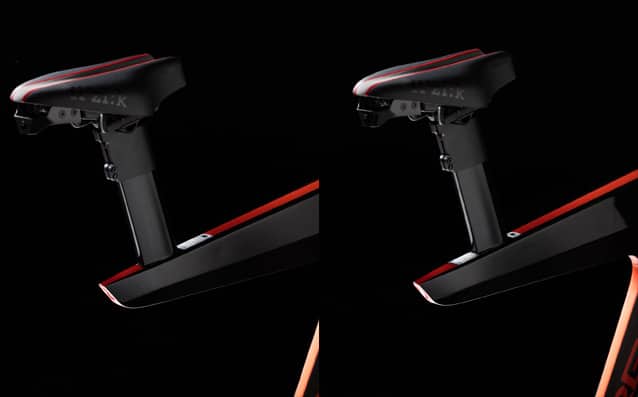 The ATL top tube adjustment system allows an athlete to adjust the top tube length fore and aft by 40mm and, therefore, change the effective seat tube angle between 73 and 80 degrees, allowing for greater range of positions. This means you can slam it forward for a more aggressive position, or knock it back for a more comfortable, perhaps more iron-distance position. It looks really easy to use, you just undo the pusher at the front, and move the clips to suit.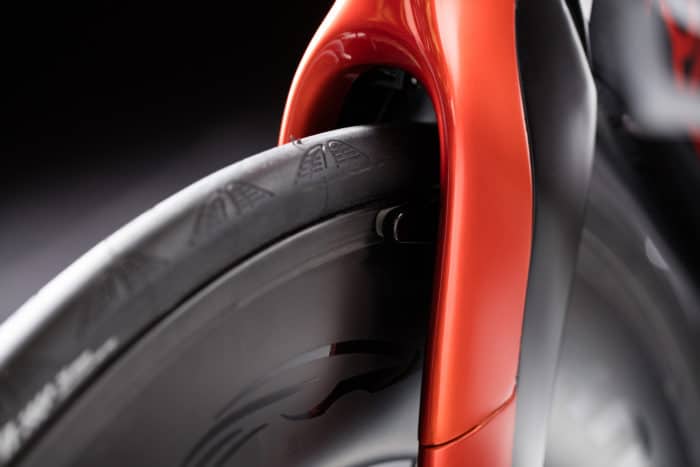 The aero front brake cover gives all of the benefits of a fully integrated brake, but without the hassle. There are two magnets at the bottom that attach first and then you clip the top in, it is that simple! It gives you simple access for really easy adjustment of your brakes on the go and also conceals all of the brake and Di2 cables.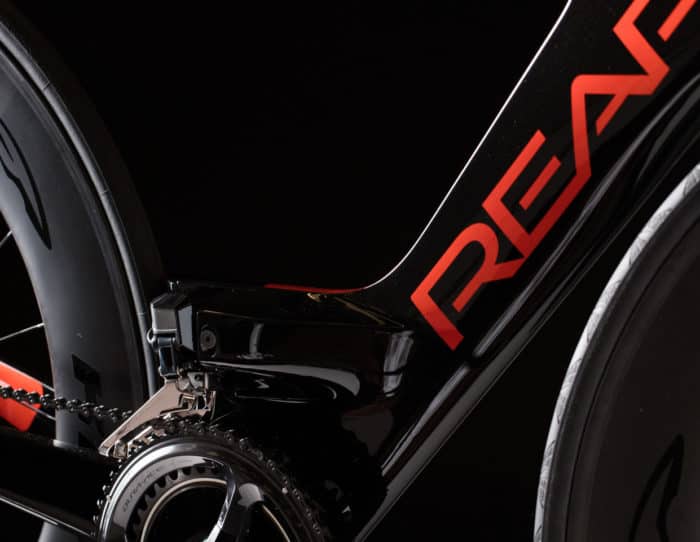 The shrouded front derailleur mounting point with its 3D printed mounting block, selectable for different size chain rings and oval rings also, allows for an easier and more efficient setup. The theory is that a front mech sticking out in the wind isn't aero by any stretch of the imagination so this is designed to smooth airflow in that area and it makes for better aero performance.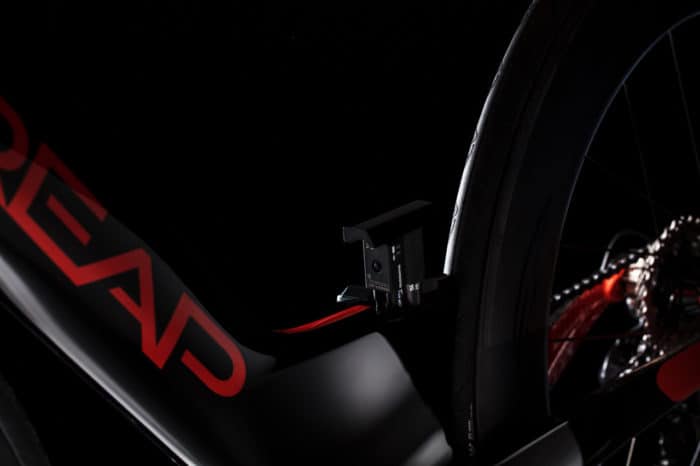 Another feature of the frame that stems from the key design objective of making it easy for the customer, is the Di2 battery and junction box pocket located next to the front mech. This allows easy access to the central hub of the gearing system so whether you need to charge your Di2 or change a cable, they have made it super simple to do.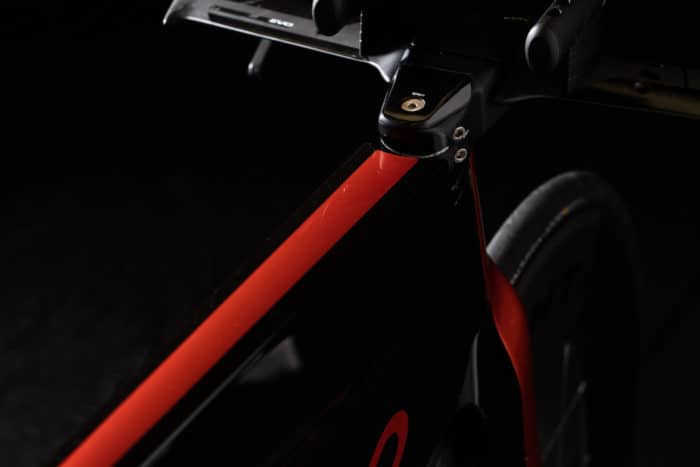 "Whilst we are developing our own 'cockpit' including integrated hydration and nutrition storage for 2018, we are currently using the PRO Missile Evo bar and stem combination. Not only is it very aerodynamic, it is also super adjustable and fully-integrated. We are encouraging riders away from frame mounted storage and hydration solutions and towards BTA systems or saddle-mounted solutions as these tend to be more aerodynamic. in most cases."
Build options are as follows:
Frameset is £4500 (international pricing tbc shortly) which includes, frame, fork, stem, seat post, brakes and bottom bracket (if customers decide to sell their bike further down the line we can supply another seat post since their's will be cut to size when they buy it – the topper system allows for 30mm of adjustment
Full builds start from £7650 which includes full Ultegra Di2, Parcours Chronos full carbon wheels, PRO Missile Evo cockpit, fizik saddle
The build as pictured is £9250 which includes full Dura-Ace Di2, Knight 95 clincher wheels, PRO Missile Evo cockpit, fizik saddle
We can do fully customsied spec builds to your needs, eg Sram, Shimano, Campagnolo groupsets, a choice of wheels; Knight, Zipp, Parcours, Enve, we can supply your bike without wheels or with training wheels as we understand some people already have race wheels or a powermeter they want to carry over, so we can omit these from the build
The bikes will not be compatible with mechanical groupsets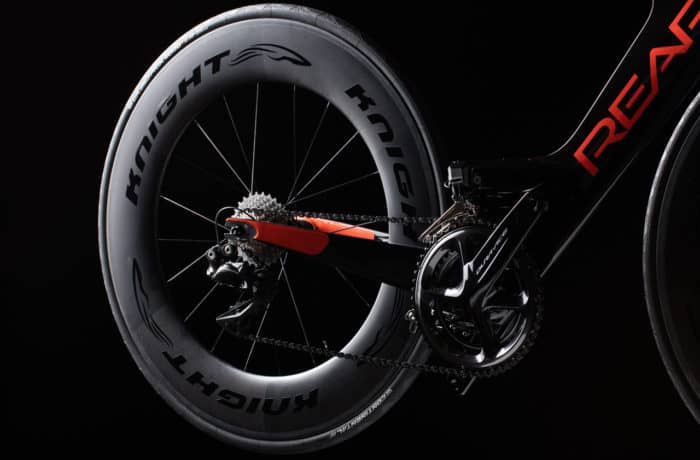 All of the first 10 customers will also receive a free aero testing session with Wattshop at Derby Velodrome (UK residents only) or for non-UK residents, an accessories package, including REAP branded cycle kit and casual wear.
Colours: the frames will be available in fully custom colours in the standard design (see the pictured bike) at no extra charge and they will work alongside the customers to nail the paint job to make sure they are happy with it. If customers want a really whacky paint job an additional cost may be incurred.
We have done a lot of aerodynamics testing throughout the process, including; Computer Fluid Dynamics, wind tunnel testing and velodrome testing. The link to the White Paper we have produced can be found on our website here.

We understand that this is a huge commitment for a customer so we are very happy for people to come and visit the factory, see how the bikes are made, test ride a bike, talk to the guys that will be making their bike, ask any questions they have, discuss paint schemes etc. just for that added piece of mind.
The Youtube video below shows the aero testing session at the Derby Velodrome.
They are just about to launch their new website here so keep an eye out for when it goes live.