Cold, wet and grey UK weather is not much fun for the keen triathlete looking to get out from the turbo trainer and breathe in some fresh air. To encourage you to get outdoors performance apparel brand ashmei (www.ashmei.com) have you covered, literally!
Andy Tomlinson has been putting the ashmei Soft Shell Cycle Jacket to the test.
| Product | ashmei Soft Shell Cycle Jacket |
| --- | --- |
| Price | £240 |
| Sizes | XS, S, M, L, XL, XXL |
| Website | www.ashmei.com |
| Grade | 90% |
The Soft Shell Cycle Jacket offers you a punchy red, subtle grey and safe bet black option to protect you from the worst the weather can inflict. Tested here was the large men's version in the red, perfect for dreary days in the saddle where you want to be seen.
As we have come to expect from the brand, construction is top notch and the materials truly feel top quality. If you have tried ashmei clothing previously you will be aware it comes at a financial cost, but you will feel good in it and good things don't often come cheap.
Buy once, buy right seems to be the mantra across social media channels; disposable products are frowned upon and spending a little more gets you much more in terms of fit, function and durability.
The Soft Shell Jacket comes fully loaded with detail and hidden function. It would seem a shame to give too much away, but i really have to share a few details with you and you will still enjoy searching them out.
True to form, on arrival the opening up process is an experience. When yours arrives, you'll know what I mean.
Fabric is premium with decent give and the fit is pleasingly cut making it flattering to wear. The front is waterproof, windproof and breathable whilst the rear has a merino lining and the zipper is robust, waterproof, has a nice internal lining and the first hidden detail, a key pocket which will hold a Yale type key securely and easily accessible.
The clever internal elasticated cuff keeps the wind from blowing up your sleeve. When it's getting hot, pit zips allow you to vent out any unwanted heat.
At the rear of the jacket you will find a little flap of fabric that allows you a good few extra inches of warming fabric to protect your rear end. This hidden detail folds up inside when you don't need it and is held in place by three little magnets. It works too, the little magnets snapping into place most pleasingly!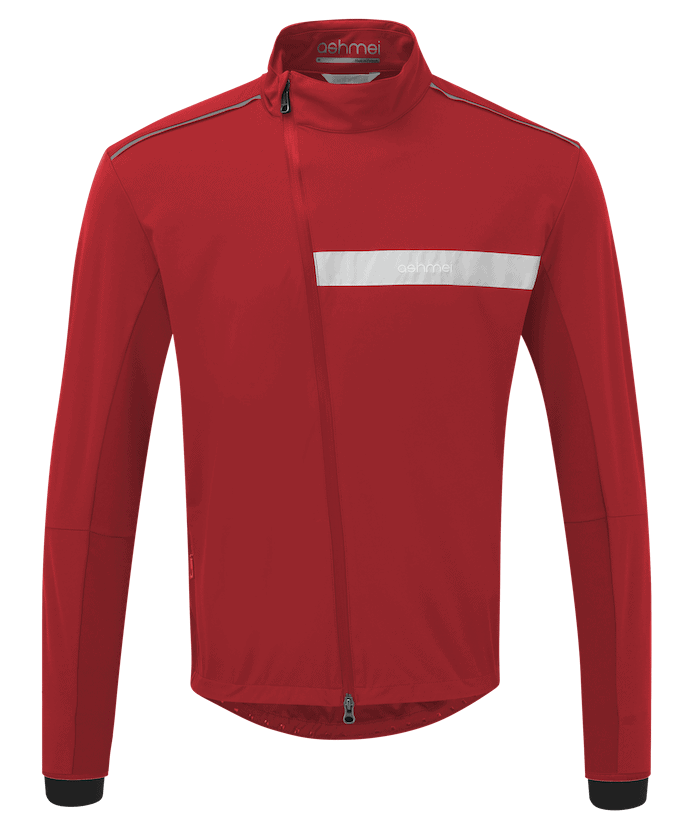 As this is a cycling garment also around the rear are the essential pockets; three main compartments with an elasticated top to keep things snug. There is also a zipped pocket that easily fits an iPhone 7 in a case and from here there is a little hole to allow wired headphones to feed through and into a small cable grip at the top near your neck to keep the cable from flapping around.
The middle pocket has a little loop labelled 'pump'… in case you had overlooked its use. See, lots of detail! The third pocket has a secret pocket! You may miss this if you don't look hard but it's zipped so you can keep valuables safe. I have to admit I love a zipped pocket as I find myself constantly checking to feel if phone and key/wallet is safe on tips that don't have a zipper. I have not lost anything to date but it is a distraction for me reaching back every now and again for peace of mind.
The final thing to mention would be the reflective piping for safety and the white detailing on the chest and down the back adding to the jackets visibility.
There's a lot to like about the jacket and a lot to make a solid case for owning one. Once you consider the jacket's function and performance it makes great sense. It's a considered purchase but one that I think will reward you, allowing you to forget about the weather and get on with the important joys of cycling.
You can find the jacket on the ashmei website HERE.