Recently Salice (www.salice.co.uk) sent us over their Levante Helmet to test. They also sent us the matching Salice 016 CRX glasses to try out and they deserve their own review space. See how we got on with them.
---
Who is it aimed at?
All cyclists.
Best Bits?
Wide visibility
What surprised you?
Great tactile feel of materials
Reasons why you would buy it?
Respected brand. Great optics
Salice 016 CRX – our experience…
Italian brand Salice offered us the chance to test out their CRX glasses and a matching Levante helmet. You can read about the helmet HERE.
Glasses in cycling are dominated by a small number of brands and historically I have usually found favour with the 'big O'! That is probably through laziness, as they have always offered top quality, optically good and well fitting glasses. Glasses are a very personal thing and often an expensive accessory – and one that can often get damaged, lost or dropped. I felt for Geraint Thomas after he crashed in the 2015 TDF and lost his glasses! Pretty sure he got sent a new pair swiftly enough though…
The CRX glasses I tested nicely matched the Levante helmet which was a nice touch. It's not often I match!
Quality wise they are well made, the materials look and feel great. They are lightweight and sit comfortably on the nose with the soft nose piece doing its job well.
Out on the road they have proved a worthy alternative to my regular glasses. Swapping out the lenses for a lighter one has meant I have been able to use them earlier and later in the day than my Oakleys and use them on darker and wetter days. The swapping of the lens was pretty simple, a helpful video on the Salice website ensured I did this without breaking the frames. That said, they feel mighty solid and more than able to withstand a pile of abuse.
Optically they have worked very well. The lenses are of a high quality all across the lens with zero distortion and so far are scratch free.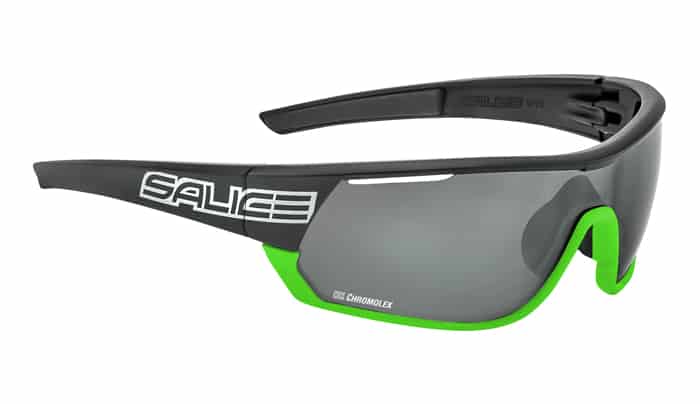 In rain they performed well with few issues with water sticking to the lens. Occasionally, on a very slow ascent with the glasses pushed tight to my face, I did experience a little bit of steaming up but this was very short lived. They never steamed up any other time and the vents did their work as expected.
The glasses come supplied in a sturdy case with various lenses and suitable accessories. Top marks for presentation here. They feel premium as you unbox them.
Details
Integrated frontal air ventilation
Interchangeable Megol® rubber nose piece. Co Injected Megol® rubber tipped ear arms
CRX- Photochromic lens with light-reactive technology allows the lens to adapt to changing light conditions.
Scratch resistant lens IDRO will repel water and dust to optimise vision
Spare rim in matching frame colour
Innovative Switch system, includes 3 lenses and detachable frame enabling you to personalise your glass
Supplied with spare multi-layered mirrored and clear polycarbonate lenses,
thermoformed protective case and cleaning cloth
Size: Adult Unisex
SRRP: £115
I suppose the big question is would I buy a pair? Well, I have already stated on the helmet test that I would buy the helmet myself so it would seem like a great combo to match the two items. So yes, I would part with my pennies in the interest of fashion. Oh and because they feel really good and work exceptionally well too. They have been through the mill and still look in great condition. Sorry Salice, I have been testing them thoroughly! I suppose like the helmet, I have to ask, why have I not tried Salice before?
You can find out more about the Salice 016 CRX at their website here.