Salice  (www.salice.co.uk) recently offered us the chance to try out their Salice Levante bike helmet and a pair of their cycle glasses. Hailing from Italy and being the brand of choice for many a peloton cyclist, will they satisfy the needs of an age-group triathlete?
---
Who is it aimed at?
All cyclists.
Best Bits?
Aero profile. Not bulky. Rear light on adjustment strap.
What surprised you?
Really good fit and comfortable chin strap.
Reasons why you would buy it?
Great all round helmet.
Salice Levante Helmet – our experience…
I have been able to spend a bit of time with two products from Salice recently. The Levante Helmet and the 016 CRX glasses. You can read about the glasses HERE.
Back to the helmet and how we got on with that. Straight away the helmet has a premium look and feel. The model I tested was a striking matt back; very subtle but attractive, and it looked the part. I do not have a huge head and often bike helmets stick out like a mushroom, but I was really pleased with the minimal overhang of the Salice. It fitted really well, held my head firmly enough. I keep coming back to the Levante as my main helmet as it feels good and looks great.
I have mainly tested the helmet on warm summer rides and the aero nature of the slits has not caused any over heating. It definitely is more aero in appearance than my other bike lids but seems to work perfectly well in the heat.
A nice touch is the internal mesh bug liner to stop unwanted wasps etc. being caught up in the ventilation scoops. Nice touch, I like that. Nothing worse than being hit by a wasp and wondering, did that bounce off or is it trapped inside? You do not need worries like that as you hurtle down a descent!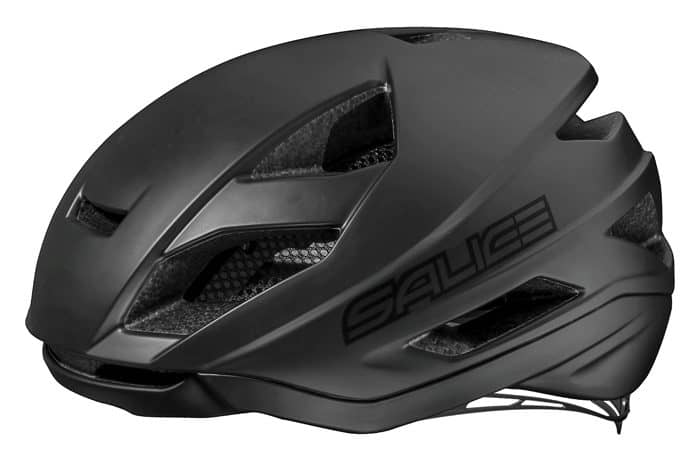 The Levante in its 52-58cm size was perfect for me as a 56cm kind of guy! Again, the helmet was as minimal as it probably could be and is one of the few helmets that didn't make me feel like Toad from Mario Kart! I put overly bulky helmet designs alongside huge padding inserts in cycle shorts in terms of low feel-good factors!
Adjusting the helmet to fit was straight forward and the twist dial at the back with built-in light was solid and chunky. In addition, a feature I later discovered was the up and down tilt adjuster, another nice tough to get the best fit possible. The inner padding looks very minimal but I found it to be perfectly adequate and at no point did it feel uncomfortable.
My only criticism was about the chin strap when using glasses. To fit the arms of the glasses over the top of the strap at first feels a little awkward as the strap did not fit flush to my head above my ear. Once out pedalling this issue was forgotten about, but if I had to find a fault it was there. If you tuck the arms of your glasses under the strap you will never have the issue. A minor detail, rather than fault.
Details
Aero helmet reduces resistance against wind
14 specially designed aeration slits guarantee excellent ventilation
New comfort orientated micrometric adjustment system that can move up and down
Rear LED safety light with multiple settings
Removable hypoallergenic and breathable mesh bug liner (replacements available)
Datatag ICE label (In Case of Emergency)
Sunglass garage
Removable Chin Strap
Lightweight aero-mould design – 250g (52-58) 270g (56-62)
SRRP: £115
Summary
Overall I have to say that I really enjoyed my time with the Levante. Its styling suited my head perfectly and made me feel great, as well as it performing very well as a helmet and exceeding my expectations as an aero helmet in terms of not over heating on hot days. Styling wise it looks superb in the matt finish I tested. Will I buy one? It definitely will be my next helmet purchase. I am not sure how I have not tried one until now!
You can find out more about the Salice Levante at their website here.