Italian bike case and bag specialist, Scicon (https://uk.sciconbags.com), have developed the Race Rain Bag. "Look like a pro as you pull your rain jacket out of this bag while your buddies are fumbling with their old rucksacks", they say…
How does it perform? Paul Shanley has been trying it out.
---
Who is it aimed at?
Cyclists and triathletes who want to look and feel like a pro when they get their cycling rain kit out.
Best Bits?
The bag compartments are well sized and clearly labelled allowing you to quickly pick out the kit you need.
What surprised you?
How useful the bag is. I was also surprised by how nice it is to own something with your name and country flag on it.
Reasons why you would buy it?
A special treat for yourself or as a gift for someone. If you can bring yourself to spend £95 on a bag, I don't believe you would regret owning it.
Scicon bags…
Scicon are well known in the cycling world for producing the "best of the best" when it comes to bike cases and bags. Started in Northern Italy by Luciano Fantin in 1980, Scicon have become the benchmark for how to transport your bike around the world, safely.
Our mission is simple – to be the brand of choice when it comes to bike travel and protection.Our passion is ensuring safe, stylish and stress-free travel for cyclists. We understand that our customers lead active and adventurous lifestyles. From seasoned pros and weekend warriors, to road cyclists, MTB riders and triathletes, our customers have diverse needs and we cater for them all.
The product range has increased significantly over the last 36 years and one addition to that product range is the Scicon Race Rain Bag.
Race Rain Bag Concept
The race rain bag is a pretty simple concept, a bag with everything the cyclist needs should it start raining when you are out on a ride. Developed for the pro riders and teams the race rain bag has space for your shoes, shoe covers, arm and leg warmers, gloves, helmet, jersey and jacket. To make it super simple to use (especially in a hurry), everything has it own compartment clearly labelled with what is inside.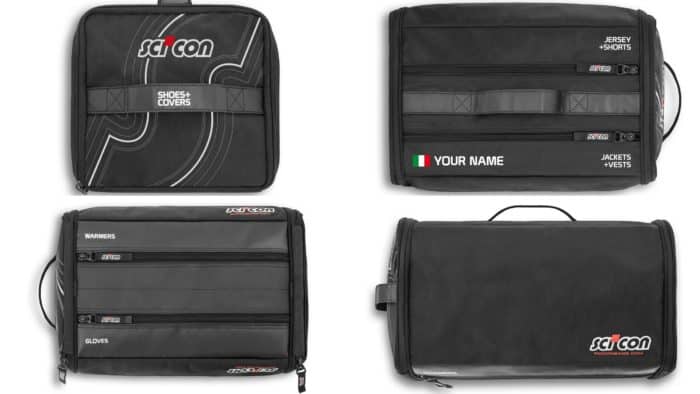 Race Rain Bag Construction
The bag as is very well made and very lightweight. The zips and zip pull tabs all work well and are smooth in operation. It has two handles to allow you to carry it either flat or upright, and there is enough room in each of the compartments to store your cycling gear. The labelling is very clear and the printed name and country flag – a nice bespoke touch – look really good.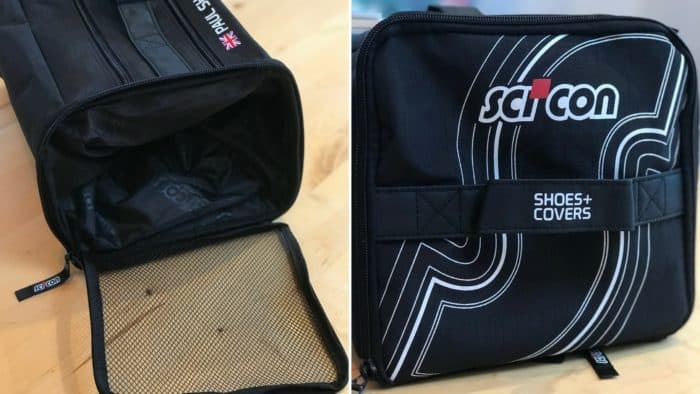 Race Rain Bag Use
Now, I am guessing most people reading this are probably not members of a pro cycling/triathlon team and thus on most rides don't have a support vehicle following you with spare kit for when the weather changes! Although this bag was developed for pros and serves a particular purpose for them, is it actually really good to use for storing and transporting your cycling kit generally. I enjoyed using it and having separate compartments clearly labelled is takes a bit of faffing away when getting ready to go out for a ride/race.
I didn't get the chance to use the bag at any triathlon races, although I think it could work well, especially if you are not sure what the weather is going to do when you come into transition from the swim and need to quickly grab additional cycling clothing.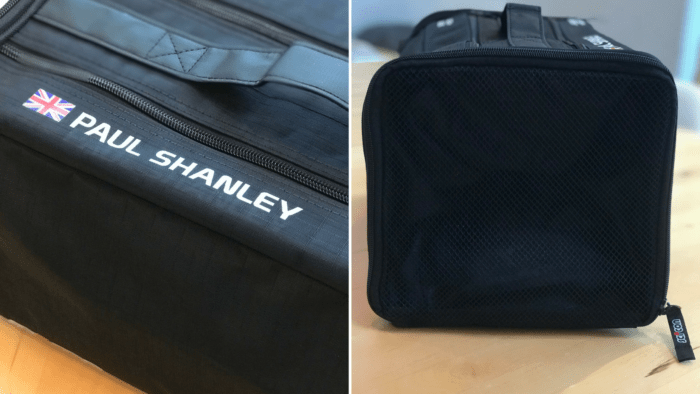 Race Rain Bag Overall
"An essential part of any cyclist's luggage is their race rain bag", which I am sure is true if you are a pro cyclist, but the rain bag is far from an essential piece of kit for a typical triathlete.
While something of a luxury, it is a really nice piece of practical kit. With a price tag of £95, it will likely be off of many shopping lists straight away, but if you can stomach the price tag I am pretty certain you would be happy with your purchase in terms of product quality.
The ability to add your name and country flag is also a really nice feature; having had the bag for a few months now, there is something very personal about having your name on a piece of kit. With Christmas coming up, could this be an ideal gift  for that triathlete in your life that seems to have everything?
You can find out more from the Scicon website.