When it comes to wheels, Revolver are the most innovative brand in the UK right now. Pushing the boundaries of design by thinking outside the box to handbuild wheels that have been ridden to numerous honours lately, including British Championships wins, TT records and even Gold in Rio last summer.
Boasting an extensive range, from entry level race sets through to cutting edge specialist wheels, whatever your level there's a set that's right for you.
Not sure what is 'right for you'?
At Revolver, the ethos is to help athletes get the best out of each wheelset and recognise that what's right for one rider isn't always right for another. Bodyweight, event type, average race speeds, TT or roadbike and confidence are among determining factors as to which wheelset will work best in the real world. From the outset Revolver decided that offering advice on wheelset choice tailored to the specific needs of each rider is a key factor in customer satisfaction along with a quality product. They believe years of race experience along with reliable data gathered from wind tunnel and Alphamantis track testing allows them to provide a qualified service of advice not provided by any other brand in the UK.
Kronostok – from £799
Race proven wheelsets suitable for all levels of competitor from novice right through to elite. With a full carbon wide rim platform allowing the aero efficient use of 23-25mm lower rolling resistance tyres, they come in four rim depths, three hubset options and a range of rim finishes, priced to suit most pockets. UCI approval makes these wheels suitable for 'drafting' as well as 'non-drafting' evnts, a must for ambitious age group competitors now. Awarded 'Best on Test' by 220 Triathlon in the 2016 'Big Race Wheel Test' as an "Outstanding performer".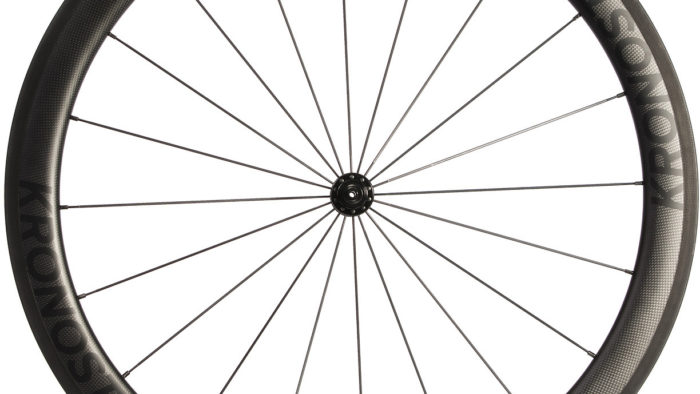 Kronostok FWS – from £1099
Introduced for 2017, the FWS models are designed to take on the very best wheelsets out there, regardless of price! A sophisticated production method using hiTg epoxy resins results in a rim that's lighter yet 40% stiffer than the regular Kronostok models. Acceleration, agility, stopping power and of course killer aerodynamics come as standard along with UCI approval, all without that prohibitive price tag. The choice of the Pro/Elite or those who just simply demand exhilarating performance.
Asymm and Kronos disc wheels – from £999
TT/tri specific rear wheels for maximum advantages over all but the hilliest of courses. These models will save serious watts so forget the term 'marginal gains' here. The flagship 'Asymm' models in particular have a growing recognition amoungst the TT purist for being the fastest disc wheel available. A breakthrough concept in asymmetrical lenticular design delivers a measurable reduction in overall drag over the most popular discs out there.
Imagine swapping your very best 'deep' rear for an 'Asymm' and comming out of your long course T2 with 5-8 minutes in hand. That's what Revolver are talking about here!
All models are built using Revolver 301 or 333 hubs at entry level, DT Swiss 350 or 240s straightpull hubs are introduced as the specification level rises. Moving with the industry, all models have the option of disc brake hubs for those demanding a superior level of braking.
See the full Revolver range at www.revolverwheels.co.uk