Rotor previewed their 1×13 TT/Tri groupset last Autumn at the IRONMAN World Championships in Kona, but now the first 1x 13/1×12-speed time trial and triathlon drivetrain is ready for your solo race efforts against the clock. At its heart is a single, simple new component – the bar extension end Rotor TT Shifter, which ties in with the existing Rotor 1×13/1×12 hydraulic rear mech, allowing twelve quick shifts from your tucked-in position on the aerobars.
The secret to Rotor's 13-speed 1x hydraulic drivetrain is that no matter what kind of bike you are building up, the rear derailleur which indexes and executes every shift is the same. The same clutched, hydraulically-actuated rear derailleur will shift your mountain bike, cyclocross, gravel, endurance all-road, or road bike. And now your time trial or triathlon bike, too.
To customise your Rotor 1×13 build for each bike, you just need to pick the right cassette spread – Rotor offers 10-36, 10-39, 10-46 & 10-52T options in 13-speed – and your front chainring. Paired with their wide range of standard or powermeter cranks for on or off-road, pick from 26T to 54T round or elliptical chainrings (in 2-tooth increments).

Then all you need is a single hydraulic shifter… The first available was the road drop bar lever set with a right-only shifter, combined with Magura hydraulic disc brake cylinders for road, gravel and cross. Then, the single standalone MTB trigger shifter was added for flat bar builds. Now, this TT shifter rounds out your aero bar shifting setup.
The new shifter itself is a one-finger hydraulic lever that fits on one of your TT bike's aero extensions. And that's pretty much all there is to it.
The closed-system Rotor 1×13/1×12 TT hydraulic shifter is actuated just like the rest of their road groups, with a short pull of the lever dropping down a cog on the cassette, and a longer pull shifting back up a cog. The single trigger is meant to be easily accessible without moving your hand from the aero bar extension.
Rotor has now announced four different TT kits to get your time trial or triathlon bikes set up. All complete 13-speed Rotor 1×13 groupsets require a special Rotor freehub body to fit the 13-speed cassettes, BUT the 1×12 set up can utilise your existing freehub on your favourite wheelset and add the rotor 12-speed cassette (lightest  on the market) with 12 gears, to go with a choice of narrow / wide front chainrings from 26-teeth to 54-teeth. The Modularity of the ROTOR options should be enough for any course and athlete.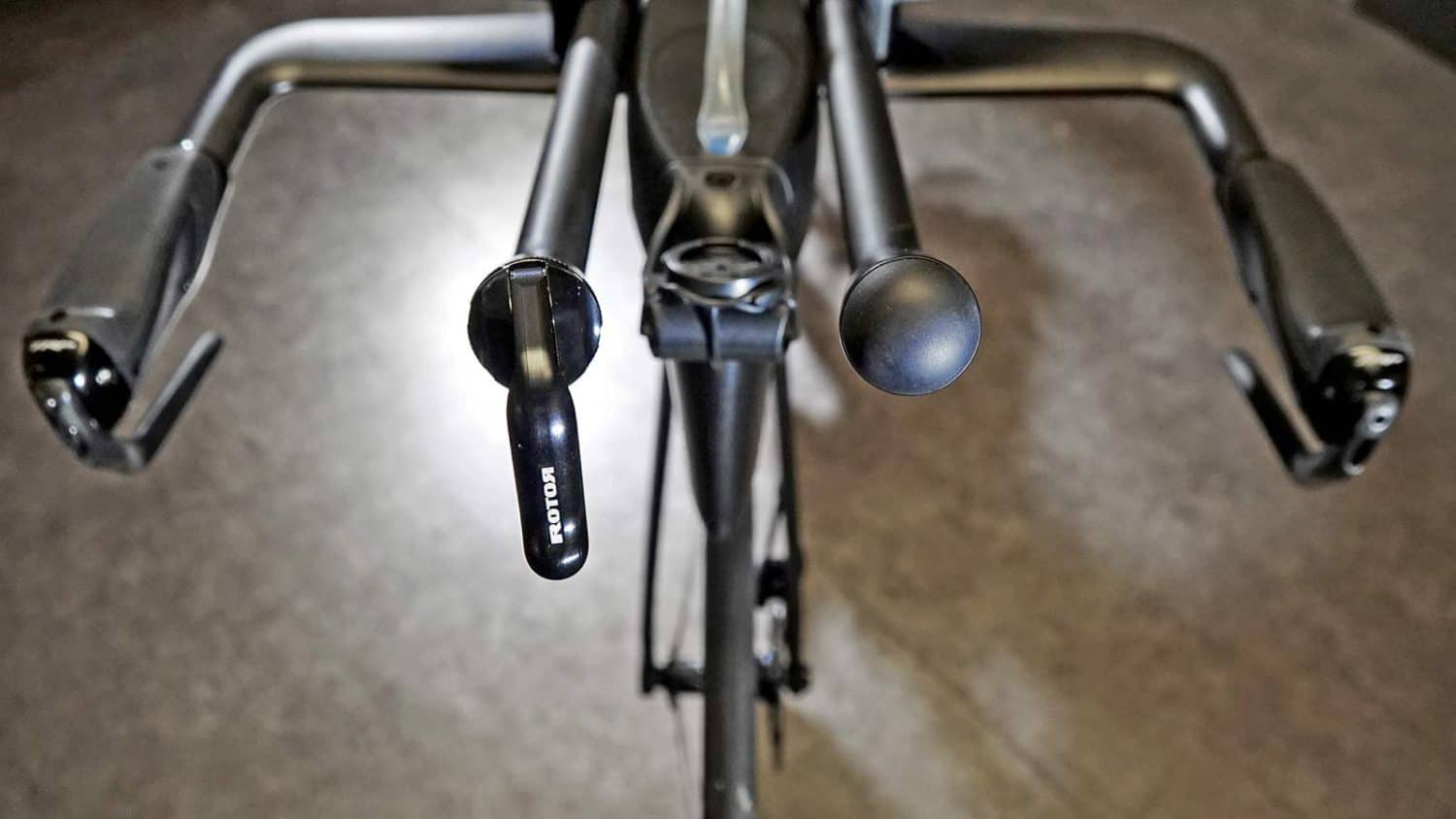 The top 1×13 TT Performance kit is built around a dual-side measuring 2INpower road powermeter crankset with Aero MAS (micro adjust spider) to dial in the position of the elliptical aero QRing chainring. Pricing starts at 2450€, also including the new TT shifter & hydraulic rear derailleur, plus a 13-speed cassette, the compatible 12-speed KMC chain, and a Rotor Rvolver rear hub. For an extra 1100€, the kit can add a 50mm deep EU-made tubeless carbon complete wheelset (claimed 3459g complete weight with 50mm carbon wheels.)
Like the rest of Rotor's 1×13 groupsets, the TT version is also available in an 12-speed upgrade kit that pairs the new TT shifter & 1×13 derailleur to one of four Rotor 12-speed cassettes that fit on existing Shimano freehubs so you don't have to upgrade your wheels right away. The 1×13 TT Groupset 12 kit is the most affordable way to get started, from just 1500€ it includes the new shifter & derailleur with an alloy direct-mount crankset & chainring, plus a chain & 12-speed cassette (to fit on your 11-speed Shimano HG freehub.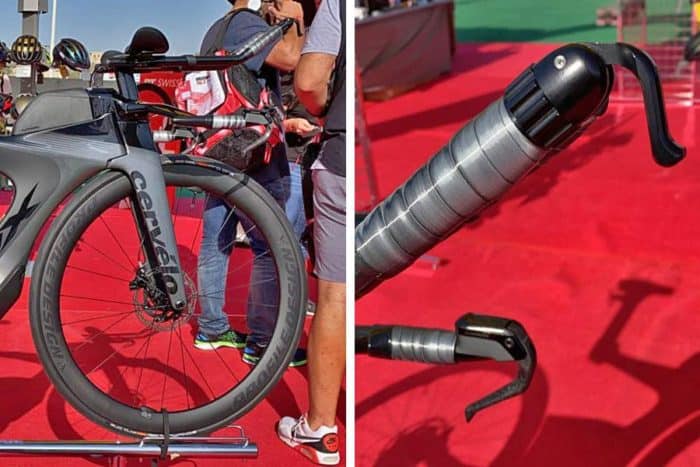 The easiest and cheapest upgrade is the Rear Mech and TT bar end shifter, which can run on a 12-speed cassette, (ROTOR or SRAM Apex and Shimano 12-speed). This option is coming in at approximately. 1000€ or £899. Total weight for the mech and shifters with 3mm hydraulic hose comes in at 442g.
Velotech, the UK distributors, tell us that the intended launch at the London Excel Tri & Bike show and obvious further difficulties have delayed availability, but pre-orders can be placed with your local bike shop or with Velotech Services Ltd at their website HERE.