Is the Rouleur Classic (www.rouleurclassic.cc) the best bike show in the world? In short I think the answer is yes. It really is very impressive.
(Scroll through the image gallery above to see more from the Rouleur Classic)
Arriving at the show on the opening evening and looking at the queue outside, you could think you were going to Londons hippest new nightclub rather than a bike show.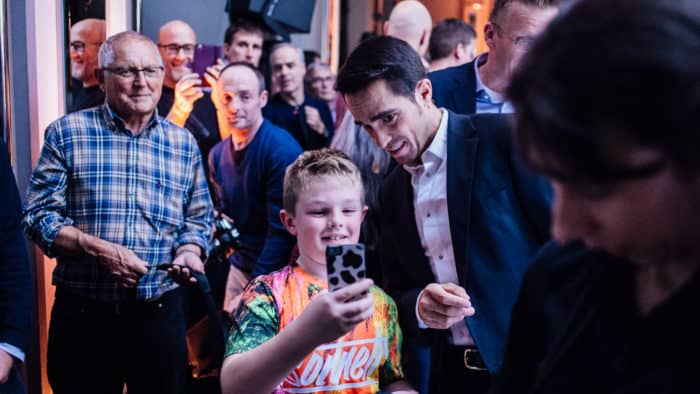 Cycling really does have it all – history, success, controversy, diversity, technology, fashion and characters, lots of characters. Fascinating, intriguing, serious, funny and sometimes down right crazy characters.
Standing waiting in line to go in felt like I had the Golden Ticket for Willy Wonka's Chocolate Factory rather than a bike show. What they have created is an experience like no other, a journey to discover the magical mystery world of cycling.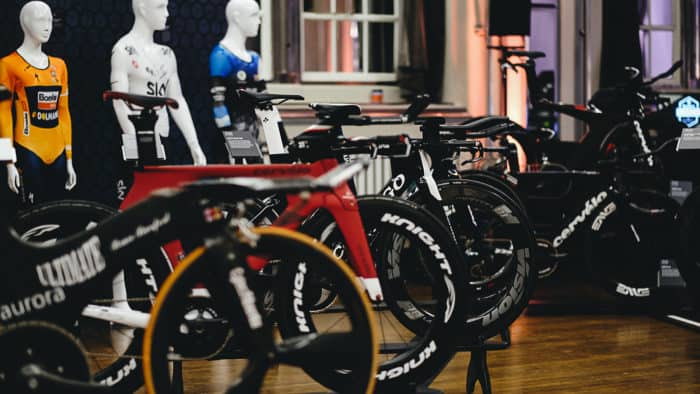 Yes there are products, the latest products at that, but not all of them. The show restricts some of the brands and ranges so you wont get to see every pair of shoes out on the market. What you will be able to see is a particular brand/product showcasing its story and place in this crazy cycling world – and that will suck you further into the mystique.
I don't think Bruce Sandell (MD of Rouleur), would thank me if everyone starts calling him Willy Wonka… but the show is an experience like no other. A carefully choreographed list of exhibitors and sponsors, well thought out displays/experiences, and a theatre line up that would be like trying to pick your favourite child. If that is not enough they then add a list of cycling superstars that would leave Lord Alan Sugar star struck (I know Lord Sugar did attend in previous years, but not sure if he made it this year?).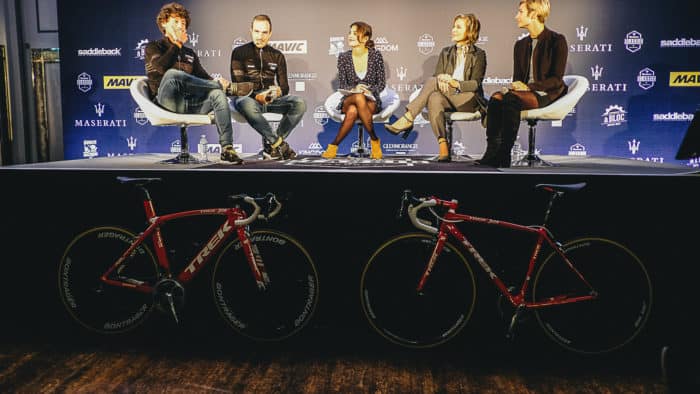 Like cycling, the Rouleur Classic really does have it all. Its not often I wish I didn't work in the endurance sports industry, but on Thursday part of me wished I didn't. Part of me wanted to be a normal punter and emerge myself into this experience hook line and sinker. When I found myself casually standing next to Sir Bradley Wiggins at the bar I so wanted to ask him for a photo.
A MONUMENTAL CELEBRATION OF CYCLING
So the downside? Well the tickets are not cheap, although at least you don't have to try and find them inside a chocolate bar.
The real downside for me is that is that we don't have something similar in triathlon. I know triathlon does not have the depth of history that cycling has, but it does have history. It does have success, controversy, diversity, technology, fashion and plenty of characters. I know that some of the historic displays would feature a lot of day glow pink and too many revealing tri suits, but I would love someone to put together the 'Monumental celebration of triathlon'. If anyone fancies looking at putting this on then I will help anyway I can!
Until then, look out for the dates of the 2018 Rouleur Classic and get yourself a Golden Ticket – you won't be disappointed.