New range includes Tri Suit, Tri Top, Tri Shorts and Swimming Cap
All products designed in the UK, produced in Europe
Design-focused cycling and triathlon apparel brand Stolen Goat has unveiled its 2019 triathlon range.
The new collection, designed in the UK and manufactured in Europe, features original, vibrant designs for which Stolen Goat is best known in addition to more subtle yet stylish options. Whether you want to stand out from the crowd or prefer a refined and understated look, there's something in the range to suit all tastes.
Catering for athletes who demand performance but also appreciate versatility, the range consists of a tri suit and tri top/tri shorts in various designs. Vividly coloured swimming caps round out the new range offering a matching accessory option.
Tri Suit
The new Stolen Goat Tri Suit was designed for speed and comfort. Featuring an advanced tri-specific chamois which is compact and perfect for running, it was developed in Belgium alongside professional triathletes and teams to create the perfect pad for the bike leg with zero interference during the run. The pad consists of multiple layers and employs dimple technology to improve airflow, breathability and damping whilst reducing friction.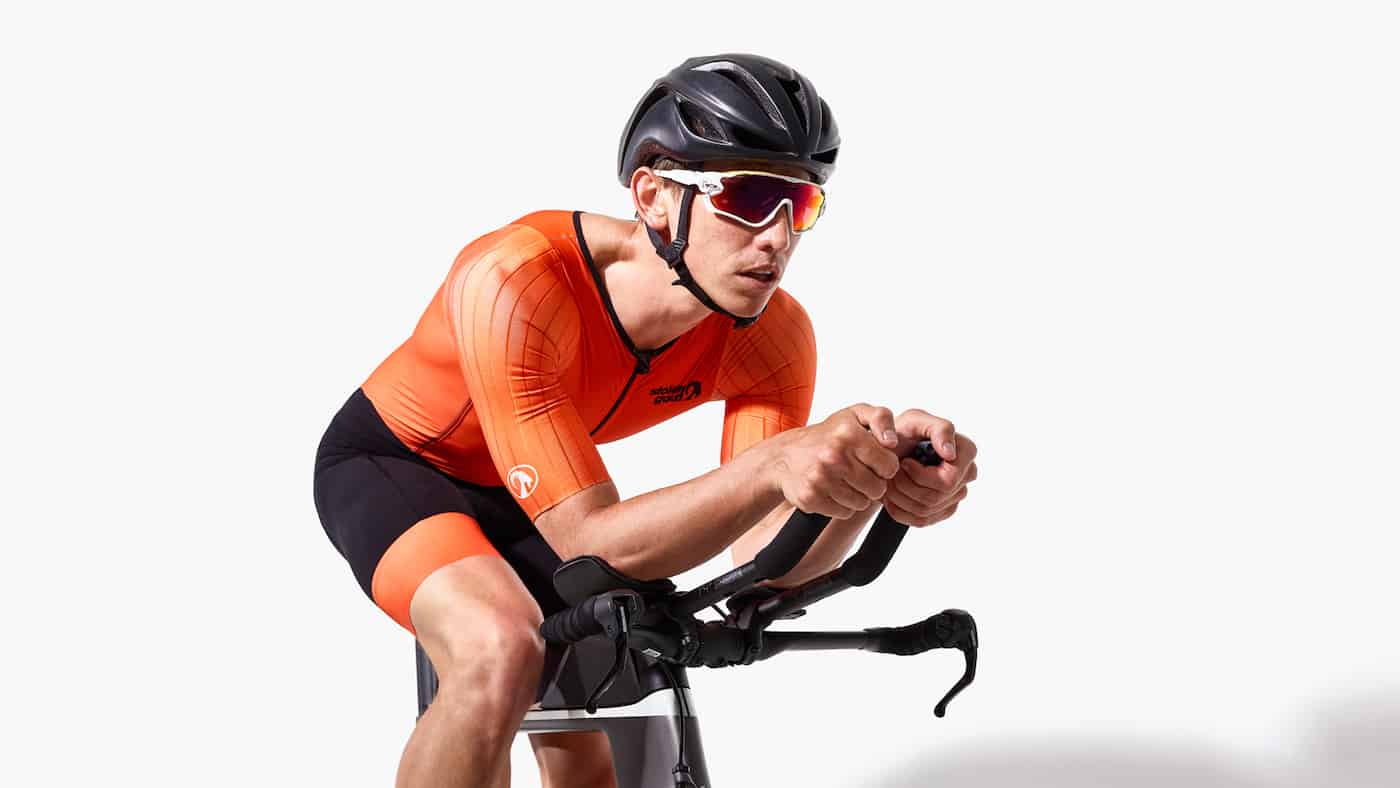 With a rear stash pocket for gels, 2-way breathability and fast drying lightweight fabrics, the tri suit is made for going fast. Airstripe half-length sleeves provide optimal aerodynamics during the cycling leg, saving around 8 Watts for each sleeve (the equivalent of a disc wheel!).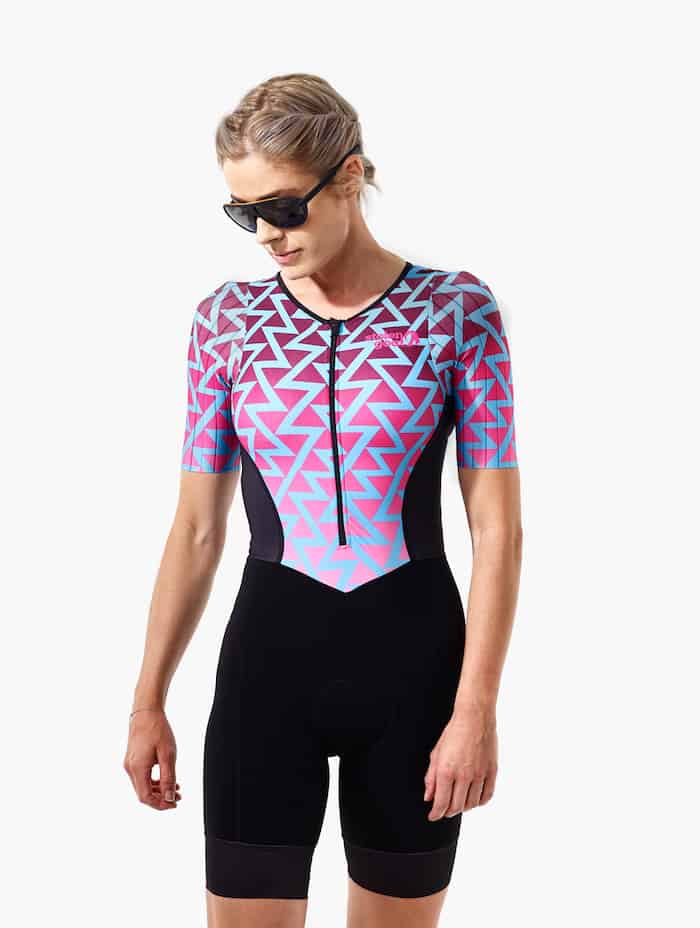 Available in women's and men's specific cuts, in Kuro Black, Core Orange, Core Green, Quit (shark pattern) and Zulu pattern. Sizes Small to XX Large £160 / €205 / $270
Tri Top
Perfect for athletes who prefer a two-piece set-up rather than a skinsuit, the new Tri Top from Stolen Goat is made from 4-way stretch Aquaracer material for outstanding freedom of movement across all three legs of your triathlon race or training session. With high chlorine resistance and Factor 50 UV protection, it's ideal for summer use. The Aquaracer material has a water repellent treatment on the outside and a hydrophilic treatment on the inside, allowing water to slide off without penetrating the fibers. Combined with the great fit it is both aqua dynamic and aerodynamic in equal measure.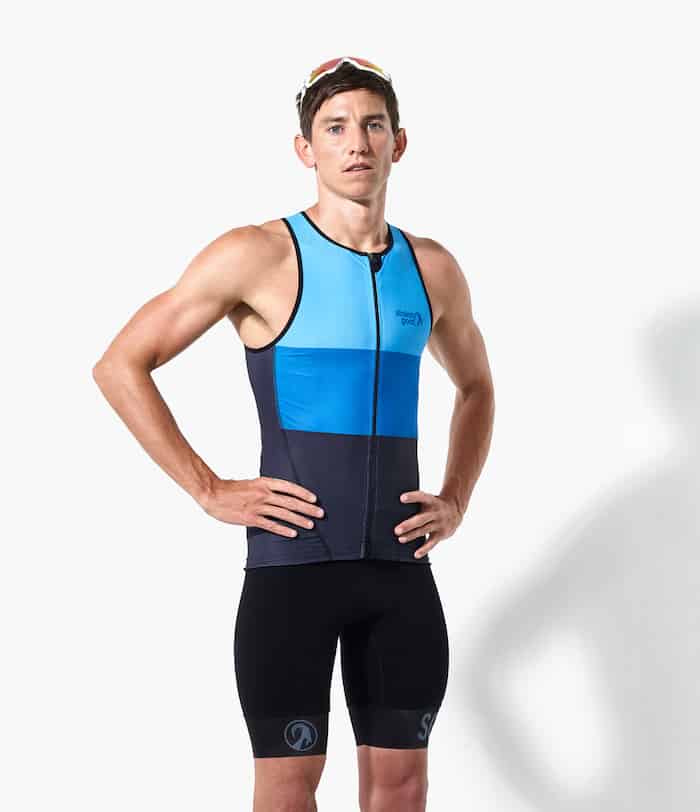 A zip 'garage' at the top and bottom protects your wetsuit and flatlock stitching throughout prevents irritation whilst a silicone gripper on the waist holds everything in place during the swim and the run. A small rear pocket is placed neatly at the lower back to store any additional nutrition.
Available in women's specific cut, in Pure Blue, Industry Pink and 50 Shades of Pink designs with men's specific cut in Industry Blue, In The Jungle and Intergalactic Orange. Sizes Extra Small to XX Large £75 / €101.25 / $152
Tri Shorts
The most versatile item in any triathlete's wardrobe, a good pair of tri shorts can be paired with your favourite triathlon top or club kit, are good for standalone pool sessions, runs and brick sessions.
The Stolen Goat Tri Shorts are made from a rapid-drying, hydrophobic Oxygene material and featuring a tri-specific pad suitable for training and racing or as a first purchase for all-round triathlon use and training. Featuring comfortable, wide leg grippers and a superb silicon gripper around the waist to keep them firmly in place whilst under your wetsuit in the water. The shorts also have a small gel pocket on each leg for mid-race fueling. The tri-specific pad is thinner and more flexible than a cycling-specific pad, allowing maximum comfort on the run and swim legs, as well as being perforated to help with quick drying after T1.
Available in men's and women's specific cut. Sizes Small to XX Large £80 / €108 / $152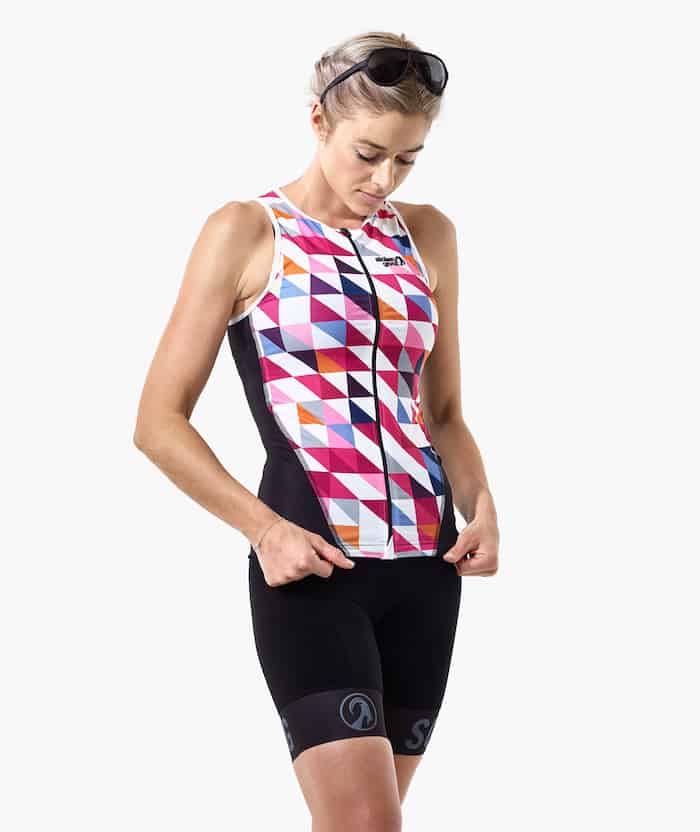 Swimming Cap
A new range of swim caps for SS19, in a selection of six fantastic colours to complement any triathlon or swimsuit. No need to settle for anything less than eye-catching! Colours ranging from screaming orange to classic navy, with a 'dripping' Stolen Goat logo on each side. One Size £9.99 / €13.49 / $18.98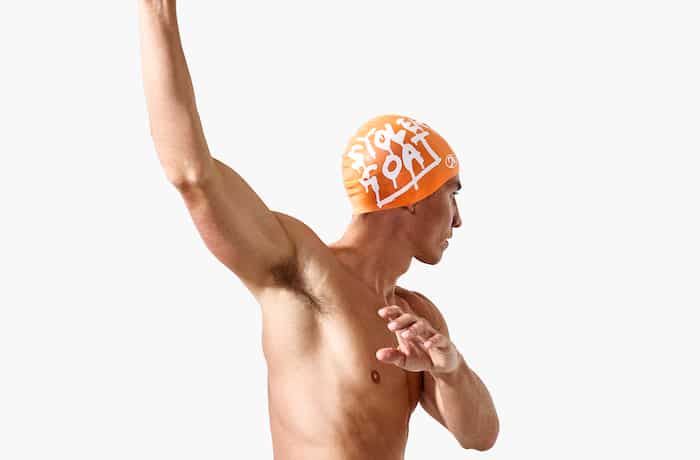 Tim Bland, managing director of Stolen Goat said, 'our triathlon specific garments have been born from extensive R&D. Our supplier, has decades of experience in making athletes both comfortable and fast.
'In fact, the sleeves on the tri-suits alone will save you 6-8 Watts… per sleeve. So just wearing the suit will make you faster on the bike, or to look at it another way, you can go the same speed with less effort. These benefits are great for everyone, not just elite racers. You'll enjoy your event so much more if you're comfortable, feeling fast and of course… looking sharp!'