Technogym MYCYCLING™ launch at Triathlon Show: London
One of the most talked about new products at the Triathlon Show: London 2017 was the new Technogym MYCYCLING™ Smart Trainer.
With a price tag of £1,700 and classy Italian looks to match there was plenty of interest in this new addition to a fast growing sector of the market. We chatted to product manager Paul about the new trainer.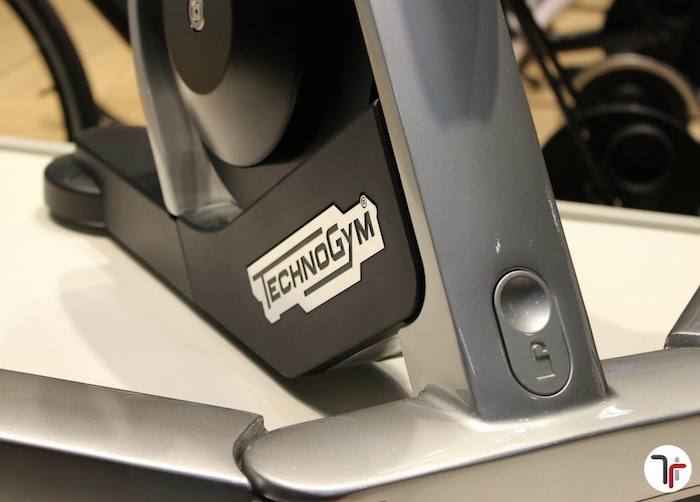 Here is the official word from Technogym on the launch…
MYCYCLING™: transform your performance
Technogym launches the new indoor training solution for cyclists
Technogym launches MYCYCLING™, the new home training solution that totally transforms your outdoor cycling performance.
MYCYCLING™ combines a hi-tech smart trainer, a native app with personalised programmes, and a network of professional coaches able to guide you and develop a tailor- made training programme for you.
MYCYCLING™ also includes a specific and totally innovative training system dedicated to cyclists – TNT – Technogym Neuromuscular Training™ – that will help you improve your performance every day.
The new TNT system is born of the collaboration between Technogym's Medical and Scientific Research Centre and the best athletes, coaches, physiologists and sports trainers, and aims to enhance metabolic and neuromuscular characteristics to improve outdoor performance.
The unique combination of elements, developed by Technogym for training using the TNT™ system, is based on:
SMART TRAINER – THE PRODUCT
MYCYCLING™ is designed to offer maximum stability during training, especially when simulating outdoor sprints. The heart of the product is the electro-mechanical brake that controls with acute precision every second you are in the seat. MYCYCLING™ also features a torque sensor able to directly measure your power with a precision tolerance of +/-1%. Optical sensors analyse the thrust at all times, and allow you to visualise the smooth circular pedaling stroke as well as the symmetry between left and right foot. The fly-wheel has been designed to ensure a natural pedaling sensation providing you with the same sense of inertia you feel when pedaling outdoors.
MYCYCLING™ APP – THE DEDICATED APP
Tests, programmes, personalisation, routes and bio-feedback: all these are part of the MYCYCLING™ App. Place your smartphone on the handlebar support to take control of MYCYCLING™ via Bluetooth and start training. You can also connect the MYCYCLING™ App with your Garmin or Strava accounts to enjoy an overview of your indoor and outdoor training data and drive yourself towards increasingly higher performance levels.
Thanks to the MYCYCLING™ App you will be able to ride along some of the world's most iconic cycling routes such as Passo dello Stelvio, Col de l'Alpe d'Huez and many others. Don't just ride on your own: the App technology will allow you to engage in challenging competitions with other MYCYCLING™ users.
PERSONALISED TRAINING PROGRAMMES
With MYCYCLING™ you will discover a range of personalised training programmes which will greatly enhance your performance thanks to TNT – Technogym Neuromuscular Training™. TNT starts with a preliminary test to determine your anaerobic power and cadence thresholds via 2 tests carried out indoors: the Technogym Maximal Test and the FTP (Functional Threshold Power) test. The results will dictate your 18 week personalised training plan, which will be made up of 3 phases, each lasting 6 weeks: preparation, development and transition. You can start from the first phase and follow the entire programme or begin from a later phase, ideally integrating it with outdoor, long-distance, weekly sessions. The TNT™ programme consists of 40-70 minute training sessions, constantly changing the cadence and power levels for comprehensive neuromuscular activation.
A NETWORK OF EXPERT COACHES
Whatever your goals are, you can access the MYCYCLING™ App and select one of the programmes designed by professional coaches for specific training goals. Thanks to MYCYCLING™ Coaching you can also choose to train supported by some of the best cycling experts in the international cycling community certified by Technogym, whether you are an amateur, an athlete or a coach.
MYCYCLING™ is compatible with road bikes, mountain bikes, and track bikes.