The Bianchi Aria claims to be an aero road bike with a triathlon focus. Utilising the aero tech from its Aquila time trial bike and the higher spec Oltre road range, the Italian company looks to have created an affordable (more affordable!) versatile aero road bike.
We put the Aria through its paces to see how it stands up in a very competitive area of the bike market.
---
The Detail
Size tested: 55cm
Weight: 8.03kg
Sizes: 44-47-50-53-55-57-59-61
Frame: Frame Aria carbon, mechanical/electronic shifting compatible, PressFit 86,5x41mm BB, head tube 1 1/8in-1 1/4in, integrated seat clamp, full carbon dropout
Fork: Bianchi Full Carbon Aero 1.4″>1.1/8″ 1.4″>1.1/8″
Stem and handlebars: Reparto Corse Alloy 6061 and Reparto Corse Compact Flat Top
Shifters: Campagnolo Centaur Power Shift 11sp Ergopower
Rear derailleur: Campagnolo Centaur 11sp
Front derailleur: Campagnolo Centaur
Gears: Campagnolo Centaur 50/34T, 11sp 11-29T
Chain: Kmc X11-1 EPT finish
Seatpost: Bianchi Full Carbon Aero
Saddle: Selle San Marco Monza Startup, steel rails, 277x131mm
Wheels: Vision Team 35 Comp
Tyres: Vittoria Zaffiro Pro Slick 700×25
Brakes: Campagnolo Centaur (dual pivot F+R)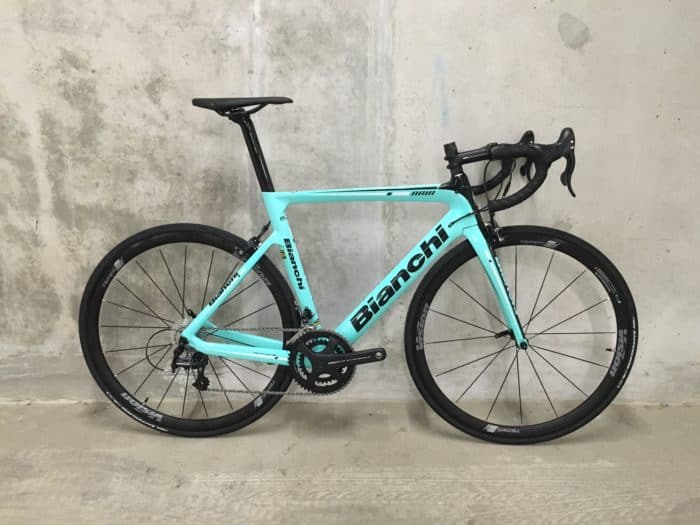 Introduction
It might be because my first 'real' road bike bought back in 2000 was a Bianchi in the fabled Italian company's distinctive colours, but there is just something appealing about a bike decked out in Bianchi 'celeste'.
Based on the looks and comments I got riding the Bianchi Aria test bike, I might not be alone.
Despite its illustrious history, Bianchi is a brand not seen regularly in triathlon fields. However, this might be about to change with the Italian company claiming the Aria is an aero frameset that can easily be transformed into a tri-focussed set-up*.
(*You can add bolt on bars and move the saddle on the vast majority of aero bikes – I've been doing that for years – but I see why you make the point Bianchi).
Frame
Although described as an entry level aero bike (I accept it's a stretch calling a bike costing £2,250 entry level), the Aria comes with a fair number of the wind cheating features you see on more pricey bikes.
Straight out of the box it is immediately clear the bike's geometry and the frame's profile is designed for aggressive riding and to help you slip through the air. The head-on view highlights the distinctive forks – they're visibly bowed and seamlessly blend into the frame which Bianchi says reduces turbulence.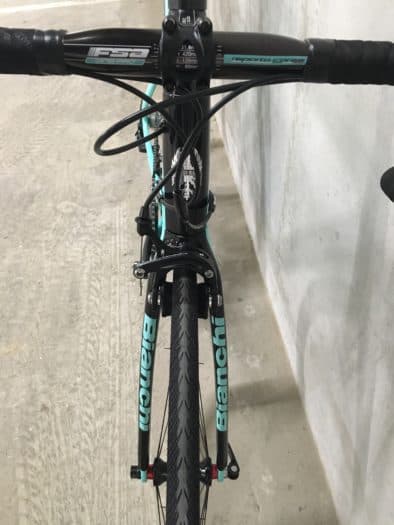 As is commonplace with many modern bikes, the Aria's cables are internally routed which helps create a clean and sleek look as well as improving aerodynamics.
As you'd expect the carbon seat-post is tear-drop shaped. To further reduce drag, and contributing to the sharp profile, rather than a classic collar the Aria's seat-post is kept in place with a wedge-like clamp which is recessed in the triangle shaped top tube – it's initially a little fiddly getting the seat-post and wedge into the frame, but doesn't take long to work out.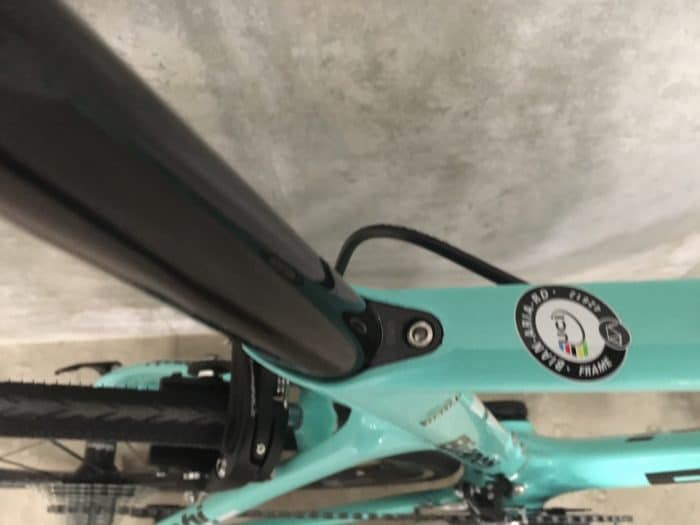 The seat-stays are positioned quite low down the seat-tube, reducing the frontal profile, and the seat-tube's cut out allows the rear wheel to sit close to the frame to again reduce drag.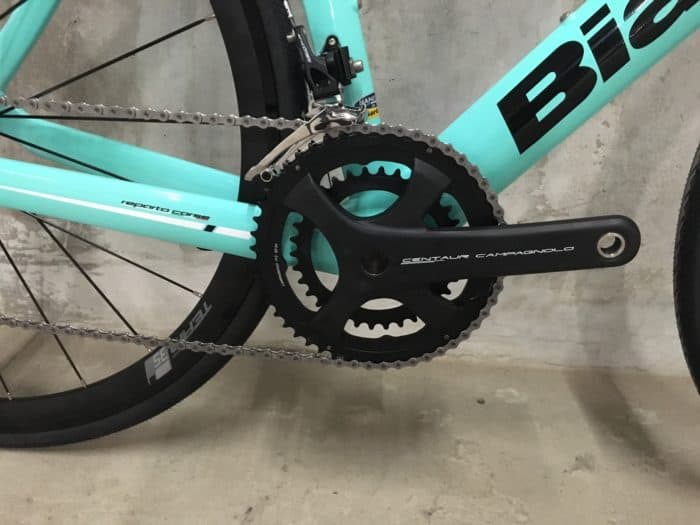 Specification
Befitting of a bike with Italian heritage, the Aria comes equipped with Campagnolo components throughout.
For some perspective, Campagnolo's Centaur groupset is positioned to challenge Shimano's much lauded 105 groupset and performed solidly throughout testing.
Gear changes are carried out using Campagnolo's lever/button on the inside of the hood design (compared to Shimano's lever/brake lever combo; and, SRAM's double tap) – the ergonomically shaped hoods were particularly comfortable. The only real gripe is that at times, it seemed to be when I was struggling to follow the wheel in front, gear changes were not as smooth as I'd have liked.
The Bianchi Aria isn't alone in this, but it's a little surprising that a bike designed for hard and fast racing comes equipped with a compact chainset (50-34) rather than a big/small ring combo of 52-36.
Reflecting the trend for fitting wider tyres on race bikes, the Aria comes with 25mm Vittoria Zaffiro Pro Slick tyres which are paired with the versatile 35mm deep Vision Team 35 Comp wheels. The aluminium Vision hoops have bladed spokes and rolled well, along with providing assured braking.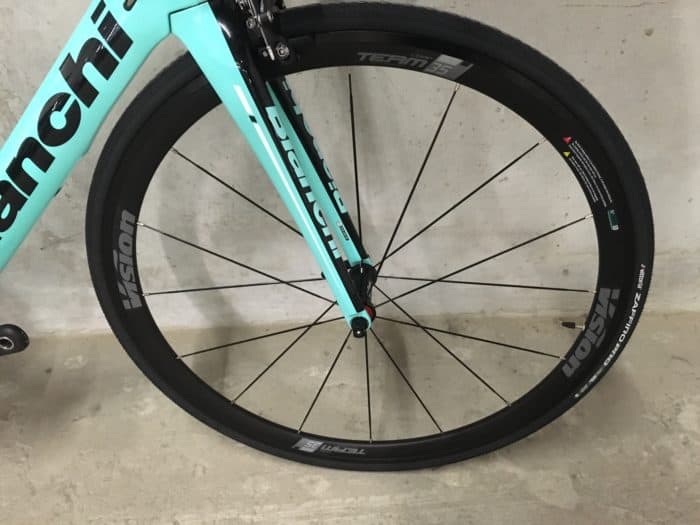 The Aria is only available as a full build and although the supplied spec is solid, it's worth noting that the similar priced Boardman Air 9.2 comes equipped with a mixture of components, including Dura Ace derailleurs and shifters.
Ride
As soon as you hop onto the Bianchi Aria you become aware it is a bike designed to be ridden quickly. When riding hard on the flat or descending at speed you can really take advantage of the frame's geometry which encourages you to get into an aggressive position on the drops – it's always fun on a descent cruising past your mates in an aero tuck.
On technical sections the bike's combination of assured nimble handling and consistent braking allowed me to corner and descend with confidence. Also, when stamping on the pedals coming out of corners or sprinting for road signs, power transfer felt good.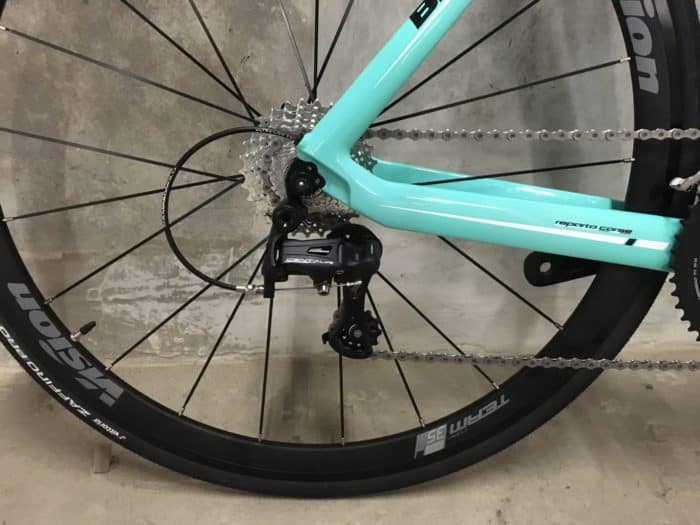 However, like most aero bike's the Aria sacrificed weight savings for aerodynamics, which means the Aria isn't the most responsive when putting in a burst of acceleration and you notice the extra weight when spinning up steeper climbs. That said, it's not sluggish and for a bike coming in at around 8kg it climbs well. Swapping for some carbon wheels will shed some weight as the frame weight itself is only 1100g.
Having ridden the bike for fast and sharp intervals to rides of more than three hours, the Bianchi Aria is definitely race focused. Over shorter distances the Aria was comfortable, stiff enough to feel like power wasn't being wasted whilst absorbing road buzz. However, on longer rides depending on your flexibility you might prefer a more relaxed set-up.
Verdict
The aero bike market is competitive generally and the £2,000 to £2,500 price bracket is particularly so.
Having said that, the Bianchi Aria measures up well – good handling, established aero frame design, and solid (if unspectacular) spec. Although, if your focus is long days in the saddle there are more comfortable options.
In any event, depending on the triathlons you're interested in, the real question might be aero road bike or time-trial bike plus road bike for training? Overall, a great offering from Bianchi and you can find out more at their website here.