Promising to "make every stride luxurious", how does the Brooks Glycerin 16 perform out on the road (and trail)?
TRI247 Editor, John Levison, has been seeing how the cushioned focus of the latest iteration of this popular model from Brooks Running (www.brooksrunning.com) delivers.
---
The Basics
| Product | Brooks Glycerin 16 running shoes |
| --- | --- |
| Price | £135 (at RRP) |
| Sizes | Includes 2 width fittings for men, 3 for the women's model |
| Size tested | Men's UK 12 / US 13 / EUR 47.5 / Standard Width |
| Colour options | Lots! See website for full details |
| Website | www.brooksrunning.com |
It doesn't get softer than this. New DNA LOFT cushioning, a plush fit and super soft transitions make every stride luxurious. Who said running has to hurt?
That's what the Brooks marketing says, anyway.
I was pretty excited to receive this shoe some months back. Given that cycling is my current focus – meaning limited swimming and running within my training week – anything to stimulate an additional interest in getting back outside on two legs, rather than two wheels, was a welcome addition. This description of the shoe appeared to tick most, if not all of my preferences these days too.
My particular interest in this model was in relation to its core focus – cushioning. Rewind 10 (ok, nearer 15…) years and I was a semi-decent runner. Far from Elite, not troubling the prize presentations too often, but as an enthusiastic amateur, I ticked off a few boxes including a 2:53 Marathon. I was also just as many years – in kilograms – lighter than I am now!
The result of that is that these days my running shoe 'needs' are a little different. A little extra cushioning and comfort is significantly further up my priority listing than pure performance, road 'feel' or saving every last gram. With no particular injury problems or motion control needs, this neutral shoe from Brooks looked like it should suit me well from the start.
Looks
In truth, this section is here for completeness only. If my running shoes fit and 'work', they are just a functional tool. I don't really care too much what they look like… but I know others do value aesthetics. And on that basis, the Glycerin 16 would get a thumbs up from me on that front.
Not only that, if this 'dark blue / fluoro' combo ("Colour 426") is not to your liking, they come in a further SEVEN alternatives, while the women's version of the shoe also comes in eight options. If nothing else, that proves the historic popularity of the Glycerin range, as combined with two (men) and three (women) width options as well, that's a vast inventory of stock options for Brooks to manufacture and manage. If you like the performance of the shoe, you will surely be able to find a colour combination to suit too.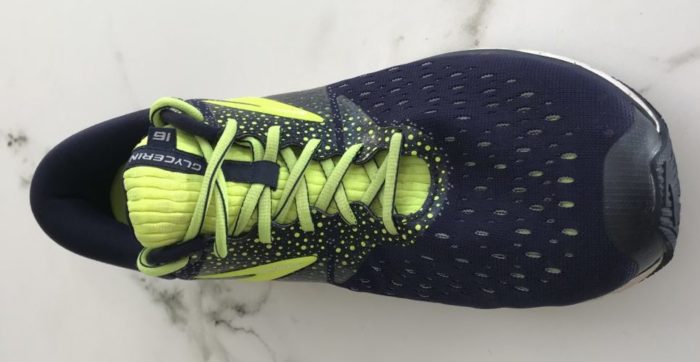 Build Quality
I've done quite a few runs in the shoes, but certainly haven't approached the 'testing to destruction' level. However, one thing that doesn't appear to be an issue both from new and after use, is build quality. I have a couple of other Brooks shoes in my cupboard, and similarly, they also look, feel and have performed to date with an indication that quality assurance is high on the Brooks Running agenda. Now, when a product costs £135 at RRP, that's not an unreasonable expectation, but is not always the case.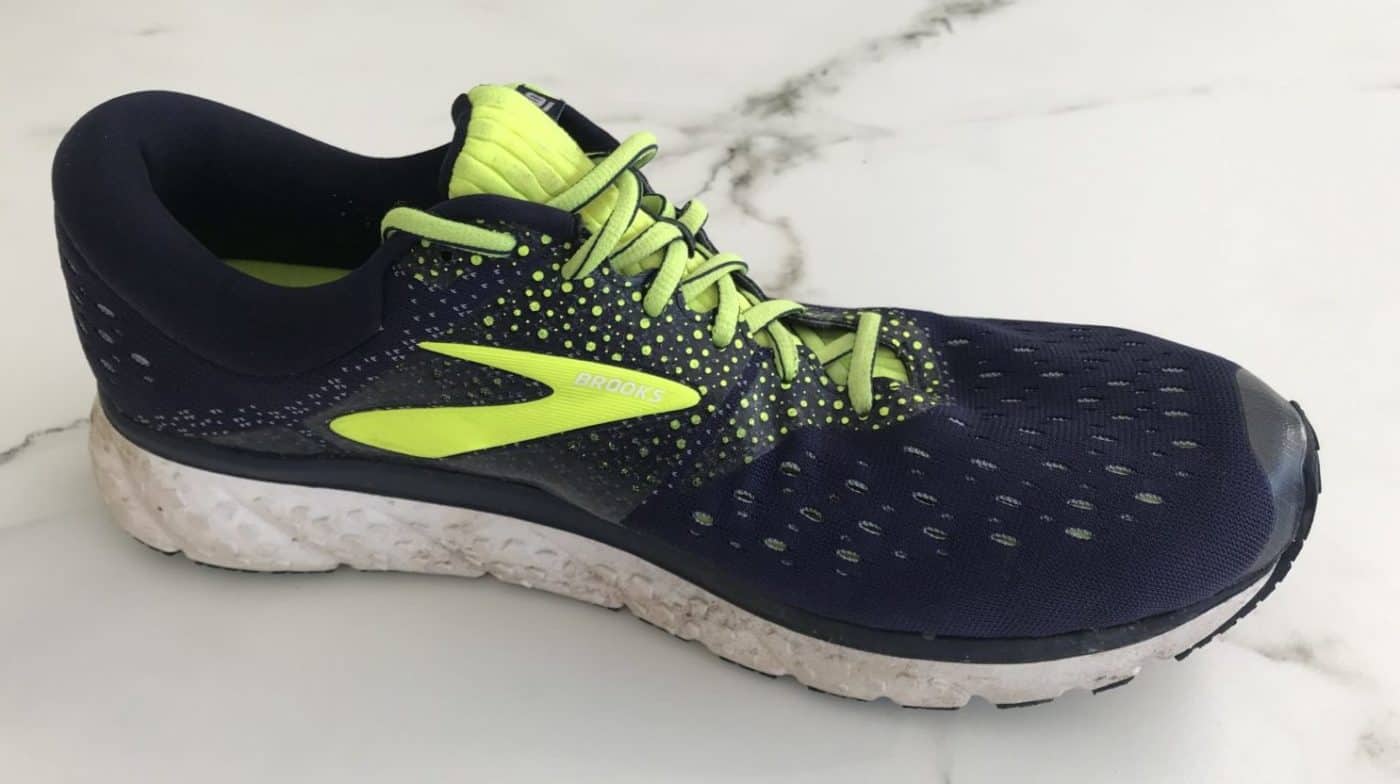 One thing to also note – which I wasn't aware of until putting this review together – was the Brooks offer a 'True Blue Guarantee', stating: "Take your Brooks gear for a 90-day trial run. Put it through its paces and sweat in it as much as you want. If you are not 100% satisfied, return it to us for free. Check below for how to return your product."
For a running shoe, that is a very impressive offer in my eyes, and would certainly be consistent with a brand who is confident in the quality of its manufacturing processes.
Comfort
Soft. Snug. Plush. All of these apply here. The tongue is particularly thick (you certainly won't feel laces irritating your foot through that, and similarly the ankle area is well padded too. Putting your foot into the Glycerin 16 is like familiar welcome of your favourite comfy slippers. For me, I'm happy with that – though the downside is that this is not an especially light shoe. It's hardly a heavyweight (though my vast UK 12 / EUR 47.5 size do come up well above the 'quoted' weight for the model of just over 300g), but if you are seeking a shoe purely on performance (speed) terms, look elsewhere in the extensive Brooks range.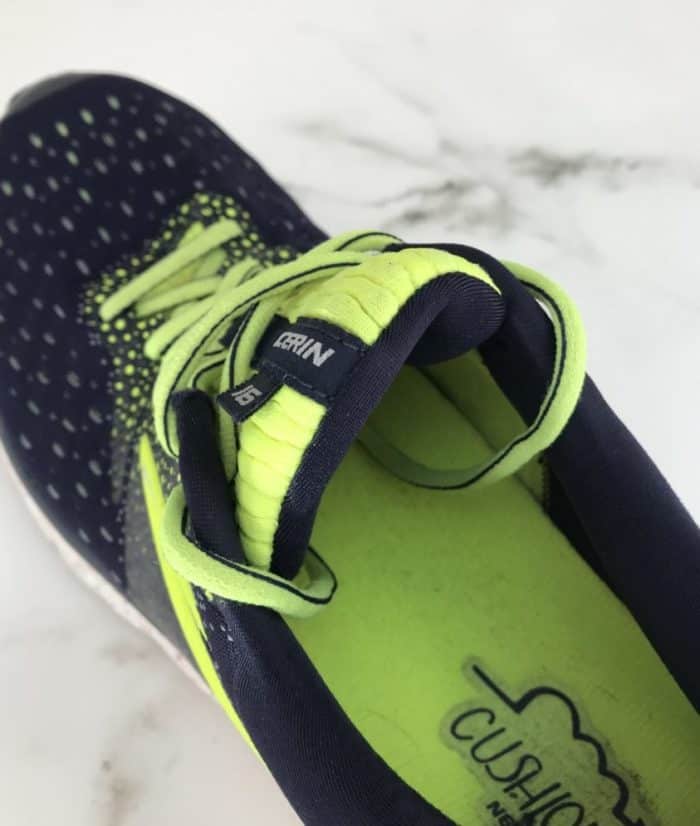 One thing that is impressive is the laces – something that stands out when you've had previous experiences when they don't work properly. Aside from being colour-coordinated to the shoes, they are thick, soft and slightly flat in structure. The result of all of that? Firstly, they add to that overall feeling 'comfort', and secondly, lace these things up and forget about them. They are not going to work themselves loose!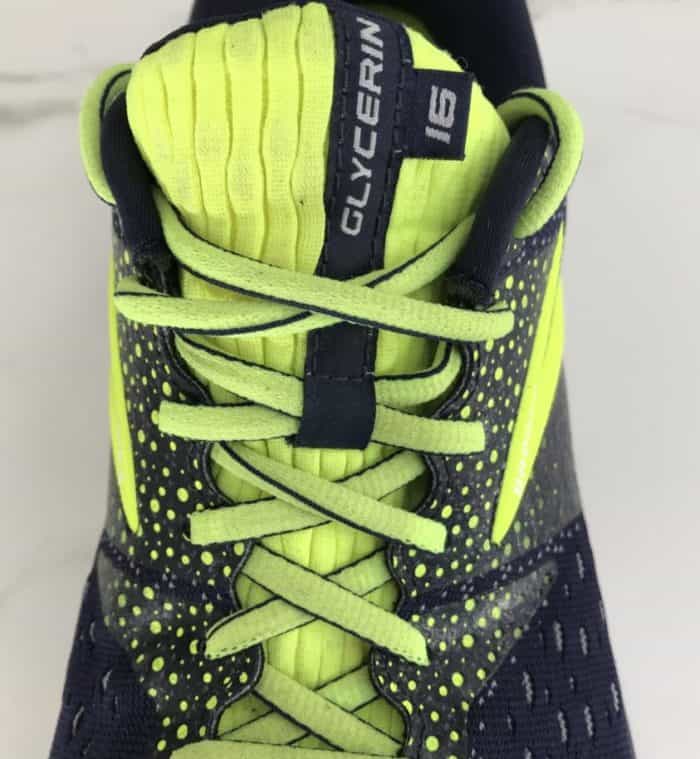 It's always quite difficult to give guidance on fit. Size wise, they seem to be completely 'normal', with no apparent need to size up/down. Over the years I've all but given up on UK/US numbers in terms of fit, and in most cases a 'EUR 47' (or the nearest to it), will fit. Aside from having long feet, I've also got particularly narrow feet. That is sometimes not a great combination, but these suit me perfectly. That 'probably' suggests that the overall fit / last / toe box is on the narrow(er) side of average – but as noted above, the Glycerin 16 does come in two width fittings.
Cushioning
The heart of this shoe. The new update for this shoe a material called 'DNA LOFT' for the full length of the midsole, a "not too hard, not too soft" material, which is a combination of EVA, rubber and air.
https://youtu.be/1D6Ou57M-Sc
And in truth… it does what it says on the tin. There's always a danger with a "most cushioned" shoe that if that is the only goal, you'll end up with a very mushy feeling shoe, that all but removes and real connection to the surface that you are running on. It may be the "softest midsole compound in any Brooks shoe", but from my experience at least, don't let that ring any alarm bells.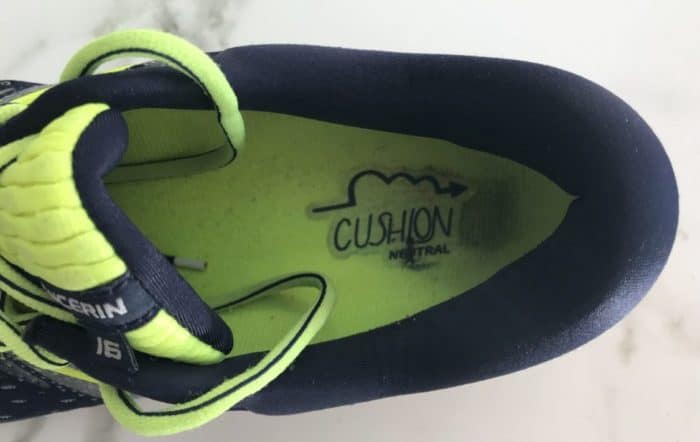 To give a practical comparison to another brand, I've run in (and continued to run in, over several years now), shoes from HOKA One One – notably the Clifton – which features their CMEVA midsole/outsole. While cushioned and soft, the Brooks is definitely less 'spongy' than the HOKA. I like running in the HOKA, but I would certainly understand if many found it too soft for their requirements – in which case the Brooks would certainly be more to your taste.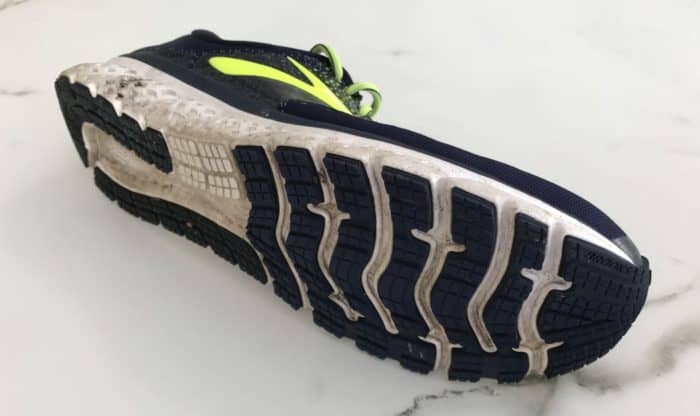 Of course part of that difference in feel will be due to the different make up of the shoes (for the HOKA, the midsole is also the outsole as well). For the Brooks we are looking at here, the construction is more traditional (and I would believe certainly more hard-wearing), with the addition of the more dense black outsole material bonded to the DNA LOFT.
Talking of outsole, the front part of the shoe does have a decent amount of flexibility courtesy of the six grooves you can see in the picture above. By contrast the rear half of the shoe if not rigid, is certainly pretty stable. A great combination.
To provide the cushioning the midsole is relatively thick, meaning that your foot sits quite high from the ground (with a net drop of 10mm quoted by Brooks). Of course, this does mean that you don't have the responsive road feel of a more slimline model, yet you don't feel totally isolated either.
Overall Verdict
The summary probably shouldn't come as too much of a surprise. While I've got no experience of the previous incarnations of this shoe, one would assume that if you are on model version #16 that you've already got most things dialled in and a loyal following.
This really is an excellent shoe. At £135 it's not cheap, but there are plenty of more expensive models in the market too. Whisper it quietly, a quick search and you'll readily find this widely available at £20-£25 cheaper than that RRP. The construction quality and the Brooks guarantee should give you a little more comfort that your purchase will last too.
The Brooks Glycerin 16 is a great combination of stability, flexibility, comfort and cushioning in an impressive overall package. It's not the lightest shoe around on the scales, but it still feels good out on the run. If you are seeking a reliable trainer for higher mileage work or value comfort and cushioning over absolute performance, it's not a surprise that this is one of the mainstays of the Brooks range. I've got plenty of miles left in mine and look forward to using them.