Do you really need extra 'grip' on your socks? CEP Griptech Socks are designed to improve the grip between your foot and your shoe, with the addition of a 'SMARTGRIP coating' – but is that really needed for runners?
Chris Hovenden put them through an extended test and reports back for us.
---
| | |
| --- | --- |
| Product: | CEP Griptech Socks |
| Price: | £41.90 |
| Size: | Tested in a Medium III, available in Sizes II to V – see website for guidance. |
| Weight: | 63g |
| Colours: | White, Red, Blue, Black, Green |
| Website: | www.cepsports.co.uk |
What we thought
The more you train the more important recovery and avoiding injury becomes (including preventing irritating blisters). With that in mind, the CEP Griptech Socks are designed to: improve the grip between your foot and your shoe; aid performance and recovery with targeted compression; and, to reduce injury with ankle and arch stabilisation.
As their name would suggest the key element to the Griptech Socks is the 'grip' provided by CEP's proprietary 'SMARTGRIP coating' on the sole of your foot – this is effectively lots of little adhesive squares. You'll become aware of quite how sticky the sole is when walking across tiles or lino in just the Griptech Socks; but, more importantly, how do they perform out on the road/trail?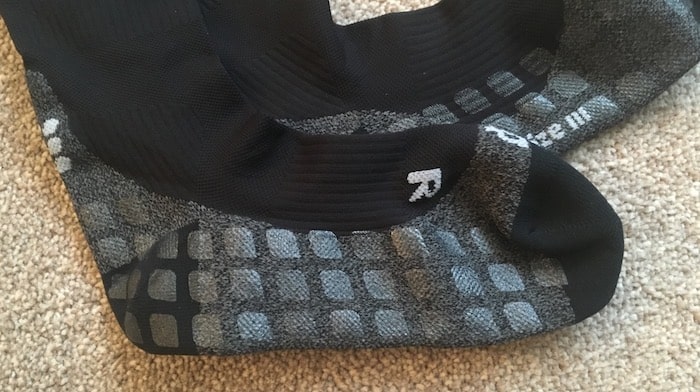 When running my feet slipped less than normal – especially when trotting downhill at pace and when running across uneven surfaces – however, it is difficult to quantify any performance gains.
Also, having struggled frequently with blisters, although not eradicating them, I suffered with far fewer.
Compared to CEP's Socks for Recovery, which claim to utilise compression to improve recovery and as a consequence are quite thick along with being a bit of a challenge to get on, the Griptech socks offer light compression around the calves meaning putting them on is easier and they can be worn for longer runs.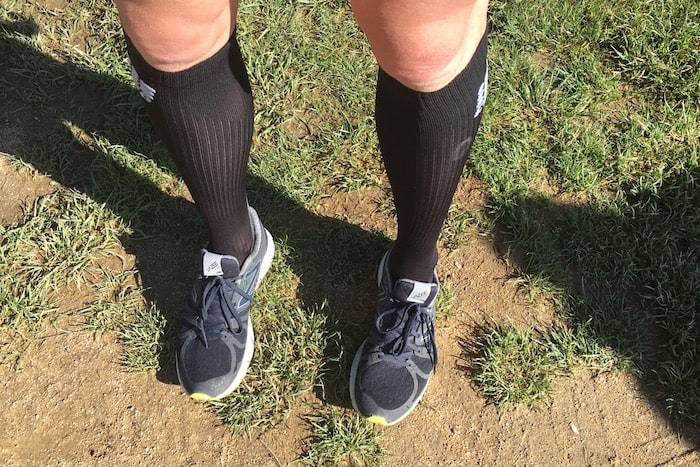 The support around the ankle and arch is noticeable and whilst using the Griptech Socks I have managed to increase by mileage, but it is hard to confirm with certainty the part they play in injury prevention.
CEP is the sports brand of a healthcare manufacturer, German company Medi, and the Griptech socks are well-made and perform well. However, there are two elephants in the room.
First, paying north of £40 for a pair of socks will simply be too much for many to consider – the Griptech Short Socks retail at the slightly more palatable £27.90.
Secondly, CEP aren't the only company offering socks designed to improve the connectivity between you and your shoes. TRUsox are very popular in elite football and rugby – although TRUsox do not claim to offer compression or ankle and arch support.
Verdict
Well-made and packed full of tech. However, they are very expensive and are they trying to solve a problem that isn't really there for runners?