Swimsuits are one of the basics of any triathletes kit wardrobe – so what do Maru have to offer?
| | |
| --- | --- |
| Product tested | Maru Galaxy Swirl Pacer Speed Back |
| Price | £30.99 RRP (Check online for current offers) |
| Size tested | 34 |
| Colours | Blue/pink/black 'swirl' design |
| Sizes | 28 / 30 / 32 / 34 / 36 / 38 / 40 |
| Website | www.maruswim.com |
The Maru suit
If your typical triathlon club sessions or local pool are anything like mine, the range of swimwear brands worn has a very familiar look. Speedo (probably) grabs the lions share of the market (especially for the men), with the likes of Arena, TYR (and Funkita, for the kids especially), making a reasonable presence… before everyone else is seemingly fighting for scraps. There are other brand options out there though, if you don't want to follow the herd.
To be clear, we are only talking here about your 'regular' training swimwear. There is a whole different product category out there (which I won't claim to understand, given my limited aquatic speed skills…), of super-techincal and very highly priced competition 'super-suits', using the latest technologies in compression fabrics, hydrodynamics and more. Some of those suits can match high-end wetsuit prices – which must be a nightmare for the parents of fast growing, competitive swimming kids! Designed for the competitive swimming world where every fraction of second really does count, those suits really have very little interest to the majority of triathletes for whom the pool is a training environment only.
To me, the requirements of your standard swimsuit are pretty simple:
Fit well / be supportive
Retain shape / not degrade (at least, not too fast…)
Priced well
Looks good
And that, pretty much, is it. Function first – but no reason not to look and feel good too, given the variety of options available.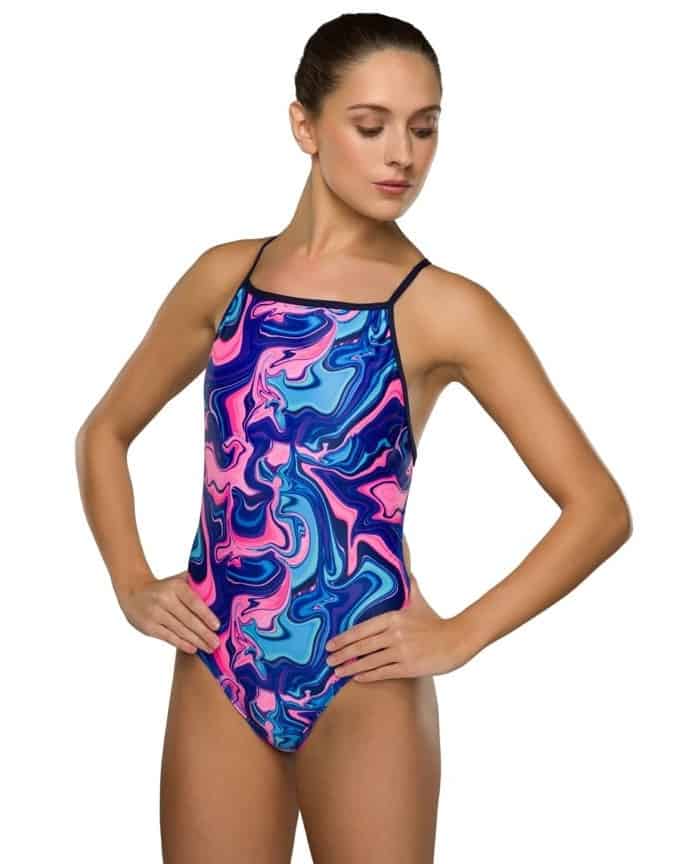 Maru (www.maruswim.com) got in touch with us and offered us a look at their range, from which we selected the Women's Galaxy Swirl Pacer Speed Back to trial. I asked my wife, a very experienced swimmer and triathlete, to put it to the test. In short, it ticked all of the basics above. No more, no less – which is just what it should do.
As with all brands, what shape of suit / cut / strap style etc. is all pretty much to personal taste and my wife much prefers the thin straps of this particular suit. Maru describes this suit as medium leg height in terms of cut.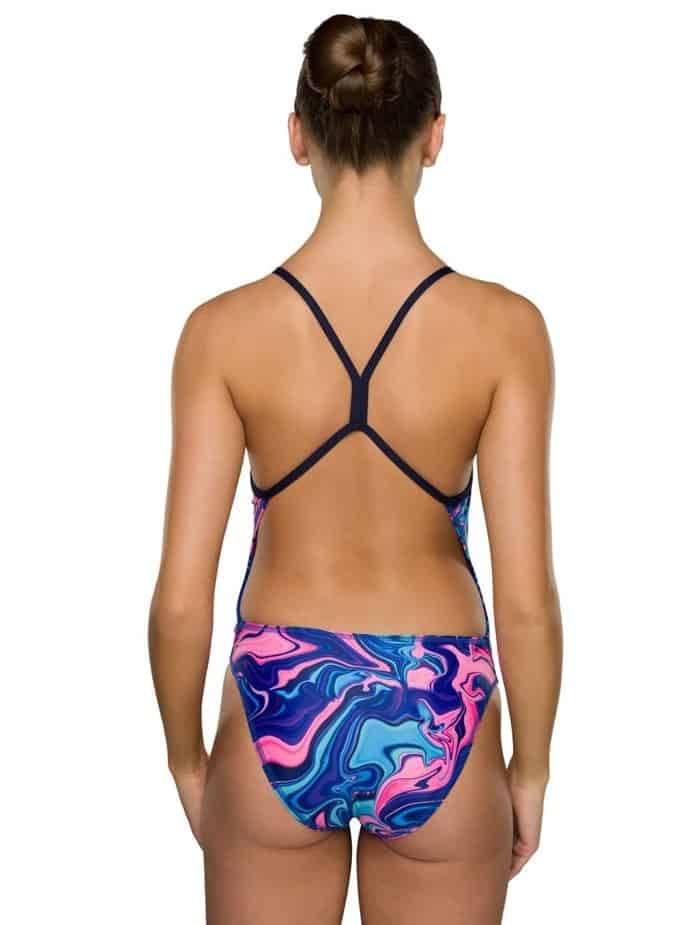 The colours are bright and vibrant – again, personal preference applies – and to date have not faded, while the suit has not shown signs of wear from chlorine. While most brands – including Maru – have various technologies to prevent / eliminate chlorine impact and extend a suits life, with extended use all suits will eventually have to be 'retired'. Don't believe anyone who tells you a £30 suit will "last forever"!
The front of this suit is also lined (see picture below), which should extend its life while also providing additional modesty. Apparently the material is also UPF 50+ protective – though it is pretty difficult for us to comment on that from indoor world of our local leisure centre over the last couple of months!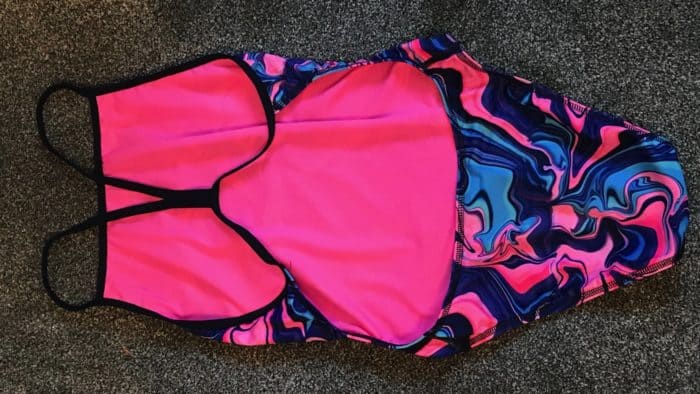 The Maru sizing also seemed pretty standard, as we ordered the same size 34 that has been the case for the every suit (from many different brands), that Lesley has bought over the last 10 years.
Verdict
Ultimately, if you are swimming perhaps two to five times a week, consistently, your swimwear will fit into the 'consumables' category. You'll likely have a few suits on rotation and be replacing them from time to time as they start to wear.
If the functionality basics are ticked and you like the colours/style, then if the price is right then you can't really go too far wrong. The £30.99 RRP of this particular suit is very fair (and at the time of writing, you can readily find it available for significantly less online), so very little to complain about there.
Will it make you faster? No.
Is it designed to optimise blood flow providing enhanced rates of recovery? No.
It's a swimsuit!
It does the job well, does it at a more than fair price and would suggest to us at least that, if you haven't already, you can confidently add Maru into your brands to consider next time you are swimwear shopping.
Thankfully, the days of "any colour your want, as long as it is Black or Navy Blue" have long since passed and Maru have plenty of colour on offer in their current ranges. Here are just a few options: