The Shimano TR9 are some of the most popular triathlon shoes in age-group racing. We investigate what all the fuss is about….
| | |
| --- | --- |
| Product | Shimano TR9 SPD-SL triathlon shoe |
| Price | £170 |
| Size | EU 44 |
| Weight | 308g per shoe |
| Website | www.madison.co.uk |
| Grade | A- a very popular shoe on the short course scene. |
Shimano TR9 in detail…
Out of the box the Shimano TR9 look like a serious pair of triathlon shoes. The metallic blue colour scheme is eye-catching and the shoes look to be equipped with all the tech you'd expect from top-end tri specific bike shoes – a robust heel loop; broad main strap with small toe strap; mesh upper for ventilation; and a reinforced toe box.
The Shimano TR9 are designed with fast T1s in mind. Utilising a main strap design that you pull in towards the crank to get a secure fit, allows for a longer strap which in turn creates a larger opening for you to slip your foot into when on the fly – but it can be annoying having the strap excess catching on the crank arm.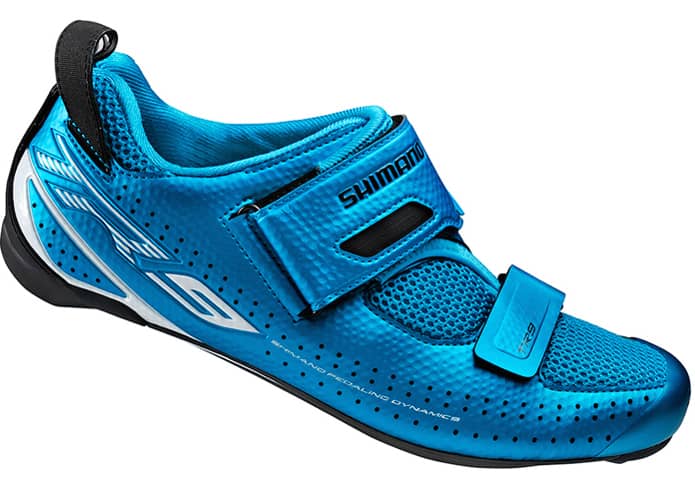 Further, to prevent the strap getting stuck when riding with your foot on top of the shoe, there is a Velcro section to keep the strap in place.
Combined with the heel loop, the shoe should facilitate fast transitions and seamless flying squirrel mounts.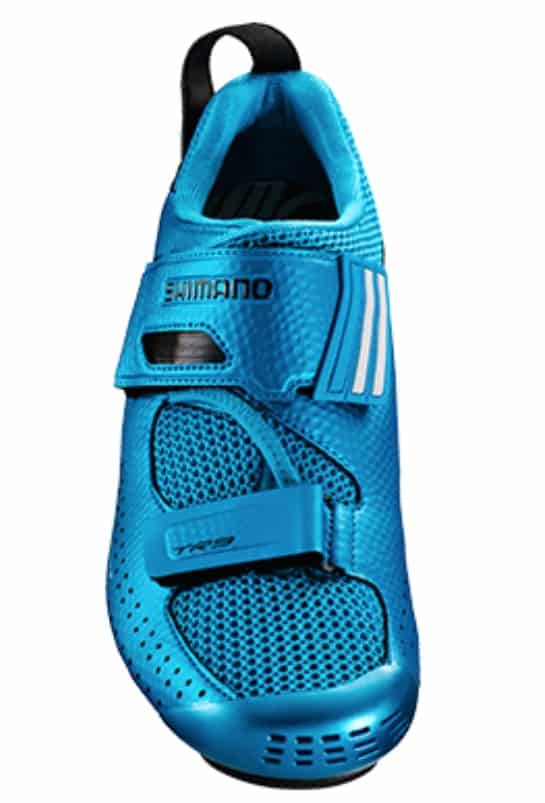 However, despite plenty of practice (I'm usually quite adept at mounting my bike on the fly), I struggled to master getting my feet in the shoes without any issues in race conditions.
In the Shimano TR9's defence, although the heel strap could be larger, there is no tangible reason why slipping your feet in the shoes should be problematic – the answer should be more practice in race conditions, and being a bit more flexible.
The Shimano TR9's carbon fibre composite sole is fairly stiff, but not the stiffest. The benefit of this is that combined with the shoes' padding the kicks are comfortable with and without socks. In fact, they are some of the most comfortable tri-shoes I have tested.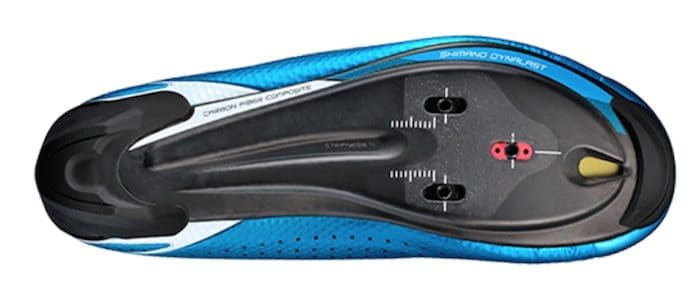 The mesh sections on the upper help keep your feet cool during hotter rides in the summer, but also come in handy when sat sweltering on the turbo.
On the whole these are a very impressive pair of tri shoes – well-made and durable. The only real criticism is that the consequence of shoes with noticeable internal padding along with a reinforced heel and toe is additional weight and a slightly bulkier profile.
Verdict
Good-quality tri-specific shoes; comfortable for longer rides whilst designed to help quick transitions. With a RRP that was already competitive, being available on-line for around £140 makes the Shimano TR9 a very appealing option.