Continuing their run around the globe, "new" brand 361º have another shoe for you to consider. The 361º Spinject is now out in Europe and looks to be aimed at a wide spectrum of runners who want a lightweight and comfortable shoe. How did we like it? You can see how we got on with the 361º Meraki from 2017 here.
---
| | |
| --- | --- |
| Product tested | 361º Spinject |
| Price | £99.99 SSP (Check online for current offers) |
| Size tested |  UK 9 |
| Website | www.sportsshoes.com |
Seamless Knit Upper – Provides more comfort by eliminating all friction and hot spots.
Fitz-Rite Midfoot – Has soft internal webbing to hold the foot secure.
Pressure Free Tongue – Designed to provide extra comfort and avoids irritation caused by laces.
Padded Collar – Offers additional comfort to the Achilles and ankle area.
Two Extra Eyelets – Allows you to lace lock.
Qu!kFoam Midsole – Converts energy into responsive cushioning.
Qu!k Flex 4Foot – Provides natural and balanced toe off's.
Well let's be honest, on opening the box I was not expecting to see the striking black and white knitted uppers. They looked different, different in a good way! They leaped out of the box with just a dash of lime on the outsole. In a sea of bright coloured shoes they stand out by not shouting.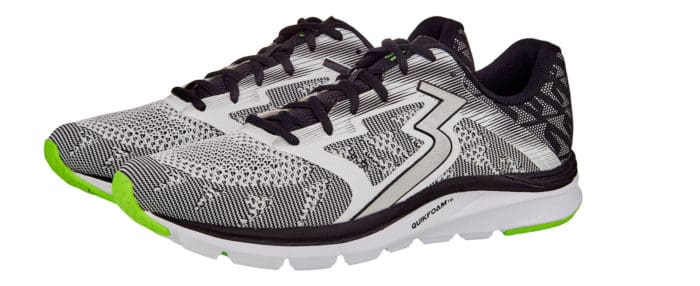 The lime coloured areas being the harder wearing parts of the sole at the heel and forefoot. So far so good on visuals.
The 361º Degree Spinject Running Shoes feature responsive Qu!kFoam pods that power this versatile neutral shoe. Also offering a seamless knitted upper the Spinject Running Shoes eliminate friction spots or hot spots that traditional seamed shoes don't deal with.
The shoe would appeal to those who looking for a neutral shoe with a firm sole and for short to medium road running. So beginners will be well looked after.
The firmer sole makes it suitably responsive, firm but not overly harsh and works well for faster runners. They have become less firm with wear and are very comfortable.

As a great all rounder it even faired well on the badminton court, highlighting it's support and decent stability capabilities. This is a shoe for all solid ground eventualities and will be perfectly suited to the shorter triathlons up to olympic distance quite happily. Probably less capable off road for any serious running.
In short, the 361º Spinject will be a perfect fit for the beginner to intermediate and looks different to a lot of shoes you may consider. A splendid shoe for all occasions.
You can find out more here.