Glycerin 17 launched by Brooks, "its softest experience yet"
I recently reviewed – HERE – the Brooks Glycerin 16, a shoe that is focussed around comfort and softness. It was a shoe I liked – one I still like, and run in several times a week several months later.
The latest iteration of the Glycerin range – of course, called the Brooks Glycerin 17 – has just been released, claiming to be even more comfortable with a new Ortholite sockliner.
---
Brooks "turns streets into pillows" with the launch of Super Soft Glycerin 17 featuring DNA LOFT Cushioning 
Brooks Running, expert in running shoe technology, launches its softest experience yet, with the launch of the new Glycerin 17 featuring DNA LOFT. The Glycerin range has been setting the standard for cushioned running shoes ever since it debuted in 2002. And now runners' feet are in for a next-level treat with the newest model, which is so comfy that it "turns streets into pillows". The Glycerin 17 is available online at brooksrunning.com/en_gb and at retailers for £135.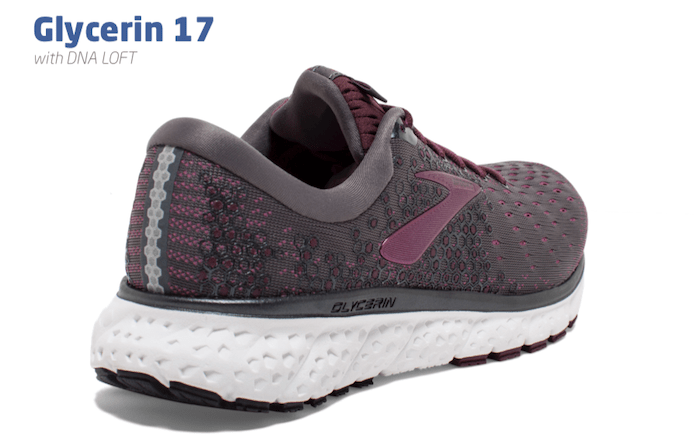 DNA LOFT is Brooks' softest cushioning technology and has been quickly winning a cult following among runners since it debuted last year. It is featured throughout Brooks' cushioned running shoes, including popular styles such as the Ghost and the Adrenaline GTS. Its proprietary blend of EVA foam, rubber and air is durable, lightweight and responsive, giving a plush, protective experience that adapts to each runner's unique style. That means softness underfoot, without losing responsiveness and durability.
"Adding to the new Glycerin 17's luxurious experience underfoot, a new Ortholite sockliner provides step-in comfort as premium as a bed in a seven-star hotel suite,' says Hugo Chouissa, EMEA footwear merchandiser. Over foot, the internal stretch bootie moves and expands to enhance the fit and breathability of the double jacquard, engineered mesh upper with 3D Fit Print which delivers flexible structure." That "aaaaah" sound you'll hear will be your feet sighing with pleasure".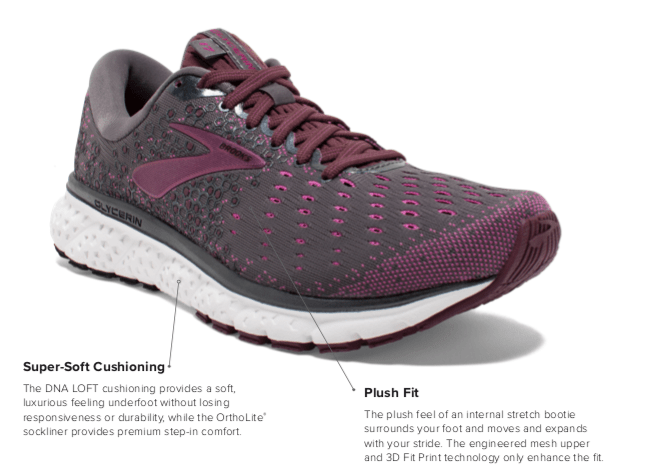 On the outsole, IDEAL Pressure Zones evenly disperse impact away from the body while the Plush Transition Zone allows the foot to move smoothly from heel to toe. So now even the hardest run will seem soft. Glycerin 17 comes in three colours for men and three for women, and is available in various widths, so no-one will have to sacrifice style for comfort.