We take a look at some of the new range from performance-wear brand GORE.
We the warmer weather here in the UK of late, we trialled the GORE R3 Partial GORE-TEX INFINIUM Jacket, GORE R5 2in1 Shorts and the GORE R5 Shirt.
GORE R3 Partial GORE-TEX INFINIUM Jacket £129.99
"Reliable, breathable weather protection for those days when the weather is unpredictable and you're unsure just what to wear. Combining some of the most advanced fabrics, this jacket provides weather protection and warmth in just the right places while keeping the overall feel light and breathable – perfect for those unstable conditions."
"Partial GORE-TEX INFINIUM garments with GORE WINDSTOPPER product technology: totally windproof, extremely breathable and durably water resistant, lightweight protection."
Bottom hem adjustable with drawcord
Designed with stretch fabric panels for freedom of movement
Full length zip with underflap
Reflective details
Seam placement designed to work with backpack
Stretchable inserts at cuff hold sleeves in place and allows easy GPS watch usage
2 front zip pocket
Available in six colour combinations, the GORE Partial Jacket is a lightweight jacket perfectly suited to the UK's late spring and summer. The GORE jacket does a great job of cutting out all of the wind.
There is a soft fabric lining around the neck area which is a practical black colour and stops any potential scratching when the jacket is fully zipped up and at the back of your neck. There is no zip garage at the neck but the lining and the underflap behind the zip means there is no contact with the neck area.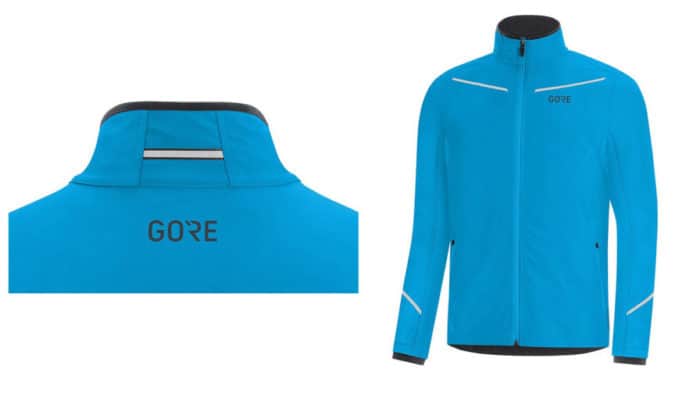 Two decent sized pockets are zippered and inside you will find the drawcord that is hidden away should you need to pull the waist/hem in tighter. This is a nice feature and means that the exposed drawcord is out of sight and not flapping.
The GORE material is nice and soft and wind rustle is kept to a minimum. It is designed to keep the wind out and the occasional shower. Although it is not fully waterproof, it is breathable.
The jacket also features stretch panels under the arms for extra comfort.
The Dynamic Cyan coloured version we tried was bright and the addition of subtle reflective details offers decent night time visibility in headlights of cars etc.
A thoroughly nice fitting jacket, ideal for slightly warmer but changeable weather – days or nights!
GORE R5 2in1 Shorts £59.99
"Classic running shorts on the outside, extra support within. These do-it-all shorts offers the feel of tights with the freedom to move of a traditional short."
12.5 cm / 4.9 inch inseam length
Highly breathable outer short; quick dry material
Lightweight inner tights
Reflective details
Back zip pocket
Optimised seam placement for comfort
Stretch material for freedom of movement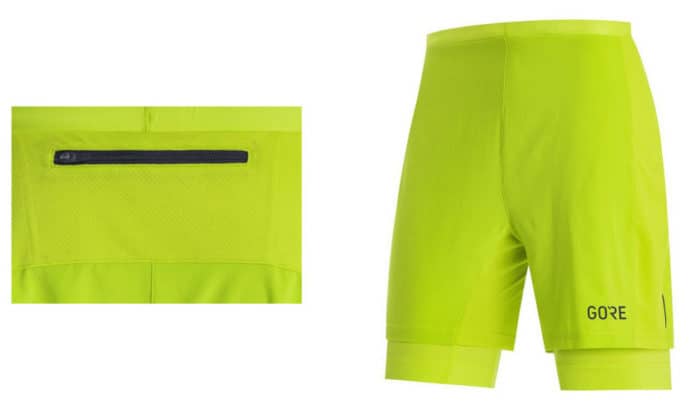 Available in three colours, two blue varieties and the striking Citrus Green colour option we tested, the R5 are a mid-length short with a comfortable full length inner tight.
The waist band is not too wide and grips well with a stretchy drawcord to keep your shorts in place.
A zippered rear pocket is easy to access and just about holds an iPhone XR snuggly.
The shorts were very comfortable to wear with no chaffing and the soft fabric was thankfully rustle free.
GORE R5 Shirt £49.99
"A versatile tee made of premium fabrics for your daily run, hike or gym sessions."
Close to the body fit not restricting freedom of movement
Reflective details
Versatile design
Optimised seam placement for comfort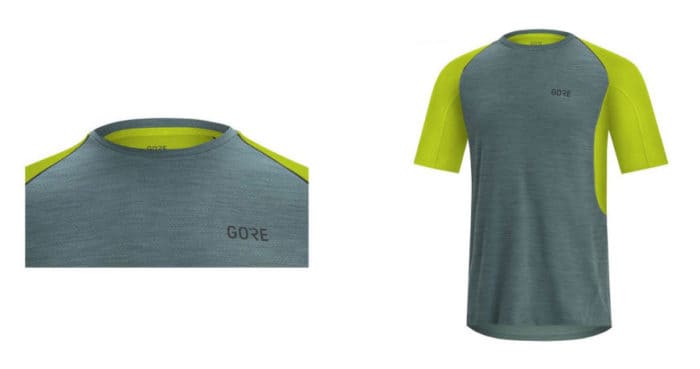 To compliment the R5 shorts, the R5 tee is available in five colours. Ours was the Nordic Blue and Citrus Green to perfectly match our shorts. Materials are suitably premium and soft to the skin.
Discrete reflective details finish off the top just in case the bold green was not visible enough, or for extra safety at night.
Inside the neck an extra tape of material will add durability and help retain the structure of the neckline.
£50 is a significant outlay for a tee, but it is very well finished and all elements of the top are solidly stitched and we experienced no rubbing from the seams.
The fit on the large tee we tested was comfortable, not skin tight, just tailored enough and a decent fit over the shoulders.
You can find out more about the 2020 GORE range of performance apparel HERE.