On Running launches Cloudflash: "bringing speed to a whole new level"
If you look closely, you'll almost certainly see this new shoe release from On Running, the Cloudflash, on the feet of five-time World Champion Javier Gomez at the World Triathlon Series Gold Coast on Saturday. They served his well in Abu Dhabi…!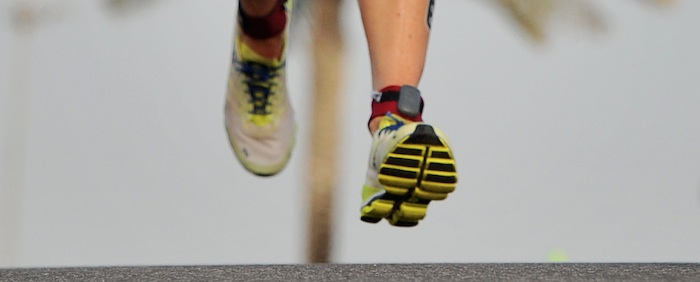 Released to the market at large today, here are the details and background on the new shoe from On Running.
---
On launches fastest-ever competition shoe
The NEW Cloudflash: bringing speed to a whole new level
Swiss running shoe brand On has achieved a minor revolution with its innovative new Cloudflash competition shoe.
High speeds. That's exactly what the Cloudflash is made for. Its patented CloudTec® sole transforms impact energy into forward momentum. What's unique about the Cloudflash, though, is that the typical On outsole with its individual Cloud elements is fixed directly to the thin and flexible Speedboard made of responsive Pebax material. That means no midsole: and that means more explosive push-offs than ever.
"Runners who give their all and push themselves to the limit should be able to expect the max from their running shoes, too," says On co-founder Olivier Bernhard. As a six-time Ironman winner and three-time world duathlon champion, Olivier knows what to look for in a competition shoe. And together with his On team he's optimized the Cloudflash's speed credentials while keeping a firm eye on its cushioning and comfort, too. The result: a running shoe that's simply unequalled in performance terms.
With its 5mm heel-toe offset the Cloudflash delivers an immediate running sensation, while its 14 Cloud elements absorb the impact of every stride. That's where the Speedboard takes over, its Pebax composition transforming the impact forces into an efficient rolling movement and an explosive push-off. The upper is made of ultra-light nano-mesh armed by a skeleton structure; and the heel cap is reinforced and generously cut at the ankle to offer the same free movement as any track spikes.
On has proven expertise in producing fast running shoes, having already won the ISPO Award for the Best Performance Shoe for two of its models. But the brand-new Cloudflash brings On's tried-and-trusted technologies up to a new level. Its whole philosophy is geared to those key fast-pace seconds. If running shoes were cars, the Cloudflash is a Formula 1.
The On Cloudflash has already been successfully trialled by top athletes at the 2016 Rio Olympics. And from March of next year it will be available to all runners looking to shatter their current personal best.
Retailing at £160, The new Cloudflash will be available from 06 April 2017