In China 361° is a major supplier of sports gear for all kinds of sports like running, basketball, football, swimming, outdoor and much more. It was one of the main sponsors for the Olympic Games in Rio in 2016, equipping more than 100.000 volunteers and officials in head-to-toe 361° gear. Launching into a global market the brand is aiming to rival the established brands. Can they compete against the established brands with their 361° Meraki shoe?
---
Who is it aimed at?
High mileage neutral running shoe.
Best Bits?
Comfort. A secure fit.
What surprised you?
The 9mm drop which felt less. The weight which also felt less.
Reasons why you would buy it?
A minimal looking and responsive shoe.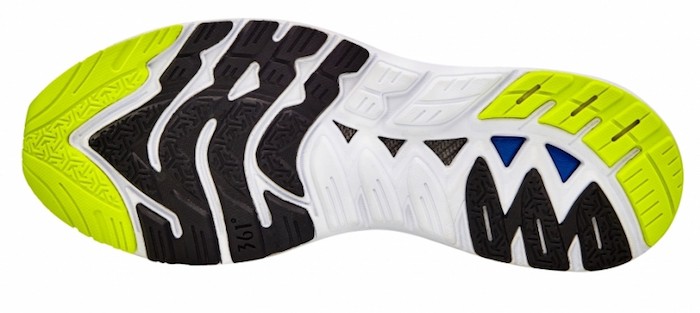 361° Meraki – our experience…
Our latest high mileage neutral running shoe great for everyday training.  Powered by soft and responsive QU!KFOAM(TM) cushioning delivers long lasting shock absorption and guidance.  Seamless vamp and Fitz-Rite mid foot support holds the foot securely yet comfortably.  Full ground contact outsole for a more natural ride.
Details
Seamless engineered mesh vamp
Externally the Fitz-Rite mid-foot utilises a distinct overlay pattern to hold the foot secure.
Pressure Free Tongue designed to provide comfort and avoid irritation
QU!K Flex forefoot engineering provides for a natural and balanced toe off and enhances ground contact for better acceleration.
Powered by QU!KFOAM and QDP System
We recently tried out the 361° Sensation shoe with good results. You can see what we thought of that shoe in our review here.
So the Meraki is another good looking shoe straight out of the box. It's styling is quite minimal with subtle coordinating colours and striking neon lime lace and detailing. The fit is comfortable and they cradle your foot really nicely. The first few gentle runs have been good fun and the feel has not been harsh. As with the Sensations previously tested, wear on the outsole has been good to date, indicating these might last you a decent amount of training.
The tongue is not overly padded but works very well and stays in place whilst running and is perfectly comfortable.
As a contender for your next shoe it is a positive yes, they are definitely worth looking at. It stands up to the established brands in performance and looks and delivers in all areas. While not the cheapest shoes at the moment they will perform for you will mark you out as a brand pioneer.
You can find out more about 361° at the NRG website or 361º.