If you like colours – and lots of them – then the new Kona Ultra TT shoe from Zoot Sports may well be too your tastes.
Interestingly, the shoe is a collaboration between Zoot and Danny Abshire, who was the co-founder of Newton Running, and has been "specifically designed with the triathlete in mind."
Here are the initial details and first images.
---
Zoot Sports Announces Limited Edition Kona Ultra TT Shoe
The anticipated return of Zoot Footwear is finally a reality. Zoot Sports has teamed up with industry veteran and shoe guru Danny Abshire to launch a limited-edition triathlon shoe, just in time for Kona.
Co-founder of Newton Running Company and author of Natural Running, Abshire is a leading innovator in running footwear who is known worldwide for his running efficiency form tips and videos. In 2018 Danny and his wife/business partner Jennifer founded Active 88 Footwear (active88footwear.com) of Boulder Colorado. "Partnering with Zoot to create this shoe has been an outstanding experience. Crafting a shoe perfect for triathlon is no easy task, but the Ultra TT is really something special."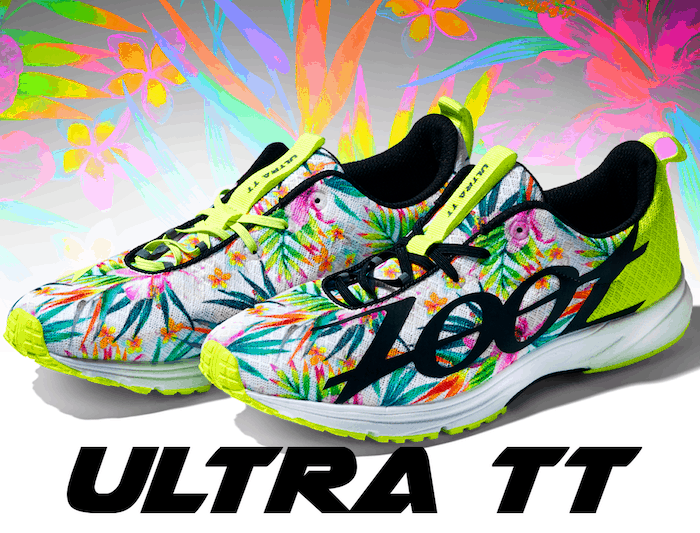 Specifically designed with the triathlete in mind, the Ultra TT is fast and efficient with Tri specific features built into a responsive, lightweight package. Boasting Tri-Dry Drainage holes that allow water to escape, this shoe helps to reduce blisters as well as cut down excess shoe weight caused by water retention. The innovative Tri Mechanics design allows for a quick turnover and highly responsive ride, helping you run faster off the bike. The quick transition features will help you get out of T2 faster, including quick entry elastic laces and heel/tongue pull loops.
"At Zoot we are passionate about developing the best performance gear for every part of the triathletes' journey; shoes are an integral part of that experience." says Zoot President, Shawn O'Shea. "Celebrating our Kona heritage is always at the core of what we do and being able to tie this launch into such an iconic race makes it even more special. Working with Danny Abshire to weave his expertise in with the Zoot DNA has resulted in an innovative shoe designed around the triathlete."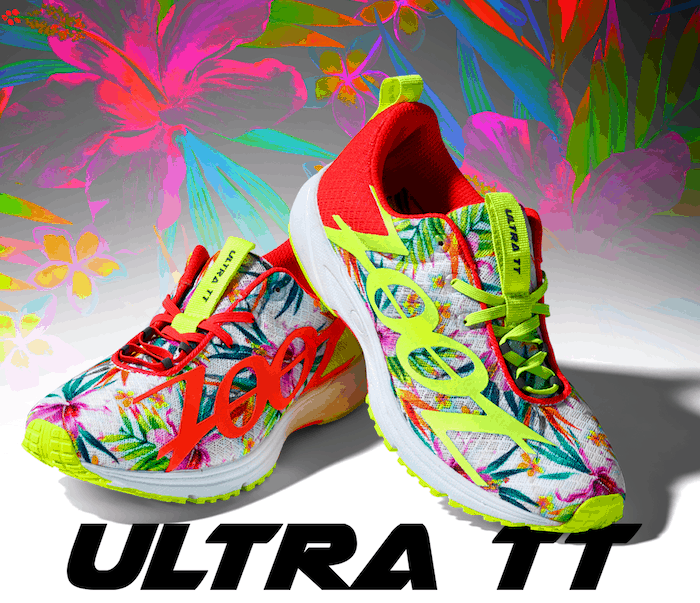 The Ultra TT is built with a firm, responsive, foam formula that provides enhanced shock absorption for a stable cushioned ride. The internal forefoot and rearfoot dual density pods provide added cushioning and protection in these regions. The outsole uses a high rebound sticky rubber compound with a unique tread pattern to create amazing cushioning, while the midfoot stabilizer protects and stabilizes the foot for a more balanced run. With a stack height of 23-20 and a 3mm drop, this 7.5 oz / 212 grams (men's U.S. size 9) neutral shoe is built to perform.
Available in both Men's and Women's styles, the Kona Edition Ultra TT shoe will launch at the Zoot booth in Kona on October 8-12, 2019. A limited run will also be available for order online at zootsports.com / zootsports.co.uk / zootsports.de