Re-engineered to achieve even more speed and flexibility, the new range meets the performance needs of open water swimmers & triathletes at every level
Entering retail at the end of February, Aqua Sphere has redesigned its wetsuit collection to offer open water swimmers through to professional triathletes, from casual beginners to professional elite, further enhancements in speed, performance and comfort across a strategically streamlined 2019 range.
Working alongside its worldwide team of athletes, Aqua Sphere has used its years of experience as the global leader in neoprene to entirely re-engineer the collection, combining new and improved construction and bonding techniques with the latest super stretch materials to achieve better flexibility, mobility, durability and comfort. The result is faster and more flexible wetsuits across three performance levels – a top of the range Phantom 2.0, competitive level Racer 2.0 and beginners level Pursuit 2.0. All models carry critical features and benefits relevant to their core users and are distinguished with commanding new front and rear graphics.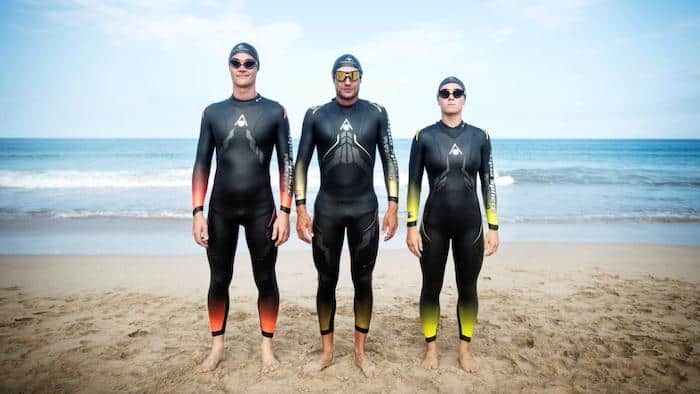 Aimed at providing ultimate power and ideal fit, the top of the range professional standard Phantom 2.0 is made from the highest quality super stretch Yamamoto 40 neoprene which delivers outstanding flexibility of movement. Bio-stretch zone panels of super fine neoprene are strategically placed for exceptional flex and the highly innovative internal Core Power System gives tremendous concealed support to greatly improve posture in the water, enhancing hip rotation and lengthening stroke, to really maximise swim efficiency. Buoyancy is boosted from the Aerodrome panels on the chest and thighs without incurring unnecessary drag and strategic Thermo-Guard technology to the chest, shoulders and legs helps to retain body heat.
The back zip has been extended for even easier transition, new fabric cuffs deliver optimal comfort and the super comfortable Aqua-Flex collar keeps water out effectively whilst helping to prevent chaffing and restriction. Available in wide size range for men and women, the first-rate Phantom 2.0 is £549.99srp from tri retailers and swim specialists.
The intermediate level Racer 2.0 is constructed using panels of super fine Yamamoto 40 neoprene combined with panels of super stretch Yamamoto 39 neoprene for superb stretch and freedom of movement. These strategically placed panels maximise buoyancy and reduce drag, and Thermo Guard technology on the chest, shoulders and legs retains body heat. The easy-pull deep back zipper aids transition speed and the Aqua-Flex collar seal keeps water out and prevents chaffing and restriction. Priced at £399.99srp, the Racer 2.0 embodies the highest-quality competitive level wetsuit for under £400.
The hard working entry-level Pursuit has long been a favourite with newcomers to open water, and the enhanced Pursuit 2.0 remains the ideal beginners' triathlon or training wetsuit and is perfect for outdoor swimming. It offers a good level of buoyancy and warmth which can really help with open water confidence and its stretchy Yamamoto 38 neoprene allows for a decent range of movement which feels very comfortable whilst being durable against knocks and scrapes. Only £249.99srp, the Pursuit 2.0 is an excellent investment for those venturing into triathlon or open water swimming for the first time.
To complement its wetsuit range, Aqua Sphere is also launching a redesigned AquaSkin range of full suits, sleeveless short suits, shorts, a full arm top and a hood. These garments provide excellent thermal properties for those swimming or triathlon training in lakes or seas, providing substantially more thermal protection than traditional swimwear. The full AquaSkin suit is £199.99srp. This line is also available from end of February from swim and tri retailers. Other products for open water swimming include a hood which offers excellent thermal properties and training shorts for the pool which deliver optimum buoyancy to help master body position.
For more info on Aqua Sphere's neoprene product category please visit www.aquasphereswim.com/uk/index.php/open-water