We were able to get our hands on a pair of Aqua Sphere's Vista Pro Swim Mask. Aqua Sphere claim some innovative features and aim to provide you with the best swimming experience. Do they deliver?
Aqua Sphere says: The Vista Pro is the first Aqua Sphere single lens swim mask. Utilising the latest technologies we have developed a new AFT featured silicone skirt, and offer a wide range of different tinted lenses to make the Vista Pro unique in this market segment. Titanium mirrored, tinted and clear lenses coupled with our best selling Curved Lens Technology are available to satisfy any open water swim condition. The new buckle system integrates a new pivoting technology providing two important benefits: structural stability and fit.'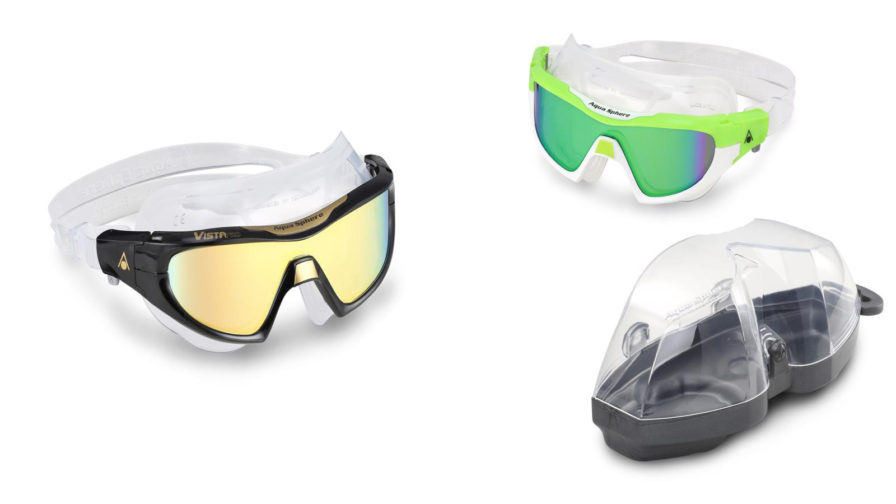 Patented Curved Single lens Wraparound, 180-degree visibility
One-touch, Quick-Fit Buckle for perfect fit with simple adjustments – even while wearing
New Pivoting Buckles System Comfortable, leak-resistant Silicone skirt
Advanced Fit Technology (AFT) increases seal integrity and comfort
100% UVA/UVB protection
Durable Polycarbonate lenses with anti-fog coating and anti-scratch (mirrored lenses only)
Latex free, hypoallergenic
Made in Italy
Lens Options:
Mirrored lenses to reduce glare and light transmission during high light swimming conditions
Smoke lenses significantly reduce light transmission to the eyes making it ideal for bright light conditions
Clear lenses are ideal for indoor, low light, or overcast conditions where maximum visibility is required
TRI247 says:
As ever with kit we get to test out from Aqua Sphere the build quality is usually first rate and it's exactly the case here with the Vista Pro mask. The points of contact around the eyes feels sturdy and dependable.
Masks cover more of the face than regular goggles, they sit away from the eye sockets which can be more comfortable for those with more delicate skin and can be more comfortable to wear for longer swims. They can also offer a very practical protection benefit, if being (accidentally) kicked/hit during a swim start for example is a concern, as a mask gives significantly more coverage than a regular goggle.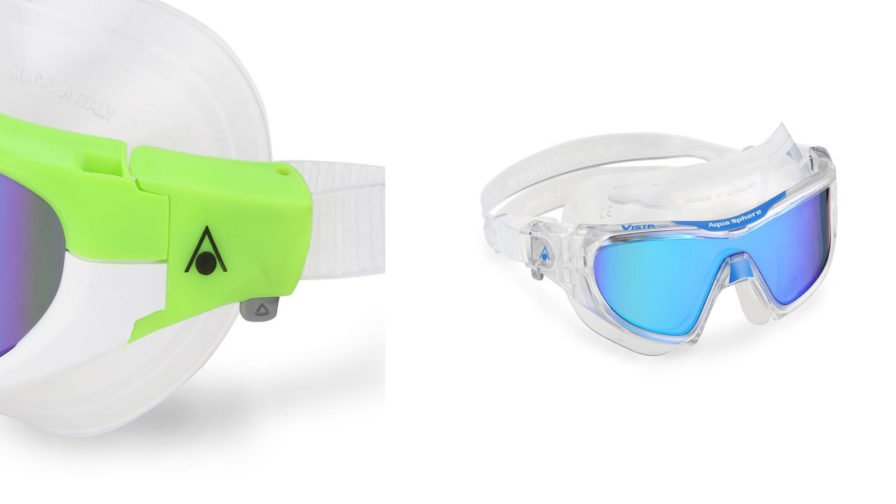 The wraparound lens offers great visibility which is just what you need out in open water. The larger mask also provides greater protection from the cold water. Adjusting the straps to size is also simple. The Quick-Fit Buckle (pictured above, left) really is simple to use.
Swimming eyewear of any kind really is down to personal choice and preferences. However, one interesting thing we noticed In testing (which may or may not apply to you… or indeed anyone else!), was that we found that wearing the mask very slightly lower on your face than you might initially think, gave us the optimal fit and ensured no fogging or leaking.
The masks are available from around £45.00 depending on the lens type you choose. If you're heading out into open water and greater visibility and protection is something that appeals, then the Vista Pro is certainly worth checking out.
You can find out more about the Aqua Sphere range HERE.