Just in, Orca's most complete wetsuit to date – the Orca Predator.
Chris Hovenden has an initial look at Orca's latest flagship wetsuit – with his full review due soon.
---
FIRST LOOK: Orca Predator Wetsuit -£649
Orca supports some of triathlon's most recognisable athletes, including the popular Sebastian Kienle. Its triathlon pedigree is up there with the best and biggest brands, and after 25 years of innovation in the world of triathlon, Orca claims to have brought to market its most advanced wetsuit to date – the Orca Predator.
Orca offers several groupings of wetsuit aimed at different categories of swimmer – for example, the Alpha is designed for a 'natural swimmer', whereas the on-test Predator (which has an arguably cooler name) is aimed at a 'total swimmer'.
The 'total swimmer' is said to be someone looking for a wetsuit that offers the 'perfect combination between flexibility and flotability [buoyancy]' – a pairing that will appeal to lots of triathletes, this tester included.
As you might expect with the above claims, the Orca Predator wetsuit is said to provide flexibility in the upper body whilst offering buoyancy in your legs – the end product being in theory a wetsuit that stops your legs dropping and causing unwanted drag, and at the same time allows your arms to maintain a good stroke without being restricted/becoming overly fatigued.
Out of the box it is clear the Orca Predator is being positioned as a premium product matching up well with its price tag north of £600. Nice touches include: the accompanying Mesh Bag (which itself has an RRP of £20.00); and, the inclusion of helpful foot covers and wetsuit gloves to protect the neoprene when putting the suit on.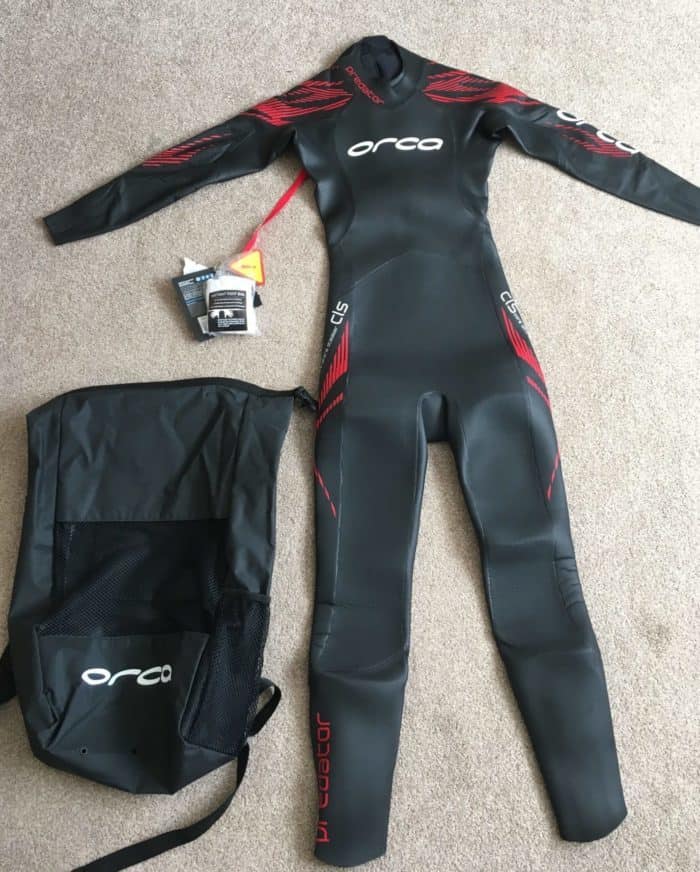 In addition to the nice to have bonus items above, the suit claims to be packed full of innovative tech, including (but not limited to) the following:
First, the panels just below the shoulder and on the forearms are noticeably (exceptionally) thin – Orca says this is 0.88 Free technology paired with titanium, the result being a wetsuit that is only 0.5mm thick with a titanium layer for improved insulation;
5mm thick side panels, called Core Lateral Stabilizer, that are intended to improve core strength and reduce twisting (i.e. losing energy), which in turn could help you maintain an efficient stroke;
Shoulder flexibility is offered by using Yamamoto 44, which is only 1.5mm thick and said to be very elastic. A claimed by-product of the elasticity is that it allows for a narrower zipper which allegedly causes less restriction and reduces water ingress; and
Also, Orca have considered the importance of not only speed in the water but also when rushing to T1. The lower leg panels have a coating designed to help them slip through the water; whilst, HydroLite panels are said to make it easier to remove the wetsuit.
Full review to come in a couple of weeks after further testing in training and races.