Closely associated with the Brownlee brothers and ITU swim speedster Richard Varga, the Archimdes wetsuit from Derby-based HUUB (www.huubdesign.com) has been a familiar part of the triathlon landscape for a number of years now, with its distinctive red bicep and calf panels making it easy to spot in a sea of black neoprene. When we recently published Chris Hovenden's review of the popular second iteration of the suit, we did highlight that a new Archimedes 3 model was to be released shortly.
Well, that new suit is now available to buy – £549.99 is the price, the same RRP as the '2' was – and we'll hopefully get a chance to get our hands on one and test it out ourselves soon.
For now, here is the company line on the product, which features new materials (+43™), new bicep release panels and new buoyancy profiles among several changes from the Archimdes II.
---
HUUB release third incarnation of their flagship Archimedes wetsuit
The third incarnation of the groundbreaking Archimedes, the suit that redefined buoyancy profiles to suit the needs of the modern triathlete. The Archimedes 3 again takes the expectations of a wetsuit and its material components and shatters the mould, never mind breaking it. With never before seen technology, expectations challenged and conventional materials re-engineered the Archimedes 3 leads the way when it comes to triathlon wetsuits.
Tested and developed on our exclusive 17 force plate M.A.D™ (Measurement of Active Drag) system the wetsuit offers three major enhancements to the worlds best selling high-end wetsuit, the Archimedes II.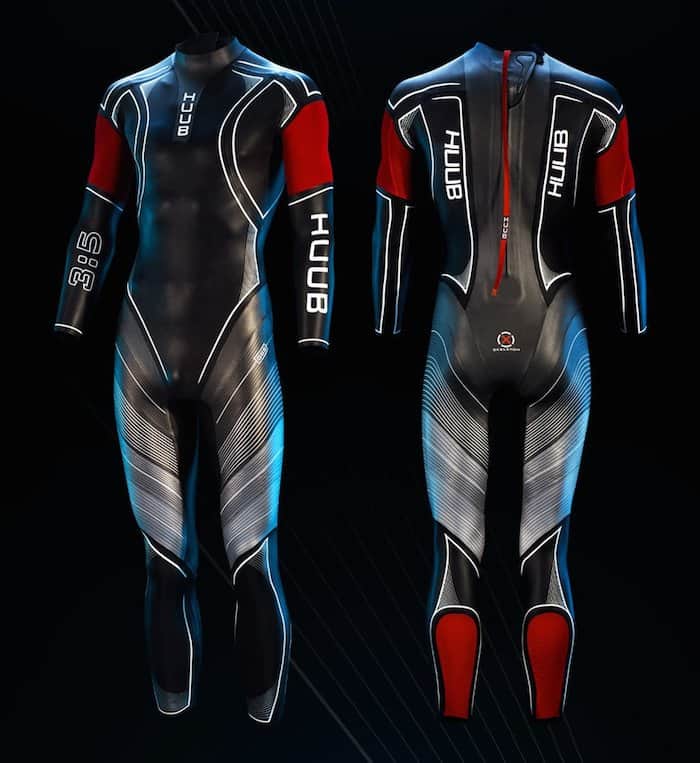 "Our search for speed gains is only matched by your desire"
EXCLUSIVE NEW SPEED ENHANCING BREAKTHROUGH FEATURES
+43™
+43™ is the most significant technological advancement in wetsuit materials for over 80 years. Since its inception in 1930, neoprene has been used in many applications. It took until the late 80's for the early triathlon adopters to use versions of smooth skin neoprene, and we asked ourselves why this hasn't progressed?
When tested in our labs we have seen that dimples and contours deliver no benefit to performance. It has taken the constant questioning of the norm, and a multi-year development cycle with our partners in production HD Labs to finally create a material that is lighter, and more buoyant. The result? A groundbreaking 43% more buoyant (than standard neoprene) foam, worth the 80-year wait!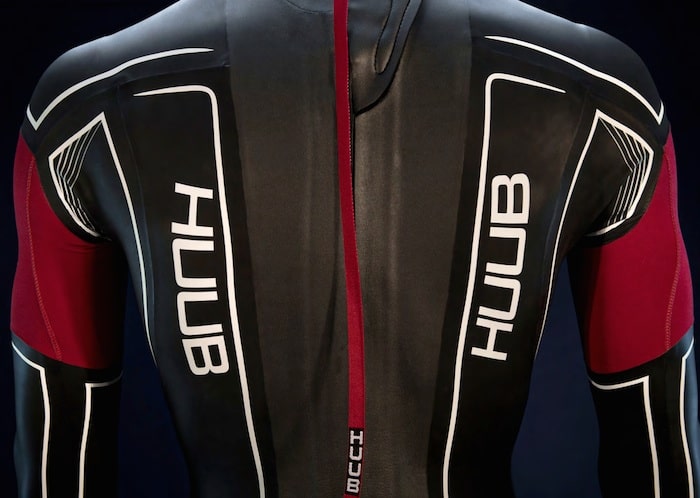 Neoprene will always have its place… well, for now! The Japanese Yamamoto materials we use are perfect for stretch and reach zones, coupled with our engineering and design thought process there really is no substitute, but buoyancy proposes a different set of needs. Where buoyancy for swimming wetsuits is concerned, first there was neoprene, then came NBR, now there is +43™, and we cannot wait for you to try it. Forgive us for patting ourselves and HD Labs on the back with our new material +43™ foam – because now, "it's no longer just about Neoprene".
Graduated Buoyancy™
Differing newton values of buoyant materials deliver gradated buoyancy profiles around thighs, hips and lower quads to ensure the correct balance with the bodies centre of buoyancy. This provides a flatter, more streamlined and faster suit profile in the water, resulting in more buoyancy and a hydrodynamic profile.
Bicep Release 360™
With the inception of the original bicep release, we were able to assist correct arm positioning and bicep expansion to allow a natural bent arm state for recovery and catch. We have now taken this one step further by also applying this technology to the tricep.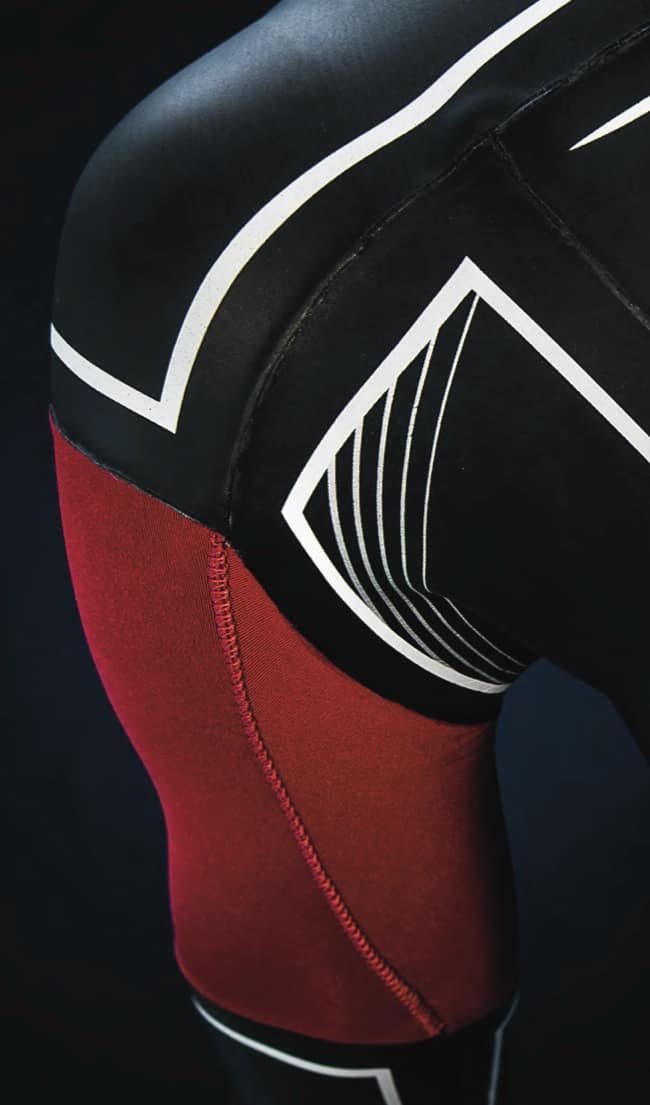 With this use of materials (a more relaxed fabric covering) in both the tricep and bicep areas, it offers benefits for arm positioning through stress of catch & pull and enhances the recovery phase by allowing a relaxed arm position with high elbow and less swing. With less tension, less fatigue, more comfort and more efficient stroke alignment the Bicep Release just went 360.
Watch the Bicep Release 360 video here:
WHO
The Archimedes 3 is the suit for the triathlete wanting a sleeveless 'no suit' feel, in a full-bodied wetsuit, we call it 'Rotational Freedom™'. For the triathlete pursuing maximum streamlining and hydrodynamic efficiency through strong un-cumbersome leg lift.
Perfect for those seeking maximum comfort and efficient stroke technique. For those wanting to push past the boundaries of neoprene and discover the benefits of never before used composite material – "It's what you don't see makes you faster".
WHAT
We have created a suit designed to deliver the fastest swim. A wetsuit intended to meet the needs of the athlete wanting a suit where correct body alignment and flexibility are paramount. It provides lower drag, thanks to exclusive Graduated Buoyancy™ engineered to reduce frontal drag by raising the lower body into a more hydrodynamic efficient state.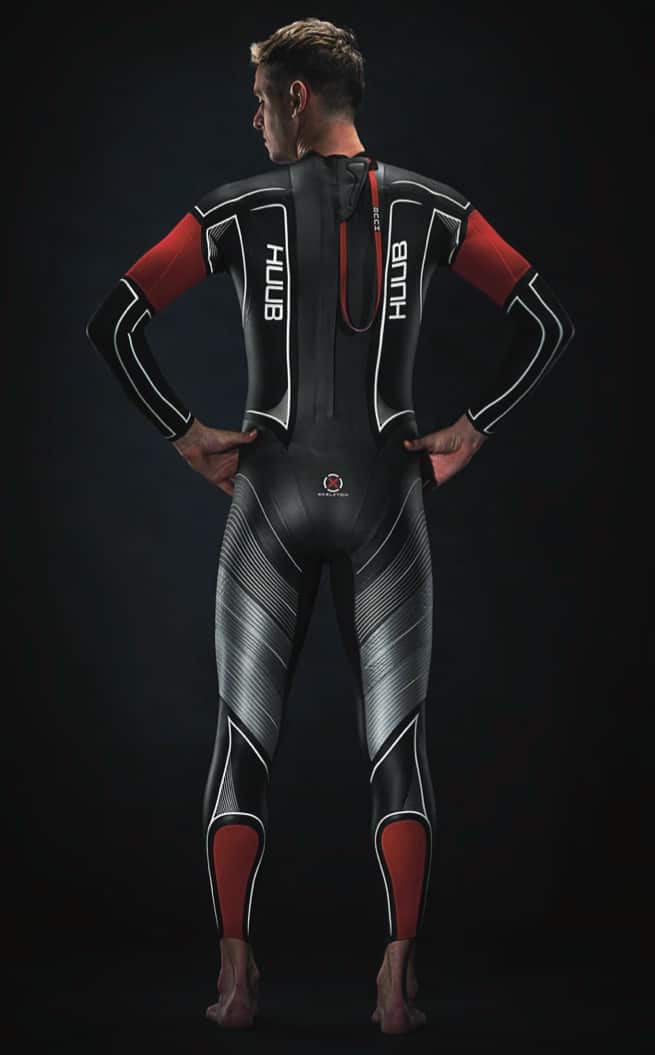 The +43™ Foam offers 43% more buoyancy than neoprene sponge – a new generation of material available exclusively from HUUB. The suit has a new emphasis on upper arm comfort and anti-fatigue, combined with efficient stroke alignment delivered by the new Bicep Release 360™.
WHY
Like all of our wetsuits, the Archimedes 3 was born from a relentless testing program combining the talents and knowledge of professor Huub Toussaint with the theoretical confirmation from the data-driven M.A.D system. The designs taken from the mind of Dean Jackson are tested to reveal the real scientific benefits. Not all ideas pass the test, but those that do face further rigorous testing to ensure there is a real and validated benefit to our world-leading triathlon wetsuits.
Buoyancy is key, and the correct buoyancy in the right amount and location has been the emphasis of hundreds of test runs on the M.A.D System, this is where the Graduated Buoyancy and +43™ foam come in to play.
We never discount the input from our athletes, consulting with some of the world's best. The Archimedes 3 was extensively tested by Richard Varga (aka the fish), who has dominated the WTS swim discipline for several years and also by Jack Burnell – a pure open water Olympic swimmer.
Watch Richard Varga talk Archimedes 3 here:
We recognise their opinions are not only used to make a great product, but we understand those views are invaluable when an athlete needs to know all their time and commitment to training is only enhanced and not hindered –"Research, Science, Reality".
M.A.D System
Developed in partnership with Innovate-UK the Measurement of Active Drag (M.A.D) is the ultimate measurement – the holy grail of data for swimmers. How much drag am I creating myself and in differing wetsuits, swimskins etc.? There are other methods but none as accurate and precise as the M.A.D system.
Professor Huub Toussaint invented the first M.A.D system 15 years ago, but his learning's and research had him wanting to take it to the next level by using 17 force plates instead of one. With the vision of HUUB and its shareholders, the decision was made to chase the dream and create our very own M.A.D system. No other sports brand has one, and that's what we couldn't get over, how can you make claims without through testing? The worlds most advanced M.A.D system resides at our testing facility partnership in Mallorca with BEST swim centre.
Watch Professor Huub explain the M.A.D system here:
HD Labs
HD Labs are the in-house development team tasked with one simple brief 'question everything'. It has taken us over four years to find a manufacturing facility with the same vision and foresight to satisfy the relentless need to find better and faster. HD Labs is a unique HUUB factory collaboration where we can ask the questions and solutions are provided. To ask for a replacement to neoprene wasn't something the team at HD labs get frequently asked, but we challenged tirelessly until we had a material we knew would deliver the groundbreaking standards our users demanded of HUUB.
Manufacturing expertise, materials expertise, modern-day construction methods combined with young vibrant and questioning minds leaves us excited for what is next out of the HD Labs. +43™  foam is only the beginning; we have much more to come.