Back in 2015 (HERE), I was invited by Orca (www.orca.com) to the launch of their impressive new wetsuit range, including the Alpha, which featured a new material '0.88 Free'.
"It's flexible. It's really flexible. It's quite staggeringly FLEXIBLE. Seriously, it really is…", was my comment at the time!
Today Orca have announced their new Alpha. We hope to be getting our hands on one to test soon – for now, here are the initial details of the new suit.
---
For 2018, Orca release a completely rebuilt version of their Alpha wetsuit aimed at natural swimmers, usually from a swimming background, who are looking for complete freedom in the water utilises super flexible 0.88 Free neoprene across the arms and lats. This has been designed in conjunction with Yamamoto who are the world's main supplier of high performance neoprene. At 0.5mm thick this is the thinnest and most elastic wetsuit material on the market offering the ultimate in flexibility and freedom in the water.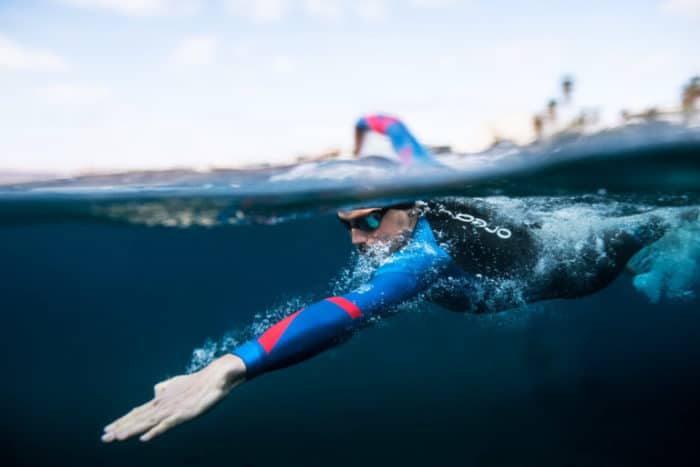 This is combined with the exclusive Yamamoto 44 neoprene, which is their most flexible 1.5mm thick neoprene, across the shoulder and back panels. The dual flexibility of the shoulders and back allow Orca to employ a new half zip system that allows the neoprene to stretch across the full diagonal of the back.
Throughout the rest of the suit Orca employ 3mm and 4mm thick Yamamoto neoprene to offer the best buoyancy and body position for the natural swimmer. Inside, a titanium laminate provides added thermal insulation, while the outer is treated to an SCS (Super Composite Skin) coating to reduce friction in the water.
Not only is the Alpha the most flexible suit for triathletes with a natural swim stroke, but now it's even faster in transition thanks to the FT1 2mm thick ribbed knee panels that offer superior flexibility as athletes run to their bikes.
All of these technologies fuse together to create the fastest possible wetsuit for natural swimmers, who can now swim without limits.
Arantzazu Tapiador, Orca Marketing and E-Commerce Manager, said: "We are pleased to launch the new Alpha wetsuit that is now even more flexible and faster in the water. It's one of the most technologically advanced wetsuits available for the most efficient swimmers such as Orca sponsored athlete Andrew Starykowicz (USA) and members of the BMC-Vifit professional triathlon team."
You can visit the Orca website HERE.