There is no shortage of swim kit out there demanding your hard earned pennies. We had a look at the Speedo Fit Pro Jammers to find out if they are worthy of a place in your your kitbag or are they a good jammer to one to dodge?
---
Designed and built for training, the Speedo Fit PowerForm Pro Jammer features 360 degree compression to enhance your muscle awareness and promote a better body position in the water, helping you to swim faster for longer. They feature an interesting textured ribbed pattern on the exterior panels. These are located on non-friction areas of fabric panels around the jammers that I'm assuming creates more compression and also could help with the flow of water around the mid-section of the body. Hydro dynamics aside they provide an interesting look when side by side with other swim kit.
The engineered "V cut" construction provides added comfort and security front and rear, whilst the design offers very good freedom of movement. This jammer material, made from Powerflex+ fabric is chlorine resistant for longer lasting colour and fit by maintaining its shape and importantly the elasticity and thus keeping a closer fit in the water. Using creroa® highclo™ which is designed to overcome the materials vulnerability to damage by chlorine it should lead to a longer lifespan for these jammers. Around the waist there is a nicely elasticated band with draw string to keep the jammers in place effectively.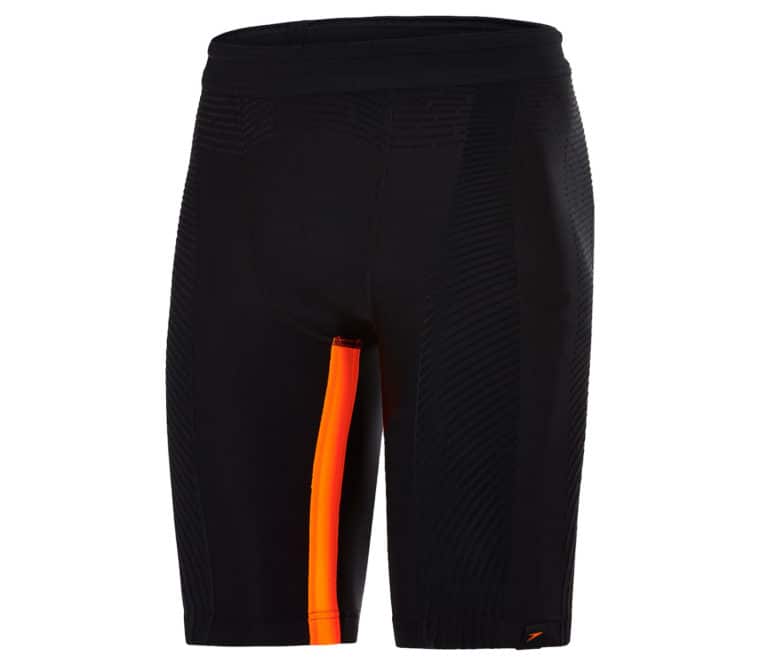 In use they are a really solid choice for a training jammer. Priced around £50 they are not the cheapest on the market but they do feature some different technology to justify your purchase. The model tested here was well received poolside and the striking orange colour detail on the inner thigh area added a striking contrast from the all black, sleek design.
They are well worth a place in your kitbag with a simple, elegant design.
Find out more about these Jammers at the Speedo website by clicking here.