Grab a Swim for Tri 'Session in a Bottle' set
We feature a fair bit of carbon and electronic gadgetry on this site. After all, everyone loves a bit of bling.
However, your Editor is also a big fan of appropriate simplicity. Earlier this week for example, the 'Rainproof Essentials Case' from Muc-Off represents an incredibly simple, inexpensive – but practical – way of carrying your phone, cafe cash and keys with you on the bike, with some added security from the weather. I've got simple tastes!
In a similar manner, the Session in a Bottle (www.sessioninabottle.com) idea from Swim for Tri is another that we've featured previously, but strikes that 'keep it simple' (and very reasonably priced) box.
They now offer four different 'Intelligent Training Aid' bottles for swimmers (check the details HERE), typically priced at £8 each – which is really not much of a premium over a regular, high quality Tacx water bottle they are produced with.
Get in now until Sunday and you buy all four for just £28 (£7 each), AND get a free SFT coffee cup. Could this be the perfect present for the swimmer in your life who never has a clue what to do, once they get to the pool? Or, perhaps that's you!
Next stop… RUNNING!
The session-in-a-bottle concept is expanding very soon, with the arrival of their first run-specific bottle.
The run sessions have been developed in partnership with one of the legends of British triathlon, Steve Trew, who has been part of the sport as athlete, coach, writer, broadcaster and more since the 1980's. \
Holder of a Gold Pin, awarded by British Triathlon for services to the sport, Steve coached Sian Brice to the Sydney Olympic Games, Ceris Gilfillan to National Cycling Championship success and many Age-Groups athletes to European and World Championship Gold. He was also the 'voice' of triathlon for many years, as a regular commentator on the BBC.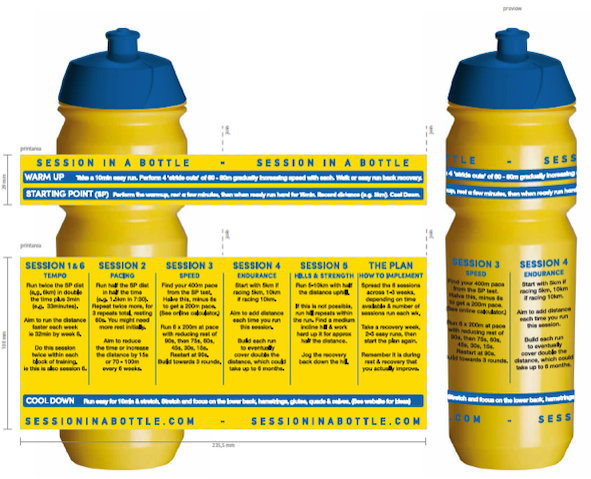 Swim for Tri Head Coach, Dan Bullock says of the bottle idea:
"The 'session in a bottle' concept came to me after years of thinking about a waterproof binder/folder on poolside with our best SFT sessions. I thought there must be a better way and for years it had been staring us in the face as 000s of swimmers each week wrap a sandwich bag with a paper session in it to a water bottle with an elastic band hoping it does not leak or the ink run. It literally had been there all the while. Utilising a good graphic designer we soon had a template and the Silver General Fitness bottle was delivered in 2019.
"We now offer multiple distances and a technical bottle. While the natural habitat would be poolside, we still felt that combining hydration and a session could cross over to gyms/run track/turbo where people need a choice of well planned session with the ease of something most would carry with them anyway. "
Find out more about the entire range at www.sessioninabottle.com