Argon 18 reveals Notio Konect – the next iteration of their Smart Bike
12 months ago we featured the Argon 18 Smart Bike from Eurobike in Germany (HERE). While clearly in 'concept' mode at the time, it was clearly one of the highlights of the show which got lots of cycling geeks talking.
12 months later, the 'concept' has been pushed on to the next level – so much so that Argon 18 have created a subsidiary company, Notio Technologies Inc, who will be bringing to market over the coming months the production version of that Smart Bike technology in the form of Notio Konect.
What's it all about? Well, here are the details and the progression over the past 12 months.
---
Notio Technologies Inc to bring innovative smart bike device to market
Argon 18, the international high-performance bicycle company, has announced the launch of Notio Konect evolving their 2016 Smart Bike Prototype, which debuted at last year's Eurobike Show. Notio Konect, the first cutting edge innovation of the newly launched company Notio Technologies Inc, was presented at the Argon 18 booth at Eurobike.
Following last season's successful prototype launch of the Smart Bike technology, the bike manufacturer evolved the vision to develop Notio Technologies Inc., a subsidiary dedicated to R&D, innovation, performance and excellence within the bicycle technology industry sector.
"In today's industry, there is so many metrics and methods to foster a relationship between the rider and the bike. But the disconnect was the way to gather analysis and then use all this data in a way that a rider could benefit from all the various numbers and readings. Notio Konect was developed to build a strong relationship between the rider and bike, to go faster, to be efficient and improve your global riding performance," said Gervais Rioux, president and founder, Argon 18. "We have created products to gather the numbers, bring them together so one can understand them and gain a complete riding analysis."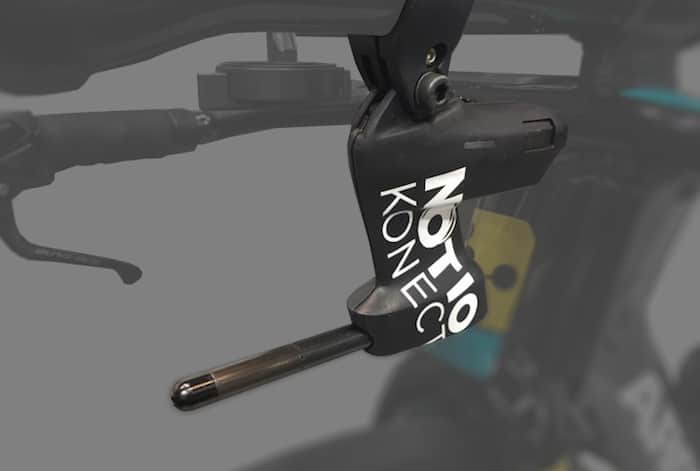 Notio Konect is a usable device for all bicycle brands that combines measurements from eight families of data to revolutionize the rider analytics relationship to performance and comfort. A unique functionality of the Notio Konect is real time accurate data in a useable and understandable format in addition to post-race analysis capabilities. Notio Konect technology was developed using detailed testing with professional and high-performance athletes, including the Astana Pro Team during this year's Tour de France along with various coaching companies and recreational teams. This cross platform testing has helped the company create a diverse demographic understanding of the data requirements of various levels of athletes in multiple endurance sports.
Notio Technologies Inc. plans to market various advanced, high-end products, targeting professional teams and high-level endurance athletes as well as bring to market products that create and build the relationship between rider and bicycle on a recreational and fitness level. Product line includes models developed for coaches, teams and fit studios.
"Notio offers a 360 degree view of the data and a 360 degree view of the process, from setting goals to planning to executing and monitoring along with sharing and collaborating. Notio takes these views of data and cohesively brings together the metrics into a useable and relatable format for all levels of athletes, ranging from the world's top professionals to fanatics and enthusiasts," said Marc Graveline, CEO of Notio Technologies Inc.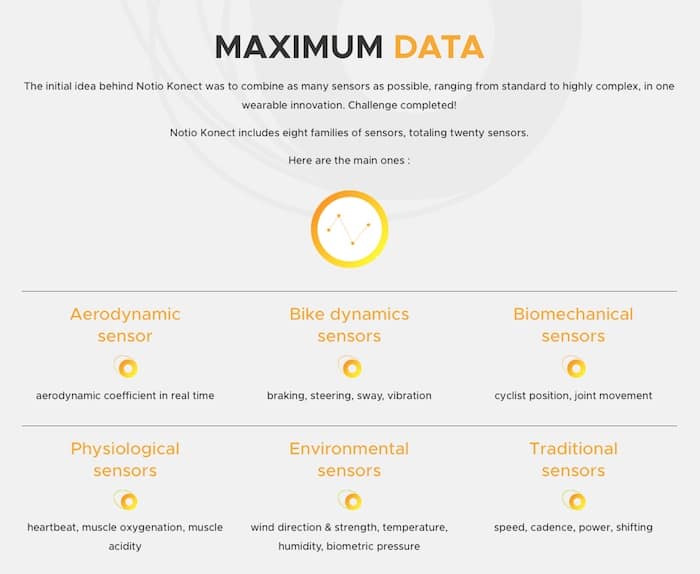 ABOUT NOTIO TECHNOLOGIES, INC
Notio Technologies Inc is a cycling technology accessory company based in Montreal Canada. Created to foster a better relationship between rider and the bikcycle, Notio develops unique technologies to gather, analysis and interpret data for all levels of cyclists. Notio Technologies is a subsidiary of Argon 18. Connecting excellence and performance with the enjoyment of the riding, Notio Technologies brings together the critical and innovative data to riders in a format that can be utilized for racing, training and fitness.
Experience Notion Konect: www.notiokonect.com
ABOUT ARGON 18
Established in Montreal, Canada, since 1989, Argon 18 has built itself a strong reputation in the cycling world. Guided by Olympian and 3-time Canadian Champion Gervais Rioux, one of the most successful North-American racers of his generation, the manufacturing of all Argon 18 bikes is the result of a brilliant expertise. The sophisticated and inventive design of Argon 18 bikes is based on handling, aerodynamics, and human performance at its core, fully in line with the morphology of each cyclist. All Argon 18 bikes integrate cutting-edge technologies, and are designed and developed in Canada. Argon 18 bikes are now available around the world in more than 75 countries.