Garmin announce major change to their Vector pedal-based power meter
Technology giant Garmin have today announced a major change to their Vector pedal-based power meter, with the introduction of the Vector 3 (and Vector 3S single-side power version).
It is easy to spot the biggest change – the absence of the 'pods' that formed part of both the original and Vector 2 editions. The biggest consistent complaint of the Vector pedals was their installation difficulty; the 'ease to change between bikes because it is a pedal' point often seeing frustration from users due to the need to ensure the correct torque and pod placement. It was that feature which, arguably, contributed to the huge popularity of the PowerTap P1 pedals, and other options on the market. (That's why I bought…).
This significant new change from Garmin – and a price point of £849.99 – could well see some significant changes in the power meter market, with the giant brand now bringing to market, on first glance at least, a product which resolves many of the frustrations from its previous incarnations.
One thing that is certain… if you are in the market for a power meter, and are handy with a torque wrench and technically competent, you can expect a significant flood of second hand Vector 2 models to be hitting the second hand market at bargain basement prices as users look to upgrade.
Here are the first details.
---
Garmin® announces the Vector 3/3S – a completely redesigned pedal-based power meter
Garmin International, Inc., a unit of Garmin Ltd. (NASDAQ: GRMN), today announced the Vector™ 3/3S, a completely redesigned pedal-based power meter. Unlike previous versions of Garmin Vector power meters, the Vector 3/3S does not have a pod and installs like any other pedal, making it easy to transfer from one bike to another without professional assistance. Once installed, the dual-sensing Vector 3 measures total power, left-right balance, cadence and advanced cycling dynamics while the single-sensing Vector 3S reports cadence and total power.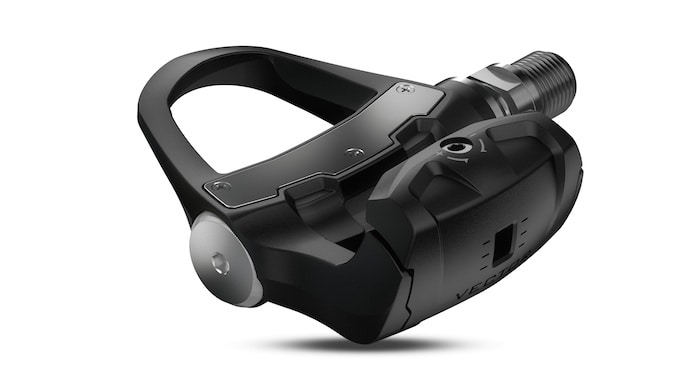 The Vector 3/3S features a sleek new design providing cyclists with greater cornering clearance and improved stack height for smarter ergonomics, while LED lights on the pedals display important setup and maintenance information. The Vector 3/3S is a direct-measurement power meter – the sensors are housed in the pedals – so it delivers reliable, accurate data on every training session.
"As cyclists aim to beat their personal best on their next race or Gran Fondo, the affordable and innovative Vector 3/3S will help them ride farther, stronger and more often," said Dan Bartel, Garmin vice president of worldwide sales. "By redesigning the pedal and eliminating the pod, cyclists have the ability to quickly transfer from bike to bike and still receive advanced performance data that takes their training to the next level."
With the Vector 3 dual-sensing pedal-based power meter, cyclists have the ability to see right and left leg power independently. Measuring cadence, total power, left-right balance and advanced cycling dynamics, the Vector 3 shows cyclists how and where they are producing power and helps them tailor their training around their specific strengths and weaknesses to improve their form. The Vector 3 tracks Seating/Standing Position to determine when and how long cyclists are in each so they can gauge position effectiveness, while Power Phases show how riders are currently producing power with every pedal stroke, and Platform Center Offset helps determine where power is applied on the pedal, ensuring proper cleat position.
The affordable, single-sensing Vector 3S uses the forces detected on the left pedal to measure cadence and approximate total power, and can easily be upgraded later to the dual-sensing system.
The Vector 3/3S fully integrates with the Garmin cycling ecosystem, including the Varia™ Rearview Radar, Varia UT800 Smart Headlight and the new Edge® 1030.
ANT+ ® technology not only lets cyclists receive structured indoor training by pairing their Vector 3/3S with power-based training systems like TrainerRoad, Zwift and more, but they will also gain access to compatible 3rd party training platforms including Strava and TrainingPeaks™. Meanwhile, Bluetooth® technology allows post-ride analysis, data sharing, mapping, route planning and more to be integrated into training through Garmin Connect™ – an online community where people can connect and compete by joining challenges, encourage each other's successes and share their triumphs via social media.
The Vector 3/3S features up to 120 hours of battery life. The Vector 3 has a suggested retail price of £849.99 and £499.99 for the Vector 3S. The optional Vector 3S upgrade pedal has a suggested retail price of £399.99.
The ever-expanding Garmin fitness segment develops technologies to enhance and promote healthy and active lifestyles. Whether users are runners, cyclists, swimmers, multi-sport athletes, or simply looking to stay active throughout the day, there is a product that can help them reach their health and fitness goals.