First details here of the latest addition to the product range of HIGH5 Nutrition – Energy Gummies.
---
HIGH5 are delighted to announce the launch of our new Energy Gummies, designed to provide a tasty and easy-to-chew carbohydrate energy boost before and during sport.
At HIGH5, we celebrate commitment – whatever your sport, level or goal. We know that sports nutrition is often thought of as something just for elite athletes, and the down-in-one approach of a gel isn't for everyone. That's why we've created our mini but mighty Energy Gummies, a deliciously nutritious energy source for all sports people, beginner or pro. And because we haven't used gelatin like a lot of products out there, our Energy Gummies are vegetarian and vegan friendly!
Energy Gummies are a pack of six great tasting, chewy sports gummies which provide a convenient, easy-to-carry source of energy in an alternative format to gels or bars. One pouch of gummies is similar in carbohydrate content to one HIGH5 Energy Gel, but unlike a gel or bar, Energy Gummies come in a re-sealable pouch allowing you to tailor your energy intake on-the-go. This is perfect for when you want a small energy boost (one or two gummies), or to top up your energy levels when taking on a bigger challenge.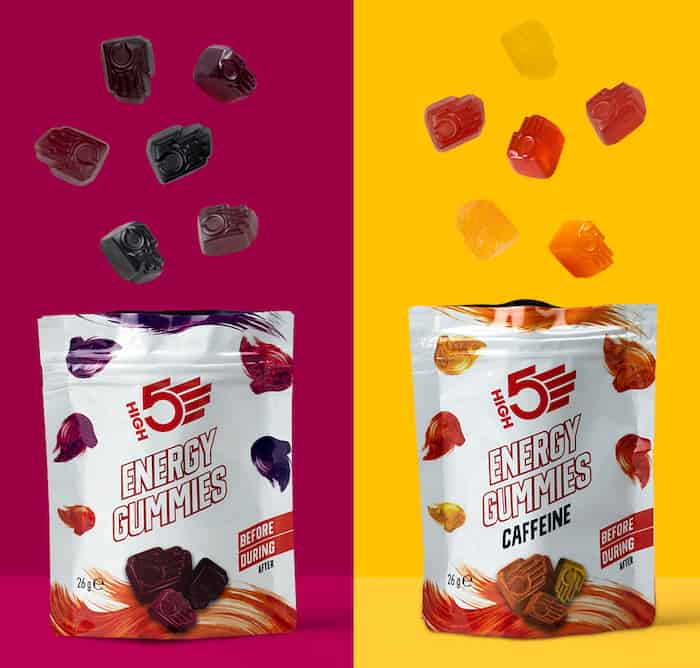 Something that was very important for us when creating these little pocket rockets was that they tasted amazing! Here at HIGH5, we are focused on creating great tasting sports nutrition products that work when you need them most to help you enjoy your sport more – it's what gets us out of bed in the morning. Energy Gummies are available in two great tasting flavours: Mixed Berry, a blend of dark and tangy berries and Tropical, a fruity burst with an extra caffeine boost. Both flavours contain the key electrolytes sodium and potassium with added Vitamin B6.
Our Energy Gummies are free from artificial sweeteners, use only natural flavourings and are suitable for vegans. They are easy on the stomach and provide that quick burst of energy when you need it most, fuelling everyone's journey no matter what your goal.