There's always something fresh to learn when you are preparing for only your second iron distance triathlon – especially when it comes to fuelling.
Leading British middle distance triathlete Adam Bowden made the successful transition from the track to short course triathlete in 2009 and then on to the non-drafting world in 2018. But going long is one of his biggest leaps yet. He put in an encouraging start in Tulsa in May, and bids to improve on that showing at IRONMAN UK in Bolton this weekend.
The difference between racing for four and eight hours shows up in many aspects of our sport, but particularly when it comes to fuelling. Without employing the correct strategy over iron distance, the body and the race will start to unravel – and there's no way back.
To this end, Adam has turned to Precision Hydration for support. In this article, PH founder Andy Blow explains not only how the fuelling experts are working with Adam, but how we can all take charge and simplify our own fuelling strategies to deliver our best come race day.
---
The general principles of fuelling
Andy's view:
Firstly, we talk about hydration and fuelling rather than nutrition. For us, nutrition is your overall diet, an incredibly important topic but not one we're addressing here. As such, we're presuming that whether training or racing, our triathlete starts an activity full of energy – with glycogen stores topped up – and is well hydrated.
Once into exercise, there are three things required:
Fluids
Electrolytes
Calories for longer distances – usually in the form of carbs
The questions then becomes, for every hour, how many:
Millilitres of fluid?
Milligrams of sodium (salt)?
Grams of carbohydrate?
In our experience, if you get these three things about right and your pacing is good, your nutrition plan will fundamentally work. All you really need when exercising is water, salt and carbs, and it's the quantity that matters.
We're not coming in and teaching Adam what to do – we're just a sounding board. He's already a successful athlete, so our partnership is about making small and sensible tweaks, and having the confidence to say that in a lot of areas Adam is already doing well.
It's an important attitude to adopt. The sports science 'white knight' idea of telling people how to do it properly is BS and athletes shouldn't go looking for it. Of course, there's a place for expert guidance, but you learn 95% of what you need from doing it and iterating yourself. That holds for anything you are trying to improve in triathlon, including nutrition.
This doesn't mean it's not imperative to get your fuelling correct, especially when stepping up in distance. If it's important in 70.3 racing, it's five times as critical in Ironman.
As such, the fuelling hierarchy of needs should be:
Get enough in
Get the timing right
Pick the right products
The third point is normally the athlete's first concern, but sports nutrition products are fundamentally very similar – they contain fluids, electrolytes and carbs. Gels tend to be mainly glucose and maybe fructose and there's little to choose between them… as long as they don't make you puke. If you want to get into the minutiae of what gains hydrogels or dextrin will give you, it's fractions of a degree of difference.
As for the timing, it's usually better off staging your fluid and calorie intake over the hour rather than taking it all in one go because it won't hammer your gut as much. But what matters most is the net intake over the period.
That said, it does depend on the course though. At the IRONMAN 70.3 worlds in Nice in 2019, athletes would be working hard on the climb, but grabbing a bottle on the fast descent could be nigh on impossible. So, we were advising people to eat and drink a lot on the flat. As always, have a plan but be ready to adapt.
Hydration
With any athlete, you want to look at what they are doing at present. Elite triathletes have reached a high level, so whatever they've been eating and drinking, they are usually not too wide of the mark.
We started by going back through Adam's recent races and interrogating how much fluid, salt and carbs were taken on and ran those numbers against what we knew to be plausible for an athlete of his body make-up.
We also tested Adam's sweat sodium concentration and sweat rate. It's interesting that he has a relatively low sweat sodium concentration – useful for an elite long course triathlete who wants to compete in the heat [Adam demonstrated in Dubai in 2019 how well he performs in the heat] – but a high sweat rate. It means that there might be room for improvement in the volume of fluid he can consume so that his performance is not negatively affected by dehydration.
There is no one-size fits all for sweat rates. They tend to be up to fivefold different between triathletes – from almost zero to 1.2l/hr – and sodium concentration variances can be tenfold. Put those together and it multiplies out to huge differences.
In terms of when to hydrate, it's less prosaic than with ingesting carbohydrates because while a training session might only take an hour, sweating in a conservatory at 25 degrees on the Wattbike is different from heading outside at 6am before sunrise.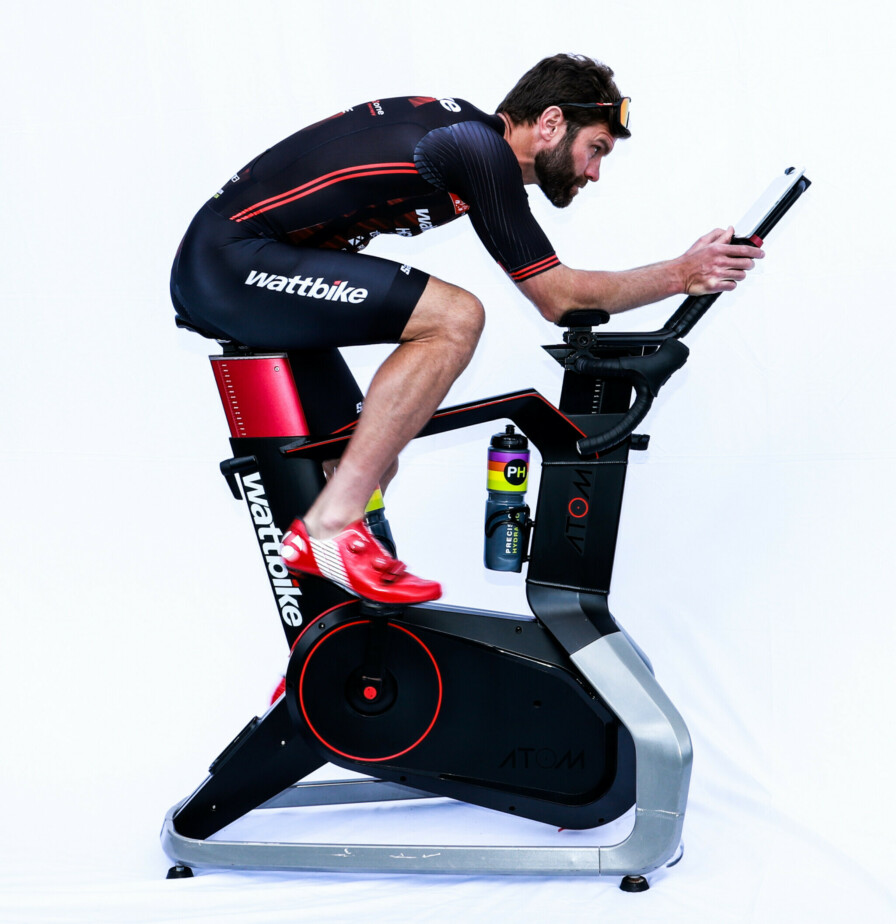 Drinking on the bike is also far easier than on the run. At Adam's level, running close to 5min/mile, drinking is really quite hard. He wants to get off the bike with almost net zero dehydration so he can get through a 70min half marathon without drinking too much. Even a mid-pack triathlete is probably going to drink 50% less on the run, so we advise triathletes to front load their hydration.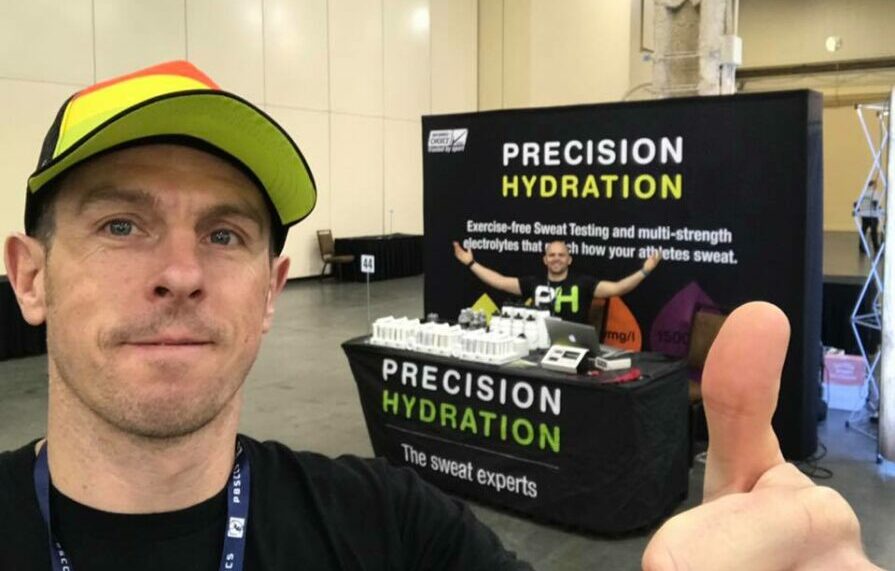 Carbohydrates
It's typical for athletes moving up from short course to long distance to under consume calories, so we often try to up the volume, which can be a bit uncomfortable at first.
The common wisdom of previous generations was to eat the minimum you could get away with for maximum performance, whereas increasingly the research and anecdotal evidence is showing that athletes who consume more can maintain output for longer.
Having said this, we think Adam's carbohydrate intake is already pretty strong, so it's not something to meddle with too much.
We're also talking about the timing of consumption and – as with hydration – front-loading his fuelling more. Taking on more calories on the bike than on the run is normal, but we are also focusing on the initial stages on the bike when the body is more receptive to absorbing carbohydrates. The deeper you get into the race, the more stress you're under, the more blood flow is diverted away from the gut, and the harder it is to take in more calories.
Feeling as if you're overeating in the early stages of the bike may feel unnatural, but it's putting energy in the tank for later and the longer the race, the more successful this approach proves (if athletes are willing to do it).
Fuelling for training
It's not just races where we need to consider fuelling. The bulk of our endurance activity is spent training and there has been much debate over how much fuelling when training should play a part, especially for an athlete such as Adam, who trains two or three times a day.
Fuelling during exercise tends to be useful around 60-90mins depending on your viewpoint. There are two ways to look at it. The first is being able to sustain performance during that activity. It's pretty much proven that nil by mouth is fine for anything up to one hour and you can still perform at your best.
There's an argument that when you reach 90mins a little bit of carbohydrate can be helpful, probably more from the way it stimulates the brain rather than the muscles – such as carb mouth-rinsing (where an athlete swishes a carbohydrate solution around the mouth to trick the brain into thinking calories are being consumed).
While we certainly wouldn't dissuade athletes from eating during a 90min session if they felt they needed to, beyond 2hrs it's almost categoric that you need to take on carbs.
Research shows that the recommended amounts to ingest are fairly robust. Up to 2hrs it's up to 30g/hr and 3-4hrs it's 60-90g/hr, and perhaps even more if you can tolerate it. How you take it on, whether through liquid, gels or chews is up to you.
The second part is to consider whether you are training again that day, or have a hard session the following day. You may be able to deliver a solid session without fuelling, but will it have a knock-on effect to the next one?
It's a concept athletes don't always embrace when increasing their training load, and is especially common with amateur athletes on training camps. They eat as they would normally on a morning ride, but are flat in the pool in the afternoon because they have not fuelled adequately for the session.
A general principle people fall down on is to eat less in training while planning to have more carbs in a race believing they'll race better. It's not true. You end up compromising training and recovery, and don't train your gut to tolerate the amount of carbs you'll need on race day.
The idea of training the gut is moving from the realm of purely anecdotal to evidence based. Sports scientists Trent Stellingwerff, Asker Jeukendrup and Aitor Viribay have all put out papers about what a gut training protocol looks like, the principle being your body can adapt to the stresses you put it under – and one stress is increased carbohydrate load.
The broad premise is that the human species continues to evolve where we have access to different foods. If we're more equatorial, we eat more plant-based, and the further we head towards the poles, the more carnivorous and lower carb the diet.
It shows the human body is massively adaptable to different types of foods. So, if you give the gut more carbohydrate it upregulates the transporters to move carbs to the bloodstream.
As often, the science is following what elite athletes are already doing. We work with pro tour cycling teams who train athletes to become psychologically and physiologically used to taking on 100g carbs/hour. The data from pro tour riders I've seen shows some of them thrive at 65-70g/hr whereas others can take on 110g/hr. It's a big range, but skewing all the time a little bit higher in people's perception.
As such, I'm a lot more bullish about advising people to fuel more aggressively in key training sessions these days because I think the net gain is you train harder, adapt faster, recover better, and also train your gut to tolerate whatever you'll have on race day.
As for how to do it. Start by four-to-six weeks out from a race, introduce a couple of sessions a week where you increase the volume of carbs above your normal intake.
Recovery
Post-session or post-race there is always a calorie and a hydration/electrolyte deficit to make up for in order for recovery to be considered 'complete'. The magnitude of these deficits depends mainly on the length and intensity of the workout, environmental conditions and how much fuel and hydration were taken in during the session. In addition to drinking a strong electrolyte drink like PH 1500 to help offset sweat losses a recovery shake such as the ForGoodnessShakes Recovery, that Adam uses, can be very useful in terms of delivering not only a large amount of easily digestible energy to start to restock glycogen stores but to also bring in some protein to help with tissue repair.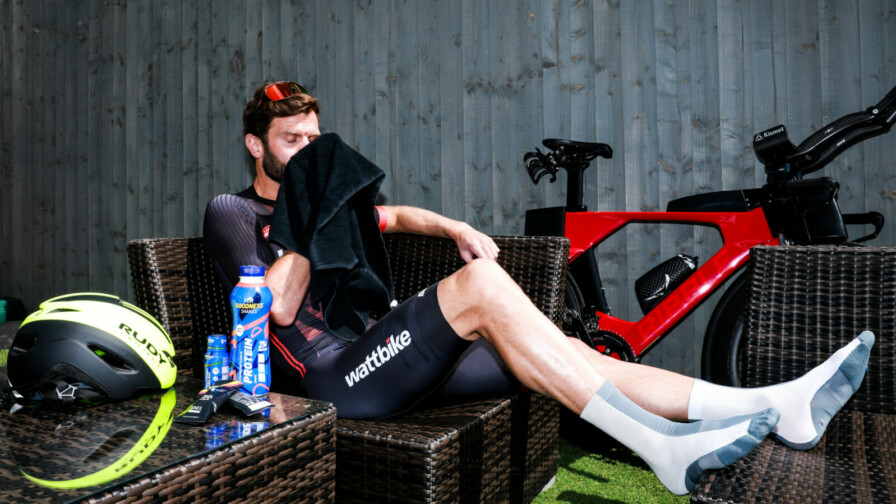 Adam's view
I only started working with Andy at the start of the year and he's provided me with a form to fill in for every hard session I complete. I take my body weight at the start and end of the ride and detail what I ate and drank. Andy then comes up with a plan for fluids, sodium and carbohydrates, which we test and see what works.
As I'm preparing for Ironman, I've recently been doing a lot longer rides, even up to 6 ½ hours. I recently completed a 155km solo ride in four hours , so was motoring along. Being disciplined with my nutrition is a key part.
I'm using the PH 1000 and PH 1500 to account for my sodium loss through sweat, which really seems to help, but I'm also making sure I stop and quickly refill my drinks bottles. Previously the temptation when training was just to go with what I'd set out with on the bike.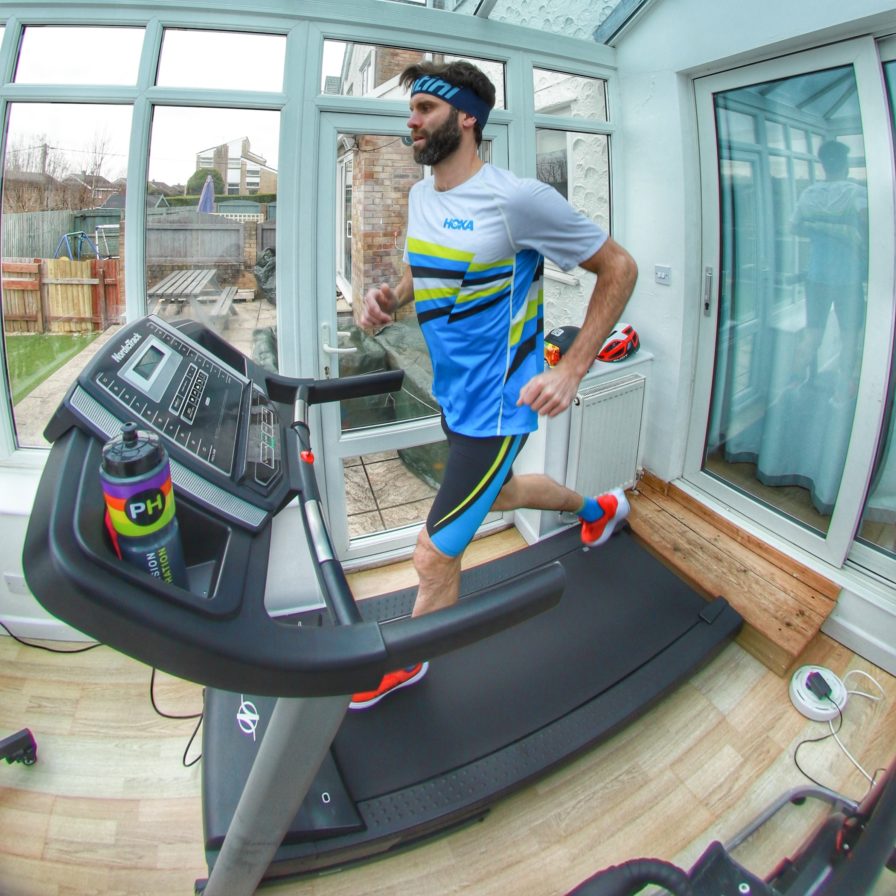 While competing in IRONMAN 70.3 races, I've been taking on about 70g/hr of carbohydrates and we've discussed increasing that to 90g/hr.
I might try some solids, such as flapjacks early to keep on top of the carbohydrate intake. I already know that once my glycogen stores go down I'm in trouble and a lot of triathletes say that nutrition is the thing they mess up, so I'm hyperaware.
The bulk of my nutrition needs to be done on the bike, with a few gels to top up on the run. If I lose a few seconds getting fuel in, it will more than be made up for if I can get my nutrition right and run through the field on the marathon.