Neuff Red launched a couple of weeks ago (we featured their launch here), to the promise of providing not only products, but also advice and information for triathletes and endurance athletes.
They are therefore proud to announce their first community activity: on Wednesday the 1st July at 8pm (UK) Neuff Red is to host a live Zoom conference with 6x IRONMAN World Champion Dave Scott.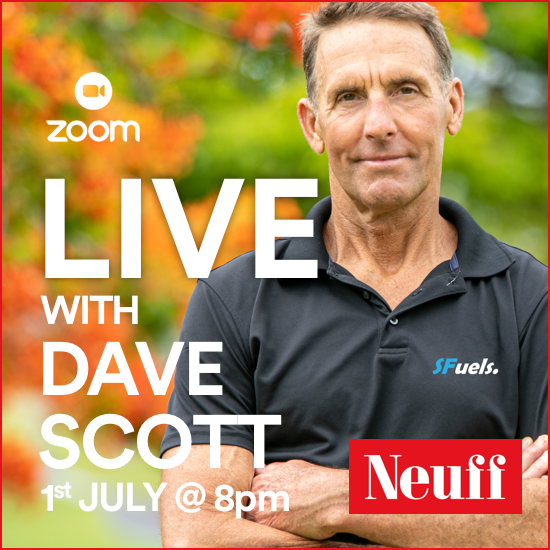 A legend of the sport, Dave made history in 1989 at the IRONMAN Triathlon World Championship when he and Mark Allen ran "the greatest race ever run", pushing each other to breaking point for more than eight hours never separated by more than a few feet. Dave pushed long distance triathlon boundaries, being the first person to break the 10 hour, 9 hour then 8½ hour boundaries.

Having worked as a coach and teacher in the second stage of his career, Dave joined SFuels GoLonger team in early 2019, having been entirely convinced by the science behind low carb, high healthy fat fuelling. A key member of their team, he is a strong proponent of SFuels as a whole-athlete approach to nutrition – not just focussing on training and race fuelling, but optimising nutritional balance throughout the athlete's way of life. This enlightened approach has delivered phenomenal results for many triathletes, endurance athletes and a host of others.
Dave is offering athletes the chance to join an exclusive Zoom Q&A with himself and SFuels founder Leighton Phillips, who will answer your questions on Low Carb High Fat nutrition and fuelling, and the SFuels product range and use.

If you want to be part of this live event then visit https://neuff-red.co.uk/pages/dave-scott-sfuels-live
Spaces are limited to 25-30 to ensure a high quality of interaction – so sign up soon to secure your place!